March is nearly over.
It has been another good month for games, what with releases such as Sekiro: Shadows Die Twice, The Division 2 and Devil May Cry V. Not all of the games released this month have been great, though, with Left Alive being one of the most disappointing experiences we've had in quite some time.
But enough about this month, what about this week? Well, we've been playing lots of games, as usual. Here they are.
---
Rich: After playing Xenon Racer for most of last weekend, I've spent a lot of time this week playing Generation Zero, and let me tell you, it has been a rollercoaster. I've loved it, hated it and everything in between. As it's such a big game, watch out for a review early next week. I've also been playing open world RPG Outward which I should have a review for next week too. Busy me.
When I've found the time to play something I don't need to review, Sekiro: Shadows Die Twice has tested my patience. I keep going back for more though, so it must be doing something right. This weekend I'm looking forward to getting stuck into the Mortal Kombat 11 online beta, too.
Kim: Tetris 99 has crept its way back into my life. It's got to the stage now where I see tetris shapes when I close my eyes at night. Is that the sign of a problem? This week I experienced what will likely be the biggest achievement I ever have in my life: I finished at #2. That's it; that's my big moment. On the plus side, I've discovered that I can play Tetris 99 while on an exercise bike – an activity I now call Tetracise.
Other than getting my arse handed to me over falling shapes, I've revisited my childhood by playing Final Fantasy VII on Switch, which is just as good as I remember it being, despite its advancing years. I've also played through Nelke & The Legendary Alchemists, which, despite getting off to a slow start, turned out to be a lot of fun.
Away from Switch, I've been playing Operencia on Xbox One, a newly-released dungeon crawler from Zen Studios. It's a lot of fun, and you can look out for my review for that next week. I've also been enjoying my journey through ruined Washington, D.C. in The Division 2, which is just brilliant.
Becca: This week I played a couple of lovely indie adventure games. Discolored is a promising puzzle game where you have to restore colour in the grey world around you, and A Song in the Void is an intriguing platformer that has you picking up spheres to restore music in an abstract polygonal universe.
I also played the final episode of The Walking Dead: The Final Season. It was a truly lovely end the series. It was difficult to say goodbye to the characters that I fell in love with over the last few years, but it was also a relief after everything that happened with the studio to see these characters get a resolution. Here's hoping that the team members from Telltale go on to work on more fantastic games in the future. I'm looking forward to it.
Chris: This week I tested my legal might in Phoenix Wright: Ace Attorney Trilogy, which looks absolutely lovely in its new HD incarnation, though I do miss the older, more detailed animations a bit. I'll be reviewing it when the game hits on April 9th.
Having finished Resident Evil 2, though an extreme mode run is in my future, I've been playing Zombi, a game that deserved more love when hit current gen consoles back in 2015. It's so wonderfully British; in particular, having to resort to melee weapons because the UK doesn't sell guns on every street corner makes for a very different experience.
Stan: This week I dusted off my Animus and travelled back to Ancient Greece with Assassin's Creed Odyssey. Having loved my first playthrough, but slightly rushed it due to Red Dead Redemption 2 releasing, I decided I want to start afresh in Greece. I just adore Assassin's Creed Odyssey; the story is fascinating, the combat is fluid and addictive, and levelling up feels so important. I also just can't get enough of naval combat. It may not feel as impactful as Assassin's Creed: Black Flag, but it's still so great.
Outside of the Animus I've been returning to the world of Eden's Gate through the novel Eden's Gate: The Sands (the third in the series). I was hooked to Eden's Gate: The Reborn, and really enjoyed the second book too (review to follow soon). I love RPGs and exploring a new world, but that's second only to reading about how Gunnar acts in his new world. A great Lit-RPG novel.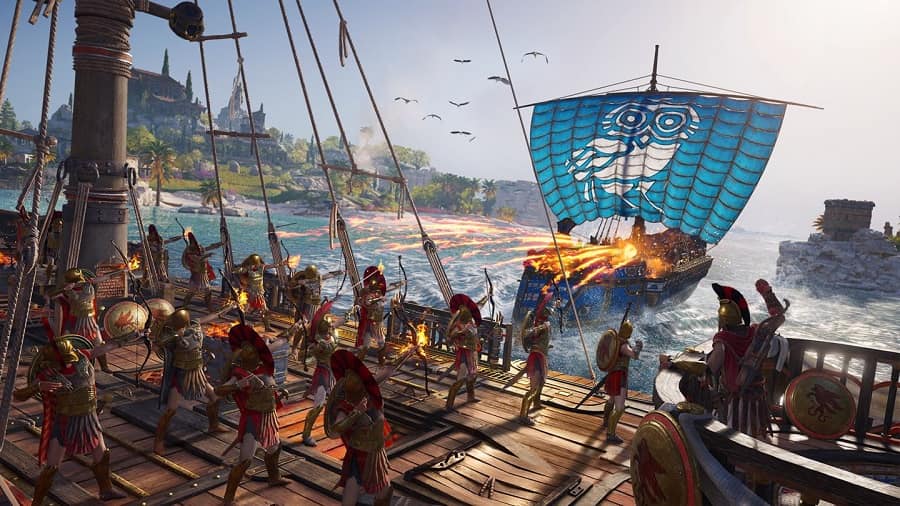 Matt: This week I have played a single, solitary video game: Sekiro: Shadows Die Twice. I have thoroughly enjoyed playing through this gem completely blind. The game looks gorgeous, plays incredibly smooth, and offers up some of the best boss fights that From Software has to offer. Having finally finished the game, I'm excited to sit down and piece out my full review, which you'll get to read early next week. I'm already ready to start playthrough two.
Robert: I have been playing the classic RTS Age of Empires II: HD Edition after discovering its fervent competitive scene. While it has been around forever, its inclusion on Steam has brought new life to this old classic and it has never been more competitive. Managing economy, rushing opponents and "Persian douching" are all important strategies I have failed to master but have loved to try in this matured old game.
---