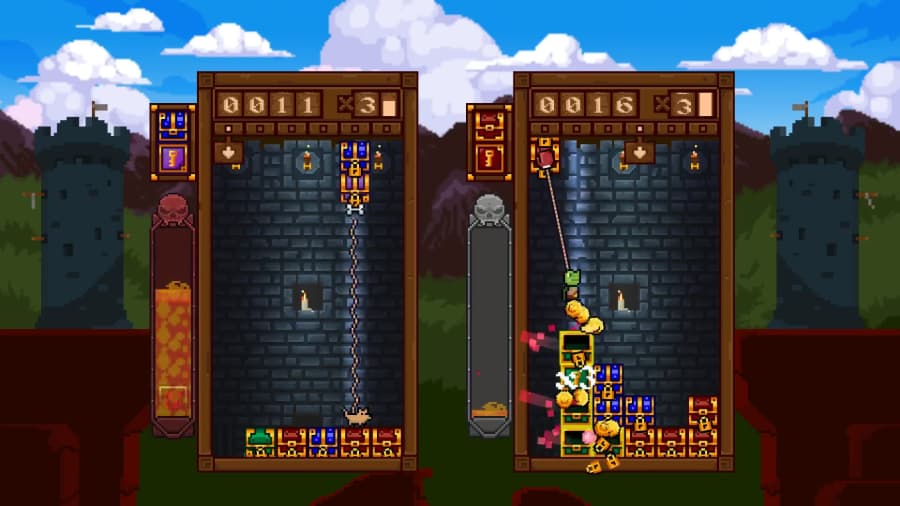 Out now on Switch, PS4, Xbox One and PC, Treasure Stack offers up an innovative twist on standard match-three gameplay.
But along with that innovative twist comes fiendish difficulty. Rather than simply matching three coloured blocks together, Treasure Stack is about matching keys with a group of chests of the same colour. Being successful takes a lot of patience, and even more practice. We've spent some considerable time with the game, and while we're still not quite masters ourselves, we've picked up a few hints that may help you along the way.
Group colours together
This sounds very obvious, but the key to staying successful in Treasure Stack is to keep your screen as tidy as possible. Only four colours of blocks will fall – blue, green, brown and purple, so start by assigning one or two columns to each colour. Things will undoubtedly get a little messier when blocks start falling quicker, and more black blocks enter your screen, but the goal always is to group colours together as best as you can.
Use single-player mode to practice
Treasure Stacker is undoubtedly more fun when playing with others, but don't rule out single player mode. It's a great place to practice without the added pressure of needing to compete – if you fail, it doesn't matter. You can simply start all over again. Single player mode gives you a score based on how many blocks you clear, so you always have a high score to beat. Build up confidence here first – or play local co-op with a friend, if you have someone on hand – before heading into ranked mode.
Try to lay blocks in equal columns
Free movement is very important in Treasure Stack. If one column is significantly taller than the others, your avatar won't be able to jump over it. Ideally, try to lay blocks flat, so each column never has more than one block difference. You'll thank yourself when you can get from one side of the screen to the other without much difficulty.
Work quickly but carefully
The rate that black blocks fall in Treasure Stack is determined by how quickly you make matches. In multiplayer, it's determined by how quickly your opponent makes matches, but the queued stack will also deplete based on your own matches. Matched against a similar-level opponent, it means black blocks are generally less invasive in multiplayer as they are in single player (unless you completely mess up, of course).
In single player, it means you need to make matches as quickly as possible. The bigger, the better – but if you only have one or two blocks of a colour to clear and have a matching key falling, don't sit on the key waiting for a larger group. Just use it.
Keep your multiplier up
This goes hand-in-hand with the previous point, but working quickly means your multiplier score stays high. The maximum is x5, meaning you get five times as many points for making a match. Keeping your multiplier high is the key to getting high scores, but that means being quick with your matches. There's a small timer at the top of your screen next to your multiplier. Let it expire, and you'll be reset back to one.
Keep at it
Treasure Stack isn't an easy game. If you're a whizz at match-three puzzlers, you'll likely expect to waltz in and destroy everyone without any problem. Unlikely: Treasure Stack is a completely different ball game; even the most ardent Candy Crush player is going to be like a fish out of water. Getting the hang of the game's movement can be tricky in itself, so if you don't do great after your first few attempts, don't throw in the towel. The better you become at Treasure Stack, the more rewarding it is.