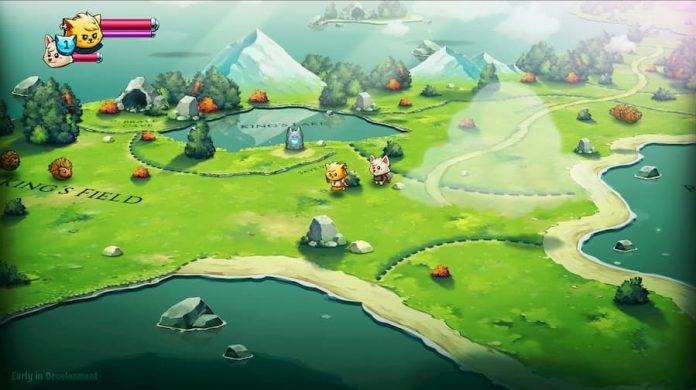 I loved Cat Quest.
It's a cute top-down RPG style game in which a feline protagonist travels across an overworld, defeating enemies and completing quests. It's pretty simplistic in its design, but it's incredibly cute and a lot of fun to play. And it stars cats, so, you know, it ticks all the boxes.
Last year, a sequel was announced, and Cat Quest 2 is set to release sometime this year. At last week's EGX Rezzed event in London, I got a little bit of hands-on time with it, and it confirmed my suspicions: it's very much like the first game, except it also stars a dog. And that's no bad thing.
Cat Quest told the story of the solitary adventure of one cat. It was a single player only game, but Cat Quest 2 opens its doors to co-op play by introducing a second, canine, protagonist into the mix. Playing in co-op feels natural, and the straightforward gameplay lends itself well to having a buddy tag along for the ride. Both players have their own equipment, and although loot is shared, certain items can only be used by a dog while others are strictly cat-only. Each animal also has its own attack styles and magic spells, both adding their own usefulness to the adventure. If you're playing alone, you can switch between cat and dog with the press of a button.
The adage of "don't fix what isn't broken" works here, and developer The Gentlebros hasn't tried to reinvent the wheel with Cat Quest 2. The gameplay, the map, and the types of quests you'll undertake feel very familiar to the first game – and it's all the better for it. It's Cat Quest's accessibility and user-friendliness that helped make it so great to begin with. Why over-complicate something that already works so well?
The map and art style will be instantly familiar to anyone who played the first game, which means that you can pick up a controller and know instantly what you've got to do. It really is the addition of co-op play that sets Cat Quest 2 apart from its predecessor, and it makes for a very pleasant addition indeed.
The first Cat Quest was a pretty short experience, over in six or seven hours. How much longer Cat Quest 2 will be remains to be seen, but it promises a "brand new story set in the world of Felingard – and beyond", which suggests there will be more than we saw from the first game. There are also new weapon types, more magic spells and new passive abilities, so combat should feel more varied and personal than in the first game.
Even if Cat Quest 2 feels more like an extension of the first game than an entirely new adventure, I'm still very excited. The brevity of Cat Quest simply left me wanting more, and if that's exactly what Cat Quest 2 wants to deliver, I'm perfectly happy with that.
Cat Quest 2 is releasing on PC, PS4, Xbox One and Steam later this year. A set release date hasn't yet been announced.