Another day, another years-old game being ported to Switch. When they're this good though, who cares?
Dragon's Dogma: Dark Arisen, the expanded and enhanced re-release of 2012's Dragon's Dogma, is a high fantasy action RPG that you probably should have already played. If not, no worries: you can now pick it up on Switch to play everywhere. And if you have played it already, well, the same still stands. Dragon's Dogma: Dark Arisen is a game that just doesn't grow stale.
Imagine Skyrim played fully in third-person, and with combat that's more varied, fast-paced and fun. That largely sums up Dragon's Dogma: Dark Arisen. After creating your character, tragedy strikes as a dragon descends on your sleepy port town. While everyone is running for their lives, however, you've the courage to stand and fight. It's a a battle you can't win, though, and soon enough you find yourself on your back with your heart ripped clean out.
But alas! You're the Dark Arisen, the warrior spoke of in legend who can defeat the dragon… eventually. You can also summon helpers called Pawns, complementing your abilities to make up a team that's a force to be reckoned with. Before you take on the dragon and once again deliver peace to the land of Gransys, however, there's lots of adventuring to be done. And that's where Dragon's Dogma: Dark Arisen really shines.
The world of Gransys is huge, and just full of things to be discovered, looted and sliced up into a kebab. The story that forms the backbone of Dragon's Dogma: Dark Arisen is light, but you won't care as you'll be making your own fables as you journey here, there and everywhere. You're free to take things at your own pace, which means you'll often forget about the main story for ten hours or so, completing side quests that have been given to you or simply exploring a part of the map you've never explored before. And thanks to the combat system, you'll always be having a blast.
With three character classes to choose from initially, and more unlocking as you become more proficient in combat, Dragon's Dogma: Dark Arisen plays very much like an action game if you go for a melee build. You can make use of both light and strong attacks, and can unlock a wide range of combat abilities that can be easily accessed in battle to form damaging combos. You can grab onto enemies, too, enabling you to clamber around them to reach their weakspots. Given that many of Dragon's Dogma: Dark Arisen's strongest foes are gargantuan in size, it's an ability that comes in very handy.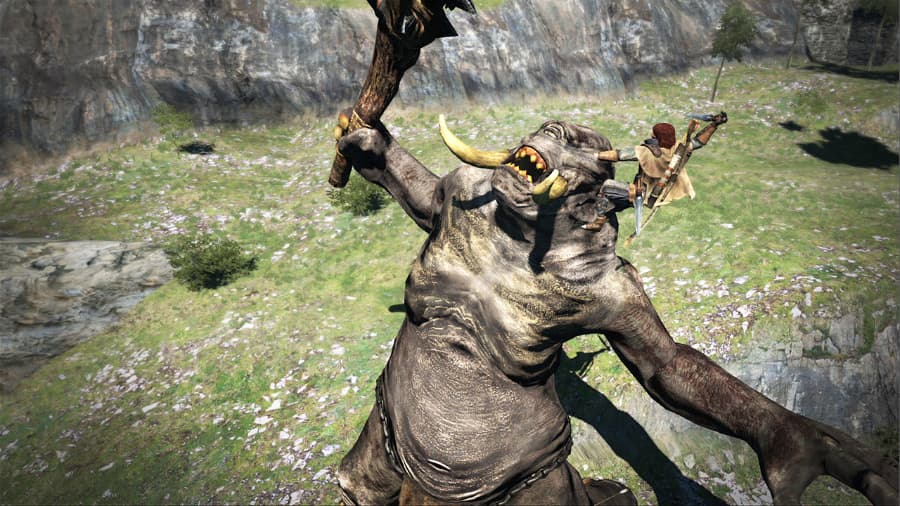 Those who opt for ranged or magic-based builds will instead find themselves in more of a support role, buffing their allies and assisting them from a distance. It's still engaging and exciting, but give me a sword and shield or give me death. That being said, those who choose magic can pivot more towards melee later in the game, allowing them to cover all bases.
This Switch port of Dragon's Dogma: Dark Arisen is on par with other versions in terms of content and features. Nothing has been cut, meaning it's just as expansive as ever. You can easily lose hundreds of hours to it. Its visuals have been reigned in a little compared to the PS4, Xbox One and PC versions of the game though, which is understandable. The main thing that's noticeable is the reduced draw distance for certain objects in the game's environments. It doesn't get in the way of you enjoying the game, and performance is great whether you play in docked mode or not.
Only issues that have existed ever since the first release of Dragon's Dogma let the game down once again. An erratic difficulty level is one of them, forcing you to save the game on a regular basis in case you come up against an enemy that unexpectedly makes short work of your party. A poor fast-travel system is another, resulting in many arduous journeys having to be made on foot. Still, they don't hurt the experience too much. Saving the game is a doddle, after all, and most journeys at least reward your effort with loot and experience.
If you've played Dragon's Dogma: Dark Arisen to death elsewhere, this Switch port obviously isn't going to offer you anything new. If you still find yourself wanting to enter the world of Gransys or haven't yet ventured into it, however, it offers plenty of adventure. Like any game on Switch its portability is a great boon, and while the visuals are clearly compromised when playing in handheld mode they don't detract from Dragon's Dogma: Dark Arisen's brilliantly absorbing gameplay. For action RPG fans that are on the go, it's an absolute must.

Dragon's Dogma: Dark Arisen is available on PS4, Xbox One, Switch and PC. We reviewed the Switch version.