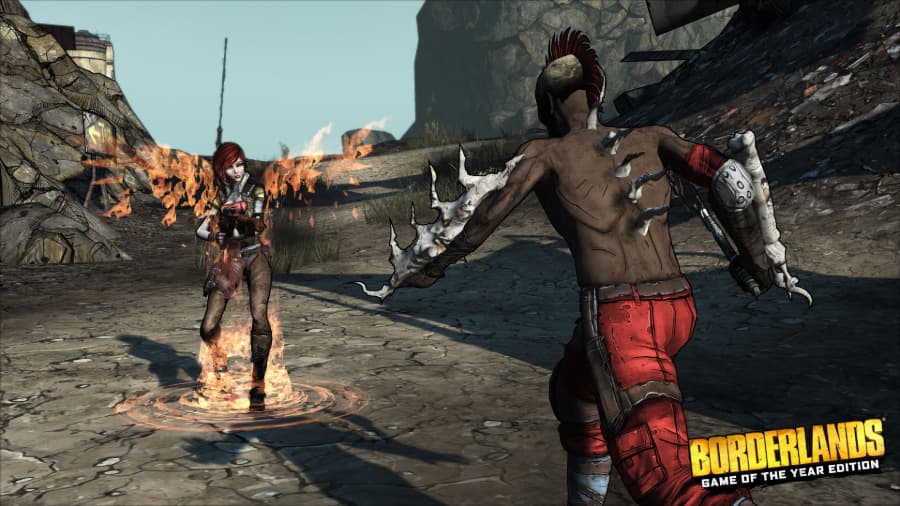 Thanks to the release of Borderlands Game of the Year Edition on PS4, Xbox One and PC, it's now possible to obtain and use Golden Keys in all currently available Borderlands games.
It's something you'll want to do, because Golden Keys are great. They basically allow you to open a Golden Chest, and inside will be a couple of pieces of valuable loot that are appropriate to your level. Needless to say, Golden Keys are great for getting you kitted-up when you need it the most. But how do you get them?
Sign up to SHIFT
To be able to get Golden Keys, you first need to create a Gearbox SHIFT account. You can either do this in-game by going to Extras in the Main Menu and then clicking on the SHIFT option, or you can visit the Borderlands website and click the SHIFT link at the top of the page. Simply enter an email address and a password, and then link your SHIFT account to your PlayStation, Xbox or Steam accounts. Once you've done that, you're all set.
Getting Golden Keys
Golden Keys can be obtained in numerous ways. Sometimes they are simply added to your add as means of a celebration, for example. Most of the Golden Keys you'll acquire, however, will be via codes published on the official Borderlands Twitter account. So, make sure you give @Borderlands a follow. Codes are posted on a regular basis, and they are specific to each game and each format. That means that if you're playing on PC, you'll need to make sure you obtain codes for that format. Codes consist of five groups of five letters and numbers, so Xbox users will feel right at home with them. Be aware, though, that codes have expiry dates, and can often only be used so many times, too.
Redeeming codes
Previously, you had to redeem Golden Key codes in-game. To do that, you have to go to Extras on the main menu, enter the SHIFT option, and then type in the code to redeem it. Thankfully you can now redeem codes via the Borderlands website though, which makes things much easier. Simply log into your SHIFT account, hover over the SHIFT link at the top of the page and click Redeem Code. You can then either type a code in or simply copy and paste. Easy!
Using your Golden Keys
Once you've got some Golden Keys, you're probably going to want to use them. To do that, boot up either Borderlands Game of the Year Edition, Borderlands 2 or Borderlands The Pre-Sequel and head to a safe settlement such as Fyrestone or Sanctuary. There you'll find a Golden Chest which you can open with your Golden Keys. Be careful if you open the Golden Chest while playing in co-op online though, as other players will be able to snaffle your items from right under your nose.
Some Golden Keys to get you started
Want some free loot? Here are some Golden Key codes to get you started.
Borderlands Game of the Year Edition
PS4/Xbox One/PC: WJCBB-5RRJK-9B3RJ-6XT3T-CBZBF
Borderlands 2
PC: WT5JB-T9KZB-XFT6W-TTTTB-W5WJB
Xbox One: 5T5BT-SXRRC-ZZRRZ-56BBT-9BB3C
PS4: CJC33-KHBHZ-HBC9W-H3KTB-F93KH
Borderlands The Pre-Sequel
PC: 5WKBT-RKRW6-35BTB-3T3TJ-XTCHF
Xbox One: 5WKBT-RKRZ3-66FTF-5X3TJ-XTCXB
PS4: 5KWT3-J6FKH-SZTCT-HBK3J-HZ55R