There's nothing quite like a child's imagination.
Children can bring entirely new creatures and worlds to life simply with the power of their minds. Silence is a point-and-click adventure game whose setting is a place called Silence – a world in between life and death, dreamt up by its two young protagonists. Its main characters are Noah and his little sister Renie, who invented the world and its characters to help them escape from the war going on in the real world. During an air raid, Noah and Renie are transported into Silence where they become separated. As Noah, you're forced to try and reunite with your sister and, as much as you don't want to, make it back to the real world.
Silence isn't all sunshine and rainbows – this realm has its own war going on, between the Rebels and the Seekers. The Seekers are masked creatures out to destroy the towns and citizens of Silence, and the Rebels are a small group of warriors who seeks to stop them. From the second they step foot in Silence, Noah and Renie are forced into the middle of this ongoing conflict and you'll be forced to decide exactly how they handle themselves and the situation.
Silence's gameplay is easy enough to pick up. You're able to move about your environment freely while interacting with objects and characters nearby. There are certain items that you'll pick up to help you later as well as things that can be used right away or combined to create something new. Sometimes the items will be used for an unexpected outcome, like using a mask to create a bridge over a dangerous river of tar. That's why it's important to use trial and error and experiment with everything. Helpfully, you can highlight everything that you can interact with in your immediate area in order to help you from getting stuck, but this hint system won't tell you what the items are used for or if they're useful to you at all.
Along with the point-and-click elements of Silence, you'll also be making some dialogue choices. Most of your decisions don't seem to mean too much in the long run, but there are some that can actually mean life or death for your characters. You may decide to stand your ground rather than run away, but it turns out that standing your ground might not always be a good idea. You'll encounter several of these random death scenarios as you play. Some of them seem pretty inevitable in order to teach you a lesson on what to do next time, but after two or three times of messing up in the same way, you're likely to get annoyed at having to watch the long death cut scene again.
During the game you'll be controlling mostly Noah and Renie, but there's one more playable character that deserves a bit of the spotlight, and that's Spot. A cute little caterpillar, Spot can make himself flat as a board or big and bulgy like a bouncy ball. His abilities will come in handy as you progress through Silence, and he'll save the day a few times. He can be a little clumsy and wacky at times but, in the end, Spot will probably be the difference between your characters living and dying. Yay, Spot!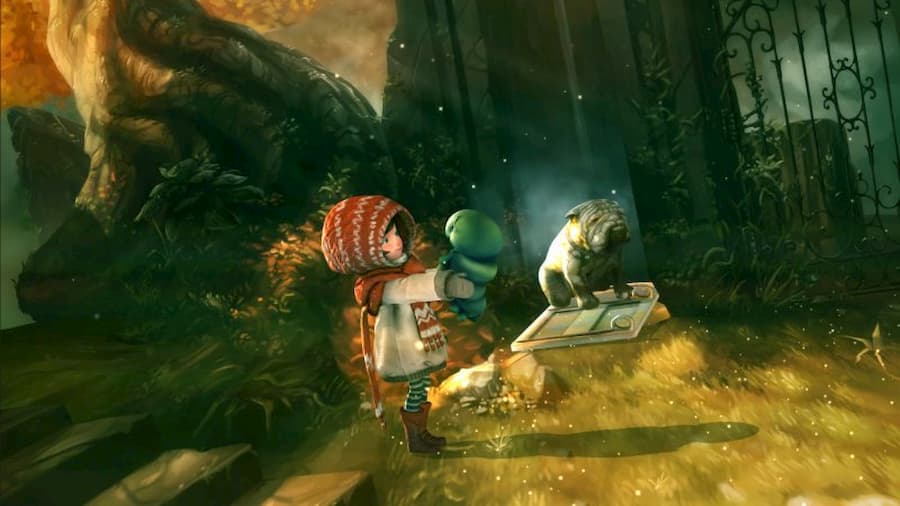 Silence's gameplay is fun, but it's the settings that truly make the game shine. The serene yet nightmarish world is filled with dozens of moving components. From its plants to its creatures, everything is expressive and brings the world to life. There's something incredible waiting around every corner, and the environments will never fail to surprise and fill you with awe.
Though Silence looks great on Nintendo Switch, it isn't without problems. The characters can sometimes look odd, even expressionless, making cut scenes fall short. Noah even occasionally appears to have had a bad allergic reaction to something in his cheeks. Much of the voice acting at times also leaves much to be desired. Renie's delivery of lines is meant to be cute and joyful, but tend to come off as deadpan. For the most part, Noah's character is acted well, but others are over the top.
In the end though, these are fairly minor issues that can be easily overlooked when most other elements of Silence really shine. Its puzzles are challenging enough to keep you engrossed through its three- to four-hour play time, but its Silence's locations and environment design that will really make you fall in love with this game. And Spot, of course.

Silence is available on PS4, Xbox One, PC and Nintendo Switch. We reviewed the Switch version.