It's Friday… blah, blah, blah. Oh, and it's also a bank holiday here, so more blah, blah, blah.
You know the drill by now. We've been playing games, because, y'know, that's what you need to do to run a game website and all. But just what have we been playing? Well, read on and find out.
Without further ado, here are the games we 'ave mostly been playing this week.
---
Rich: It's been a busy week. After putting many hours into both Borderlands Game of the Year Edition and Hob: The Definitive Edition, I finally got around to reviewing them both. Borderlands Game of the Year Edition I truly loved. Hob: The Definitive Edition unfortunately didn't impress me as much.
Moving into this week, I've once again found myself in the clutches of Final Fantasy X. It may be nearly twenty years old, but its story is as gripping as ever. I've also played through the fantastic God's Trigger, and spent some time with the new loot-filled action RPG Pagan Online. That's worth giving a go if you love Diablo and want something new to play.
And there are more for me to get stuck into. But you won't hear me complaining. Not too much, anyway.
Kim: I joined Rich in a bit of co-op shooty action in God's Trigger, and can confirm it's definitely a lot of fun. Looking forward to playing some more of that. Zanki Zero on PlayStation 4 also took up a bit of my time this week as I finished up my review. It's a story that's not going to leave me any time soon, that's for sure.
I've been diving into some speedy zombie killing action in World War Z since its release on Tuesday, too. It's a little repetitive, but a lot of fun. Especially throwing grenades into a huge pile of zombies. Sorry/not sorry. Speaking of zombies, my time will now be spend with a certain game on a certain console that's releasing next week. Look out for my review on Thursday…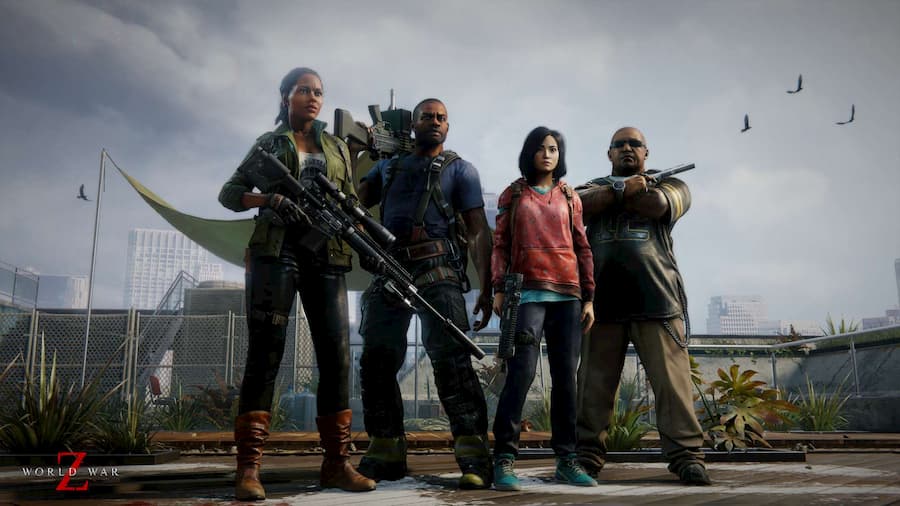 Jack: At the start of this week I was finishing off Weedcraft Inc, a business sim about growing and selling weed. It's nothing to write home about, but may keep an avid business sim fan engaged for enough time to justify its price point.
Given WoW's gradual decline since Battle For Azeroth, my friends and I haven't played WoW in a good few months now. Turns out for the last few weeks they'd all been moving over to Guild Wars 2, and one friend had been suggesting a lot that I should come over too. This meant having to recover an account I last played in 2014. I say "recover" – before contacting support I thought I'd just try and log in, and voila! I had a level 32 Guardian on there already, but I've created a new character, an Elementalist, to get to grips with it again, and hopefully this could be my new MMO fix.
Stan: Forget video games: Star Wars has pretty much dominated my week. Watching The Star Wars Expo in Chicago last weekend felt a bit like seeing Darth Maul fight for the first time. Yeah, he's cool – just like the trailer for Rise of Skywalker. Then Maul ignites the other side of his lightsaber, and that's just beyond awesome. That's how I felt watching the Star Wars Expo (sadly on live stream). The double sided lightsaber of Rise of Skywalker AND Jedi: Fallen Order was enough to send me into Hyperspace.
Jedi: Fallen Order's trailer looked brilliant. But after some more Jedi meditation I've come up with seven reasons to be even more excited about Jedi: Fallen Order! It's great to see the Second Sister return from the Darth Vader comic series. I'm also currently reading Star Wars: Master and Apprentice, a novel following Qui-Gon Jinn and Obi Wan before The Phantom Menace. It's a great return to The Clone Wars era, one that the recent Queen's Shadow also presented well. Star Wars may well just be the greatest thing ever.
Chris: This week I've been playing World War Z, which is really, really, really, really, really like Left 4 Dead. So much so that I wouldn't be surprised if Valve, who published the original L4D, consulted their lawyers; it's a near carbon copy.
But despite being a clone, it's a lot of fun, even in offline single player mode which is how I've mostly been playing the game. Seeing the zombies form a pyramid never gets old and it always sends a chill down my spine. Will Days Gone, released next week, offer as much human vs zombie fun?