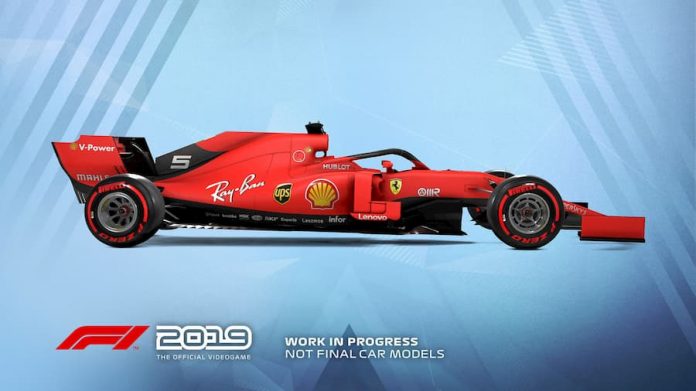 F1 2019 has officially got its first trailer.
Codemasters revealed today the first full in-game trailer for F1 2019, the official videogame of the 2019 FIA Formula One World Championship.  The game's trailer focuses on rivalries as drivers jostle for position in the heat of the battle. It also celebrates the 2019 F1 and 2018 FIA Formula 2 Championship cars and drivers.
F1 2019 features 18 returning classic cars including:
2010 Red Bull RB6
2009 Brawn BGP 001
2008 McLaren MP4 –23
2007 Ferrari F2007
2006 Renault R26
2004 Ferrari F2004
2003 Williams FW25
1998 McLaren MP4-13
1996 Williams FW18
1992 Williams FW14
1991 McLaren MP4/6
1988 McLaren MP4/4
1982 McLaren MP4/1B
1979 Ferrari 312 T4
1978 Lotus 79
1976 Ferrari 312 T2
1976 McLaren M23D
 1972 Lotus 72D
The following cars are included in the F1 2019 Legends edition:
1990 Ferrari F1-90
1990 McLaren MP4/5B
2010 Ferrari F10
2010 McLaren MP4-25
And the following cardsa re included in the F1 2019 Anniversary edition:
2010 Ferrari F10
2010 McLaren MP4-25
F1 2019 will feature all the official teams, drivers and all 21 circuits from the 2019 season. The year will also include F2, with players able to complete the 2018 FIA Formula 2 Championship.
The 2019 F2 Championship content will be available as a free digital update during the season. The F1 2019 Legends Edition comes with three days early access, meaning that players who purchase that version will be able to play on on June 25, 2019 on PlayStation 4, Xbox One and Windows PC. The F1 2019 Anniversary edition will release on June 28th, 2019.