Depending on how old you are, you might not fondly remember the Guilty Gear fighting game series. Which is a shame, because it's bloody brilliant.
Throughout the years, it's provided fighting game fans with some of the most flashy bouts imaginable, yet it has never come at the expense of solid mechanics. Few games offer a comparably diverse range of characters, either. And while the brilliant BlazBlue games carry the series DNA, and indeed even some its characters, sometimes it's nice to go back where it all began. Which you can now do on Nintendo Switch.
Both the original Guilty Gear and what many to be the pinnacle of the series, Guilty Gear XX Accent Core Plus R, are now available on Nintendo's hybrid console, and though they're both long in the tooth, they've still got what it takes in the gameplay department. But with such little price difference between them both, the only one here you should really be investing in is Guilty Gear XX Accent Core Plus R.
With 25 playable characters and 13 game modes, Guilty Gear XX Accent Core Plus R leaves little to be desired. Each character has their own story for you to follow, or you can simply bash your way through arcade mode. There are even missions to complete and the challenging M.O.M. mode to try your hand at. The only thing that the game is missing is the helpful tutorials that many newer fighting games have. But it just means you might have to put in a little more practice in training mode.
The Switch version of Guilty Gear XX Accent Core Plus R has some additional features that sweeten the deal, too. The special background music tracks from Guilty Gear XX #Reload are included, and if you'd rather play the standard version of Guilty Gear XX Accent Core you can do so via an option in the game's menus. And they're both on top of the ability to now spectate during online matches.
Honestly, the only bad thing I can say about Guilty Gear XX Accent Core Plus R on Switch is that there are no display options. I'm sure that the idea of stretching a 4:3 image to fill the screen is ghastly to some, but others (like me) often prefer it to borders on either side of the screen. And I guess there's another issue I have, too: the game's final boss is cheap. But then that's probably not much of a surprise, as most final bosses in fighting games are.
Such issues are quickly forgotten when you're playing Guilty gear XX Accent Core Plus R though. It probably shouldn't be, but it really is surprising just how enjoyable it still is. Guilty Gear X2, the game that Guilty Gear XX Accent Core Plus R derives from, is now 17 years old, yet its combat is as fresh as ever.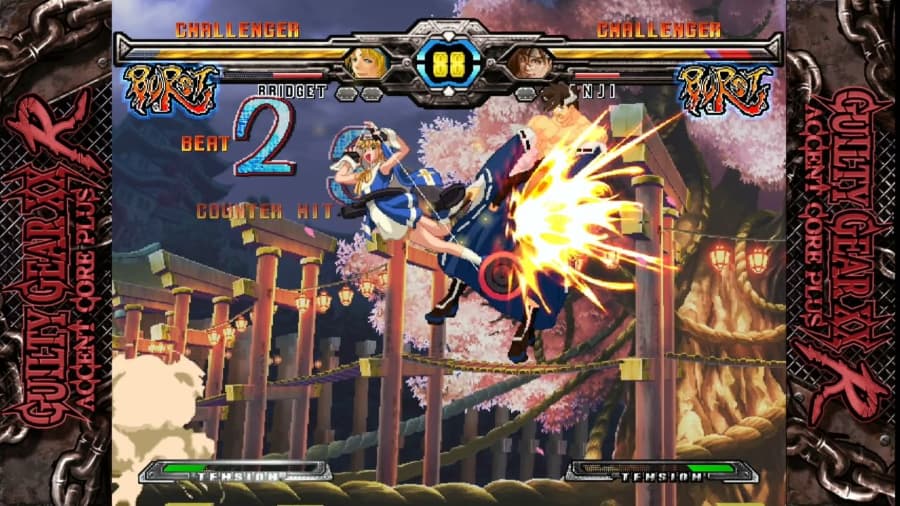 While it doesn't look as good as the BlazBlue or the more recent Guilty Gear Xrd games, Guilty Gear XX Accent Core Plus R's visuals are still impressive. Its characters are beautifully animated and its stages are full of detail. It looks better when playing it in handheld mode, obviously. But even when hooked up to your TV you'll appreciate the work that has gone into making each move flow so well.
It's the actual combat itself that makes Guilty Gear XX Accent Core Plus R such a timeless classic, though. Characters are fairly well balanced, and each one has access to a range of special moves that makes them unique. More importantly, however, its control system makes it easy to pick up and play, but there are enough advanced mechanics to give the gameplay plenty of depth. In the hands of skilled players, matches can be turned around as a result of just one mistake. And combos really can be spectacular, rewarding creativity and dedication.
For fighting game fans, Guilty Gear XX Accent Core Plus R really is a must. It may not be the best looking fighting game available on Switch, and the lack of a tutorial mode is a shame, but the combat is up there with the best, and there's so much content that for its budget price it's a bit of a bargain. Fighting games just don't get much better than Guilty Gear XX Accent Core Plus R, and that's all you need to know.
Guilty Gear XX Accent Core Plus R is available on Switch.
---