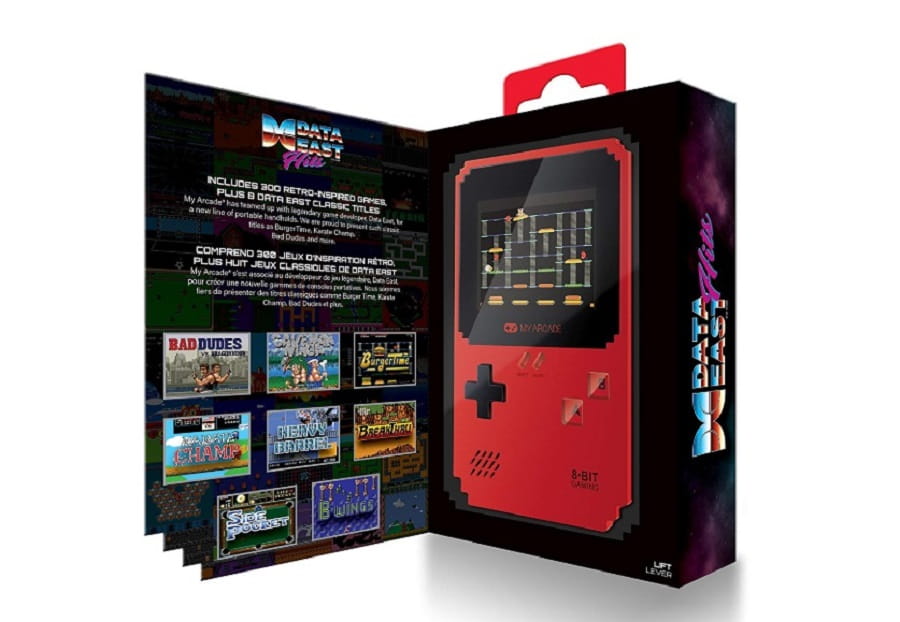 It would seem that people love small devices that enable them to play the games they fondly remember from yesteryear.
We've had the NES and SNES Mini consoles, the PlayStation Classic, a mini Mega Drive/Genesis is releasing later this year, and there have been countless others, too. Generally though, they're fairly expensive. And they need plugging into your TV. My Arcade's Pixel Classic doesn't, though.
Available now, the My Arcade Pixel Classic is a handheld device that very much takes inspiration from Nintendo's GameBoy in terms of design. Okay, so it pretty much rips it off. It's a red slab with a 2.75″ 4:3 colour screen, a forward facing speaker, a d-pad, and two chunky buttons to play games with labelled A and B. There are also small start and reset buttons on the front of the device, up and down volume buttons on the left of it, and on top you'll find a power switch, 3.5mm headphone and AV out jacks, and a Micro-USB port for power. You don't need to power the device via USB though: four AAA batteries also do the job. With some decent batteries you can expect to get 10 hours or so of gameplay out of the device before it dies. Maybe a bit less if you make use of the device's light-up buttons. That's right; you can slide the power switch past 'on' to make the face buttons glow red – helpful for when you want to play in the dark.
Aesthetically, the My Arcade Pixel Classic doesn't look too fancy, but it does at least feel solid. You get the impression that it could withstand a fair bit of punishment as long as it's not directed at the screen; the cover of which feels flimsy and is easily scratched. Still, you're going to be playing retro games on it, so the odd mark probably isn't going to bother you too much. You also have to look at the screen pretty much dead-on. Colours change and get washed out when viewed at too much of an angle.
So, the build quality isn't overly impressive, but it's on the game front that your interest in the My Arcade Pixel Classic might truly be piqued, all thanks to the inclusion of some Data East classics. In operation between 1976 and 2003, Data East released many fondly remembered games, and eight of them are at the forefront of My Arcade Pixel Classic's offerings. They are Bad Dudes Vs. Dragonninja, Caveman Ninja, BurgerTime, Karate Champ, Heavy Barrel, BreakThru, Side Pocket, and B-Wings.
The emulation of these titles seems to be very good indeed, so if you hold them in high regard and wish to revisit them, the My Arcade Pixel Classic is a great way to do so. Though the small screen perhaps makes them even harder to play than they were back in the day. To play them on a TV with the device, you'll need a 3.5mm AV cable which is sold separately.
In addition to the eight Data East games, the My Arcade Pixel Classic also comes loaded with 300 other generic titles for you to play. There are clones of classic arcade games such as Space Invaders and Outrun, many parlour games such as dominoes and Mahjong, and even Sudoku makes the cut. It'll take a while to get though them and separate the wheat from the chaff, but there are some enjoyable experiences to be found. And also some broken ones.
Aside from the fact there are no instructions for any of the games, which puts up a wall for some of them, some seemingly require buttons you don't have, or simply don't work as intended. The aforementioned Sudoku is one of them. Changing which number you want to insert into the grid is a faff even once you've figured out how to do it, and you simply can't access some features. It's pretty much unplayable.
I've still not played all of the games that My Arcade Pixel Classic has to offer, but I'd wager that for every one that doesn't entirely work as intended there are a handful that do. So in the grand scheme of things, it still has a lot games for you to play. And while the majority aren't going to have you thinking about them when you turn the machine off, if you just want a quick blast of retro action, they do the job quite nicely.
I think the main thing to take into consideration when assessing the My Arcade Pixel Classic is its price. With an RRP  of just $34.99, it's very inexpensive. And of course, it can be bought for less than that via retailers such as Amazon. It's cheap enough to have in your car's glovebox, or a drawer in your bedside cabinet, ready at hand when you just want ten minutes of entertainment. Its games can't compare to those found on a SNES Mini or many of the other retro devices currently available, but at less than half the price and with a built-in screen, you can't really go wrong.
If you want a cheap portable gaming device that has decent battery life and plenty of experiences to work through, it's worth considering the My Arcade Pixel Classic. And if you fondly remember Data East games, it's even more appealing. It's not going to wow you, and over time its screen is going to get marked if you don't handle it like a baby, but for its low cost it provides hours of portable fun.
My Arcade Pixel Classic is available now. Find out more about the device via the My Arcade website, or pick one up via Amazon.