Released last week for the ridiculously low price of £1.69/$1.99 was Nelly Cootalot: Spoonbeaks Ahoy! HD, a remastered version of a classic freeware point and click game.
Okay, so you're probably thinking, "Freeware? Why would I want to pay for a game that was previously free?" And sure… I hear you. It's like paying a fiver to buy Die Hard on Blu-ray because you forgot to record it that time it was on ITV2. What a travesty.
But there a a few good reasons why you should lay down less than a couple of quid on Nelly Cootalot: Spoonbeaks Ahoy! HD. Let me lay 'em out for you.
It's utterly delightful. This game has been around in some form since 2007, so chances are you might have already played it. In which case, you'll already know how brilliant it is. It's a point and click game, and in terms of tone, writing, style and humour, it's right up there with the likes of The Curse of Monkey Island. It even has pirates. Protagonist Nelly is a pleasure to adventure with, and the cast of characters you'll meet as you explore are all equally fabulous (or fabulously nefarious).
It has a full voice over. The original release of Nelly Cootalot: Spoonbeaks Ahoy! didn't feature voices. You had to do the impossible and read the text yourself, and imagine them being said in your head. Developer Alasdair Beckett-King appears at the start of the game to give a hilariously apologetic speech about adding in voices – aside from Nelly herself, he's done each character himself. You can turn them off, he reminds us, but you really shouldn't. He actually does a stand-up job of bringing Nelly Cootalot's cast of characters to life.
It's £1.69 for pete's sake. Or two dollars, if you're stateside. That's barely anything. What does that even get you these days? Half a bus journey into town. Half a Starbucks latte. Or a delightful video game you can play again and again.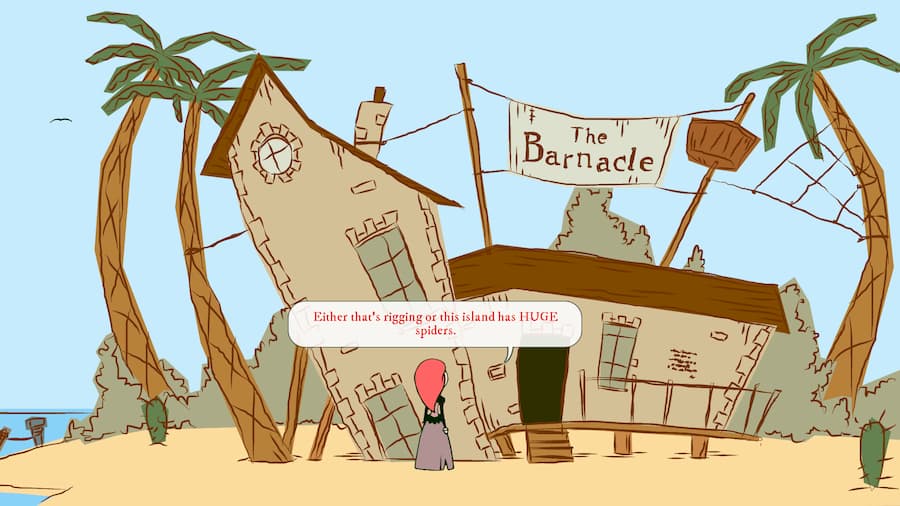 Best of all, the revenue from the game goes to the RSPB. After any fees and taxes, the money made from sales of Nelly Cootalot: Spoonbeaks Ahoy! goes to the Royal Society of the Protection of Birds. It's a fantastic cause, and one that ties in well with the theme of the game. Although we don't suppose the RSPB comes across many Spoonbeaks in their day-to-day work.
Look, just buy it, alright? If you've ever enjoyed a point-and-click game, then you're sure to get a kick out of Nelly Cootalot: Spoonbeaks Ahoy!. It's a short adventure, but one that's filled with heart, and a lot of laughs. And once you're done that, there's a fully-fledged sequel for you to acquaint yourself with, too.