Table Top Racing: World Tour – Nitro Edition. It's a bit of a mouthful, isn't it? And it's all because it's been around the block a few times.
Starting out life as simply Table Top Racing, a mobile game for iOS, Android and PlayStation Vita, the World Tour bit was added when ported to PS4 (and later, to Xbox One). And now we've gone full circle, with Table Top Racing going mobile again thanks to Switch. Boasting all the content and features found in the World Tour version and more, it's earned yet another suffix: Nitro Edition.
So what's new? Well, not a lot really. You and a friend or family member can now race in split-screen both on and offline, and you can populate online races with AI opponents if you so choose. That's about it really. But Table Top Racing: World Tour was already bursting at the seams with content so it's not too much of an issue. And the introduction of local multiplayer strikes off one of the negatives found in our review of the PS4 version of the game. Unfortunately, the other issues we've had with the game in the past remain unresolved.
Table Top Racing: World Tour – Nitro Edition still lacks a sense of speed, for instance, and there's not much feel to its handling. Sure, you're racing toy cars on YO! Sushi counters and indeed table tops, but that doesn't mean the action has to be lifeless. There's not much of a sense of impact when you crash into your opponents or bits of the scenery, either. It all adds up to make Table Top Racing: World Tour – Nitro Edition just not as exciting as it could be.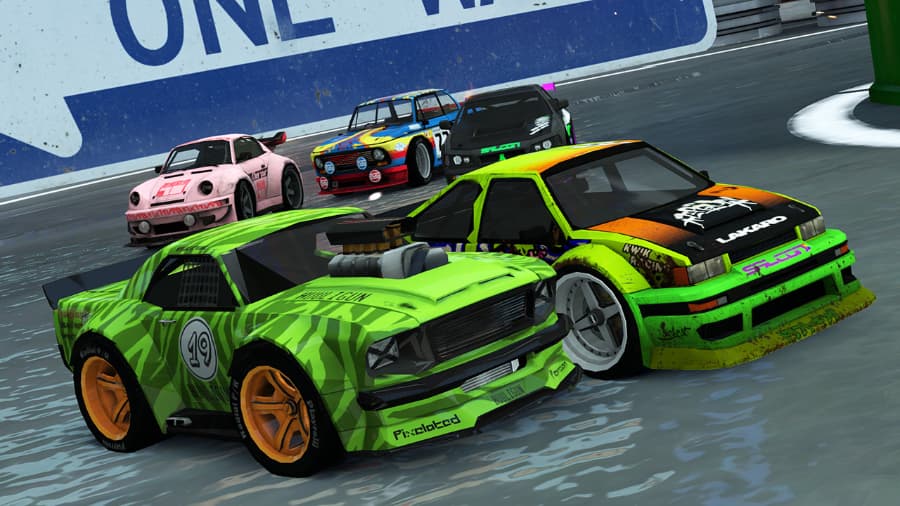 But there are power ups to be collected and used to inject some flair into the majority of Table Top Racing: World Tour – Nitro Edition's events. From rockets used to stop opponents ahead of you in their tracks to speed boosts activated to give you a fighting chance of the lead when behind, positioning yourself to pick up and effectively use these helpful aids can be crucial to success. There is a point, though, where if you perform well enough and get in the lead, no one can really touch you. In Table Top Racing: World Tour – Nitro Edition, you either find yourself fighting for your life or breezing your way to victory way out in front.
Still, there's plenty of enjoyment to be had. The game's career mode is lengthy, and there's a pleasing variety of event types. There are also many cars to collect, customise and upgrade, and each track has coins for you to locate and collect that provide you with considerable sums of cash. Table Top Racing: World Tour – Nitro Edition is in no way perfect, but it can be fun. Especially in small doses.
Visually, the game never really pushed the PS4 or Xbox One, but on Switch it looks very nice, with no noticeable compromises having to be made. And performance is solid, too. There is one thing that might irritate some players though, at least initially, anyway. Unless you opt to play the game with a single Joy-Con, you have to use the right analogue stick to accelerate and brake. It only took me a couple of races to get used to, but hopefully a patch will be released in the future that lets players use the left and right triggers to accelerate and brake if they prefer.
If you've played Table Top Racing to death already on another format there's probably no reason to pick up this new Switch version unless you're really keen to play it in local multiplayer. If you've never played it before though, this new Nitro Edition may be worth adding to your collection if you fondly remember the mad antics of games like Micro Machines. Its races may not be all that exciting, and success may sometimes feel dependent more on luck than skill, but Table Top Racing: World Tour – Nitro Edition is still entertaining.
Table Top Racing: World Tour – Nitro Edition is available on Switch.