If you're a hardcore Final Fantasy VII fan, there's a collector's edition that you'll want in your collection: but it's going to cost you a pretty penny.
Called the 1st Class Edition, the collector's edition features the deluxe version of Final Fantasy VII Remake (with the game on two discs), a Steelbook case featuring the very striking Sephiroth artwork you can see atop this post, a mini-soundtrack CD, a hardback artbook featuring concept art, bonus summon materia DLC, and the piece de la resistance: a Play Arts Kai statue of Cloud and his motorcycle.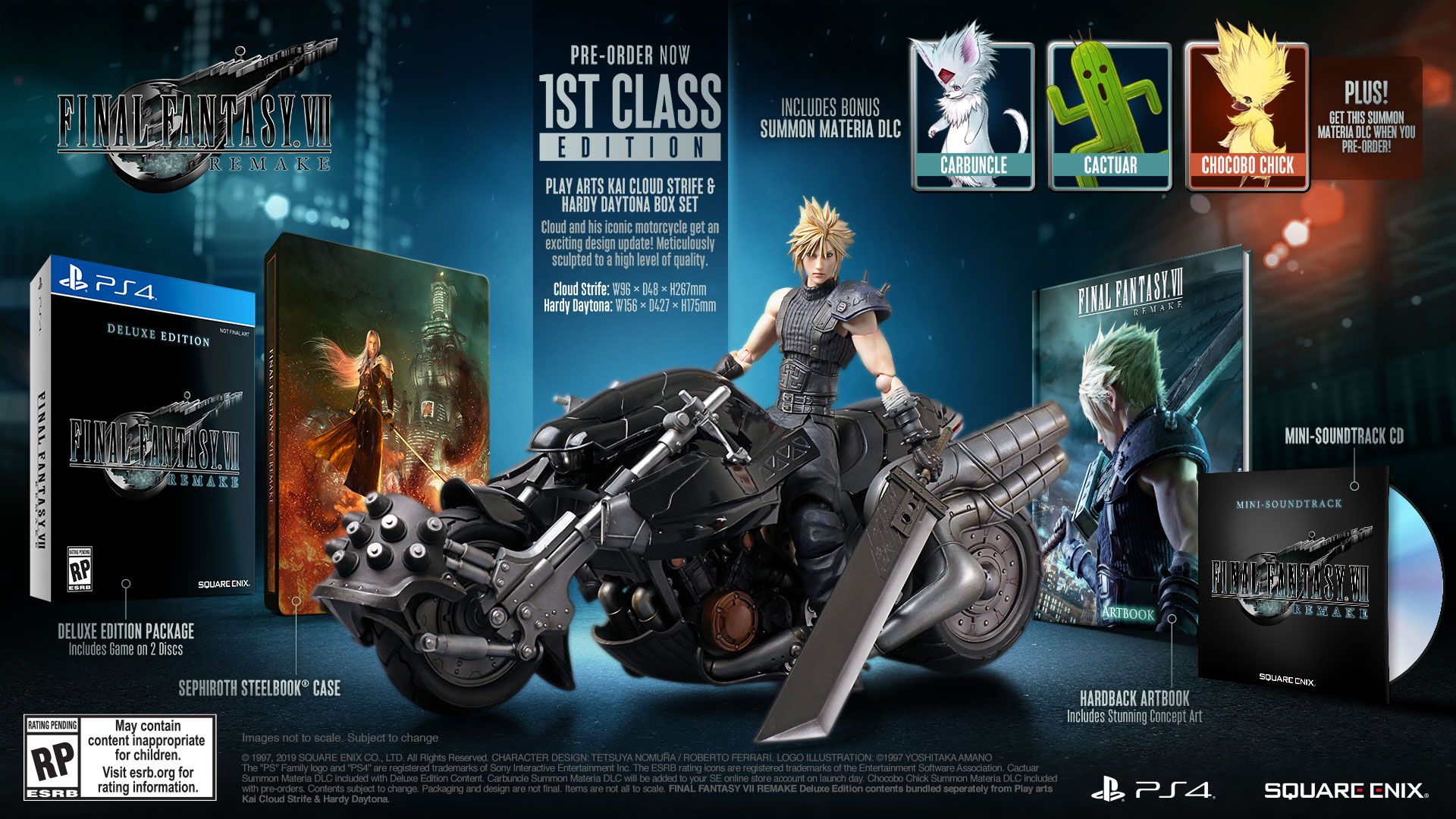 Click to enlarge.
Called the Cloud Strife and Hardy Daytona box set, it seems like Cloud and the bike are technically two separate models that can be displayed either separately or paired together, with Cloud straddling the seat. It's pretty big: Cloud is 26.7cm talls, while the bike is 42.7cm long. You're going to need to clear some serious real estate on your desk to display this bad boy. Like most Play Arts Kai statues, it looks like Cloud has poseable limbs, too.
But there's that elephant in the room: the price. The Final Fantasy VII Remake 1st Class Edition is going to set you back $329.99 in the US, and £259.99 in the UK. Phew. For a lot of us, that's more or less a week's take-home pay, which is a lot to be throwing at a video game novelty item. But look how pretty it is.
Being a Play Arts Kai statue, though, a brand known for delivering high quality products, you know Cloud and his bike aren't going to be some cheap plastic bits of tat. Still, it's not a price to be sniffed at. But if you've got a lot of disposable income to throw around and want to be the envy of every Final Fantasy fan, the 1st Class Edition can be pre-ordered now on the Square Enix website.
---