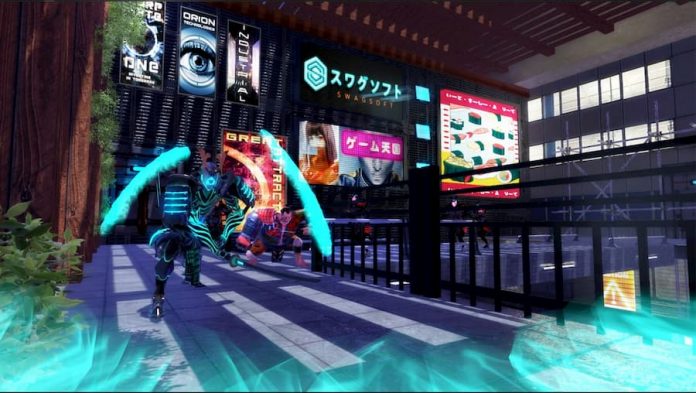 Sairento VR is John Wick meets The Matrix meets Kill Bill meets a wandering, arm-punching lunatic.
With the release of Sairento VR, PlayStation VR may finally have its killer app. May have, because as excellent as this futuristic actioner is, there are times when it falls foul of PSVR's technical foibles. But for the most part, it's an absolute hoot, blending the absurd over-the-top gunplay of John Wick and the gravity-defying antics of The Matrix with a dose of sword-slashing vengeance thrown in.
There's a story of sorts to justify your trek through Sairento VR's short but oh-so entertaining levels, including a neat twist that's supposed to make you feel bad about dismembering your foes. But when you're slow-mo back-flipping through the air, dispatching three cyber-samurai before your feet touch the ground, remorse will be the furthest thing from your mind.
Oddly, Sairento's loading screen suggests you play the game seated but, accessibility issues aside, you'll miss out a huge chunk of the game's immersive appeal if you do so. Sairento VR is highly entertaining, even when you've only just started and you're simply waving your arms about in the hope that you'll hit something. Take the time to master the game's more complex moves, however, and it becomes a sublimely immersive experience.
Sure, to the outside world you're a buffoon in a plastic helmet, flailing around at imaginary wasps. But inside your head, you're John/Joanne Wick, sliding across the floor to hack off a foe's legs before gunning down his three cohorts. You're the ridiculous badass who can leap from a ledge in slow motion, thrusting your energy sword through an enemy's head and then skewer the bad guy behind you without even turning around.
Naturally, the game makes concessions to the reality of VR. Of course, you don't actually back-flip to have your character do the same – raising your arms is enough – and you mostly traverse the multi-layered levels by teleport-jumping. But there are a wealth of convincing little touches, such as the way you reach behind your back to unsheathe one or both of your swords, or raise your guns to reload them.
The more your master the game's techniques, the more you'll gain from cranking up the difficulty, making for a more hazardous but more rewarding experience. Sairento VR doesn't give you Superhot's thinking room, but being able to briefly slow down time lets you approach fights strategically, something that becomes essential on higher difficulty levels.
Style is also an important factor in Sairento VR; not just because the game rewards you with additional unlockables (such as new weapons) but because pulling off showy moves is a real rush. No doubt you could nitpick the practicalities of wielding a gun in one hand and a sword in the other, but it's fun not physics that takes priority here.
The snag is that the PlayStation VR can't handle 360° gameplay as well as the PC-based HTC Vive and Oculus Rift can. This isn't an issue in, say, Skyrim VR because it's not particularly fast-paced, but Sairento VR throws enemies at you from all angles. Spinning around to skewer an enemy is a wonderful, wonderful thing but your stylish move may leave you facing away from the PlayStation Camera.
And that's where the problems kick in; since the PSVR tracks the light from your Playstation Move controllers, if your body is partially or wholly obscuring the camera's view of them, the controls become less responsive. Turning back around generally fixes this, and there are control options to reduce the chance of this happening. But it's still very jarring to be scrapping away and suddenly lose control of your gun, or to be fighting a questionably-clad female ninja and suddenly see your gun and sword drift into the stratosphere.
It's worth putting up with these glitchy moments, though, because Sairento VR is such a ridiculous, over-the-top joy to play and once you're done with the campaign mode, the game's additional challenge levels and multiplayer mode will keep you occupied. Sairento VR the closest thing you'll get to a truly interactive, immersive action movie, and if you've invested in a PSVR you'd be mad to miss it.