Games, games, games.
Summer rages on, and so do our videogames. It's actually a fairly quiet time for new releases, but it's not going to last long. From the end of this month onwards, an actual onslaught of new games is headed our way, and it's not going to let up until nearly Christmas. So I hope you're ready. We are. Almost. Just get this horrible hot weather out of the way first, kthx.
Anyway, enough complaining about summer. Here are the games we've been playing this week. Have a great weekend, everybody!
---
Rich: Hmm. What have I been playing this week? Too many games, as usual. Last weekend I finished up the latest piece of DLC for We Happy Few called Lightbearer. That was very enjoyable despite being overly linear. I then tackled Metal Wolf Chaos XD, which is worth playing just for its absolutely mental story.
Most of my gaming time this week, however, has been spent on Age of Wonders: Planetfall. Honestly, that game is huge. You could easily spend upwards of 100 hours playing it and still discover new things. If you like strategy games, you really must give it a go.
Now I'm just going to enjoy playing some smaller games until the likes of Control and Man of Medan land later this month. Although I do have Sword Art Online: Fatal Bullet to play on Switch which looks rather meaty. Look out for a review of that next week, and more.
Kim: Last night, I played through the delightful and simple Hoggy2 on Xbox One. It's a puzzle/platformer where you play as a blob, and solving puzzles earns you keys to new areas. Make your way through the levels, blah blah blah, kill some bosses, etc. etc. It's cute and entertaining – and it has a "kids mode", giving a super-easy version of the game to younger players. A real nice touch.
My phone battery has been taking a hammering again, but this time with Peak, a brain training app. I'm not getting any younger and I need to keep my mental agility, y'see. Turns out my focus and memory are bad. I'm good at the word games though. Small mercies.
Becca: This week I didn't get time to play much, but I did play Pandemic: The Board Game on Xbox with one of my best friends. I enjoy the board game version, so was excited to see how it translated onto console. Unfortunately, it's not great. Still, we managed to enjoy ourselves so will no doubt go back to it at some point.
And of course, I've also been playing some Dead by Daylight with friends. The Freddy rework just went into effect a week or so ago, and it's pretty brilliant. He's a challenge to go against now rather than just being a nuisance. I can't wait to see what the last half of the year has I'm store for the game.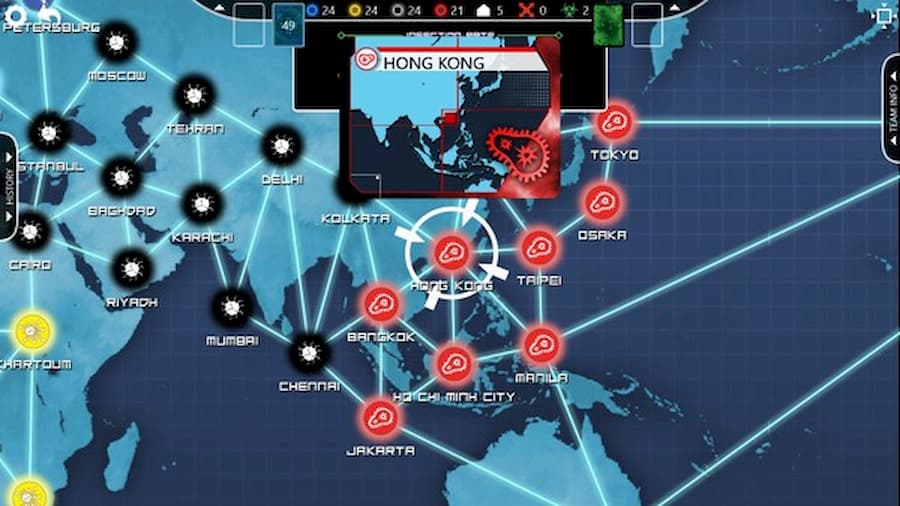 Chris: This week I've got my hands on Silver Chains (I'm still not sure what that title's all about) and Elisinore. I've seen a lot of YouTubers jumping out of their chairs at Silver Chains but, while it's scary at times, it doesn't throw that many jump scares at you and it was the game's gothic ghost story that appealed to me more.
Elsinore is also taking up my time, as I try to 'fix' Hamlet with the aid of Ophelia's time-travelling powers. The more you play it, the more aware you are that your actions have dire consequences sometimes.
Sinister Shakespearean shenanigans aside, I've been playing Street Fighter: The Movie – The Game on the PlayStation, which I'm finding oddly appealing.
Diggy: I've played quite a lot of Crash Team Racing: Nitro Fuelled this week. I've never been a fan of the more realistic driving games. For me to get behind a virtual wheel, there needs to be a healthy dash of silliness to keep me interested. Naturally, this means I am a fan of kart racers. I never played the original Crash Team Racing, we didn't have the right console when I was a kid, but I was still interested in the remake.
I got it last week as a gift for my 24th birthday, and clearly my old man reflexes are setting in because I got thoroughly thrashed when I jumped into the story mode on medium difficulty. I knocked it down to easy and won every race by a whole lap though so hopefully I'm not completely decrepit yet. The mechanics are just a bit more nuanced and complex than some of the other kart racers out there, and I'm not used to them quite yet. For the moment though, I am still having a lot of fun with the game.
Stan: I've been continuing with my cricket career this week and have been mastering my skills at Cricket 19. I'm currently playing in T20 competitions for Hampshire and averaging 79 runs in each match. There's few things worse that thinking you've struck a ball sweetly to only see it go straight up in the air and then be caught… guess I still need more practice.
I also returned to the world of Fifa 19's Career Mode. Why? I'm not sure. I spent a lot of time changing my Portsmouth team so that it reflected the current squad, and I may have added a few attribute points here and there. It's awesome to play as the updated Pompey for a few games, but then the mundane Career Mode fatigue sinks in. Sigh. One day I'll learn.