Like all great photographs, the covers of the FIFA and Pro Evolution Soccer (PES) video games capture a moment in time.
Looking back at them is akin to flicking through a catalogue of football icons; figures chosen for their celebrity and status, and of course their ability to catch the eye of potential buyers. Whether they went on to great things or crashed and burned, these covers stand as a lasting monument to their heyday.
Join me as we look back at the storied history of UK FIFA and Pro Evo covers, starting way back in 2001.
2001
Ah, 2001, the year of the very first Pro Evo (well kind of; it was more a rebranding of the excellent ISS Pro series than any sort of revolution). And to celebrate, the cover went weirdly generic and shadowy; a dark figure chasing a light ball while waves swirl around him. I could easily imagine this guy as a Dr Who villain – there's a bit of a Captain Scarlet and the Mysterons thing going on around him, too.
FIFA, meanwhile, went for a nice, clear image of Thierry Henry, who at the time was doing wonderful things for Arsenal. The chosen pose is slightly baffling; what better way to capture his grace and dynamism than to have him randomly pointing off camera at some unseen point of interest? It's also fascinating that EA Sports originally felt the need to put "football" into the title, presumably to help unwary shoppers who thought it might be a pointing simulator.
FIFA 1-0 PES
---
2002
More generic stuff from Konami, with the unknown player now proudly showing his allegiance to, er, Konami. It's simple, stark, slightly totalitarian and a bit dull, but clearly inspired Leeds United's PR team.
FIFA, on the other hand, introduced the trio format that would reign for years – and what a trio this is. There's Brazilian free kick wizard Roberto Carlos, a very confused-looking Ryan Giggs and, stealing the show, Dutch midfield maestro Edgar Davids. There was a serious reason that this supremely talented player wore sunglasses on the pitch, he suffered from glaucoma and the glasses were there to protect his eyes from particulates. However, coupled with his dreadlocks, the main impact of the glasses was to make him one of the coolest footballers of all time (and definitely the coolest Barnet manager of all time). He's an instantly recognisable, truly iconic figure. He alone makes this another easy win for FIFA.
FIFA 2-0 PES
---
2003
Now, FIFA came out strong this year. Once again, we have a trio of superstars, this time bursting forward Avengers Assemble style. With the Italian cool of Alessandro Del Piero, the French elegance of Thierry Henry and the samba brilliance of Ronaldinho, it's a strong cover and would win most years.
But after two lacklustre showings, Pro Evo finally pulled its finger out. Putting iconic Italian referee Pierluigi Collina on the cover was a masterstroke; not only is he one of the most famous referees of all time, but a truly compelling figure too. He stood bolt upright when dishing out cards, therefore coming across as some sort of unholy combination of Kratos and Frankenstein's Monster. The framing on the cover is beautiful; the way Collina looms above the pitch, signifying that this is his domain. And finally, the colours are perfectly judged, the reds and yellows capture the passion of continental football and contrast sharply with the black of Collina's referee garb and the white of his looping signature. This is not only an easy win for Pro Evo, but probably the greatest football game cover ever.
FIFA 2-1 PES
---
2004
Another year, another trio for FIFA, with Arsenal colossus Patrick Vieira joined by an almost mulleted Fernando Morientes and Andriy Shevchenko, whose attention is completely focused on controlling the ball. As a cover, it's fine, it does the job but does little to live long in the memory.
This year, PES offered up its own, far more interesting take on the trio format with Thierry Henry and Francesco Totti bisected by Collina in full laying-down-the law mode. There's a nice connotation to this; the referee acting as the dividing line between the players. Pro Evo takes this round despite Henry's vacant look and Totti staring off into the middle distance for no reason whatsoever.
FIFA 2-2 PES
---
2005
Oof, now this a close one. On the FIFA side, it's all change. "FIFA Football" has finally been ditched and in its place is a powerful, almost Hemingway-esque FIFA 06; the name of the game has been pared down to its essential elements and the format FIFA has followed ever since. And the image is superb: a rain-soaked Rooney roaring with pure passion, and an equally rain-soaked Ronaldinho looking up at the heavens, presumably in the hope of some divine intervention. It's a dramatic visual that perfectly captures the raw emotion of the beautiful game.
The PES cover, on the other hand, seethes with understated intensity, Chelsea's John Terry and Arsenal's Thierry Henry stare deep into each other's souls in a compelling evocation of a great footballing rivalry. It's perfectly composed too, with the differences popping out: red vs blue, France vs England, West London vs North. It's an iconic cover – but the win has to go to FIFA; there's just something so captivating about those roars in the rain that makes it another all-time great.
FIFA 3-2 PES
---
2006
If it ain't broke, don't fix it. Rooney and Ronaldinho return for the FIFA 07 cover, with both conjured against the backdrop of a floodlit stadium. And Rooney is once again roaring, this time in celebration with the bold red of his Manchester United shirt clearly visible. Ronaldinho, on the other hand, looks like he's just realised he left the gas on. Whatever the reason, this is an unusually contemplative shot of the notorious party animal, and the play of light and shadow lends the portrait great drama.
It's not a bad showing from FIFA then, but it can't hold a candle to this PES cover. John Terry returns from last year (this time staring blankly into the distance) but it's Brazil's Adriano that steals the show. He's caught at the perfect moment, his body contorted in the aftermath of a powerhouse volley that's almost sent the ball out of the screen. This composition perfectly presents the dynamism of that spectacular move and a further sense of kinetic energy is added by the burst of white, almost celestial, light behind him. Next to such visual drama, Terry is the straight man, his static lack of action only emphasising Adriano's grace and power. An effortless win for Pro Evo.
FIFA 3-3 PES
---
2007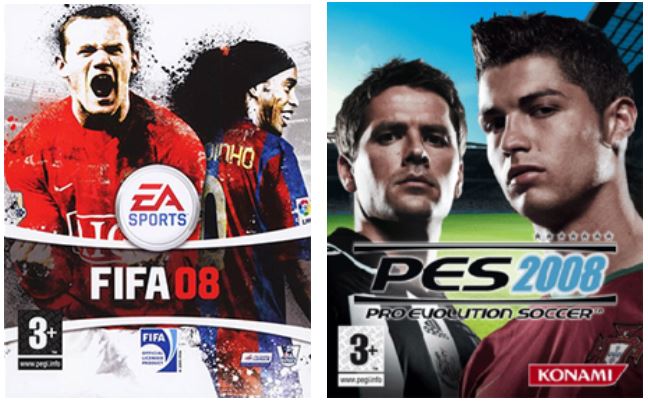 Look who's back; Rooney and Ronaldinho grace their third straight cover but it definitely feels like a case of diminishing returns. Rooney is once again shouting, while Ronaldinho's cheeky grin feels much more in keeping with his character. It lacks any visual impact, and we know FIFA can do better.
As such, PES wins this by default. Despite his starring role last year, Adriano has now been firmly banished and the cover is now graced by Cristiano Ronaldo and Michael Owen. Yes, they look a bit like members of a boy band and yes, it's bizarre that Owen only gets on the cover once he's in decline at Newcastle, but it's a solid effort overall.
FIFA 3-4 PES
---
2008
Oh wow, FIFA really has run out of ideas. There's a fine line between sticking with what works and creative stagnation, and FIFA crosses it with this. Yep, it's Rooney and Ronaldinho again, and Rooney's shouting again, with the only real difference being that Ronaldinho has switched from Barcelona to AC Milan.
FIFA's continued conservatism makes this an open goal for PES and it smashes it into the top corner. Argentine magician Lionel Messi will go on to be a perennial cover star, but his debut makes for a pretty interesting cover all round. There's a nice sense of being plunged into the action while the stars in the background and on the ball celebrate PES getting the exclusive UEFA Champions League license – a real coup for a series that often struggles on the licensing front. And this cover captures Messi perfectly, his eyes fixed on the ball as he (presumably) slaloms through yet another hapless defence.
FIFA 3-5 PES
---
2009
FIFA really love Rooney don't they? Here's the Scouse goal-getter appearing on his fifth straight cover. This time, he has at least been joined by some new blood, all of whom seem to have got the memo that you need to be shouting on a FIFA cover. There's Frank Lampard apparently yelling instructions at some unseen teammate, and even Theo Walcott is trying his best – although to be honest, it looks more like he's in the middle of a sneeze.
PES' effort is hardly a masterpiece, but it's easily the superior cover. Messi is joined by Liverpool's Fernando Torres, and there's a sense of dynamism to it that catches the eye.
FIFA 3-6 PES
---
2010
Sigh, another year, another FIFA cover for Rooney. He isn't shouting at least; this time he's in grim-faced determination. The roaring deficit is balanced by Kaka, a brilliant Brazilian who rather fades into the background on this uninspiring cover.
Pro Evo wins easily then, and this cover is a modern classic. The triple exposure of Messi sublimely captures the little Argentinian's almost ethereal grace. As with most of the strong covers in this list, you really get the sense of a moment frozen in time, Messi caught in mid shimmy as he puts another hapless defender on his bottom. He looks effortlessly stylish – despite sporting a terrible 70s hairdo.
FIFA 3-7 PES
---
2011
Yep, Rooney's back again for his seventh straight cover and he's once again roaring, with only the kit confirming this isn't just a cut-and-paste job from FIFA 10. His cover counterpart, though, is far more interesting. It's Jack Wilshere, one of the most naturally talented English players in years who once had England and Arsenal fans dreaming of a brighter future before we realised just how injury prone he was. Putting him in Arsenal's rather natty navy and blue away kit is a clever touch, providing great visual contrast with the bold red of Rooney's Man U home kit.
This year was another strong effort for PES. Its cover features the one and only Cristiano Ronaldo who, in the aftermath of a free kick, has every sinew tensed in sheer concentration. This concentration also extends to his face, having the unfortunate side-effect of making him look like he's struggling to hold in a bowel movement. Still, at least the framing is nice, with UEFA Champions League visible behind CR7. It's close, but PES once again wins this one.
FIFA 3-8 PES
---
2012
The king is dead, long live the king. Rooney's seven-year reign finally comes to an end, with a jubilant Lionel Messi gracing the cover of FIFA 13. It's a rather nice cover too, with the red and blue of his Barca kit standing out beautifully against the grayscale stadium backdrop.
Speaking of standing out, this unusual angle makes Cristiano Ronaldo look about 50ft tall, the colossus of Madrid. In fact, this cover basically just is Ronaldo; he takes up almost the whole thing, with only the stars on the ball and a tiny billboard hinting that Pro Evo still has that exclusive UEFA Champions League license. Another close one then, but FIFA finally takes a win.
FIFA 4-8 PES
---
2013
Having thrown off the shackles of one design convention, FIFA wholeheartedly embraces another, with Lionel Messi once again appearing in front of a grayscale stadium (at least he's cut his hair now). He's joined by a very youthful Gareth Bale, in the days when the Welsh wing wizard looked like an android straight off the production line. The white of his Real Madrid shirt almost fades into the background, however, and overall this cover lacks visual impact.
In comparison, PES looks pretty dull: a simple shot of the Champions League stadium looking more like a placeholder than an actual cover. The real lack of visual impact makes this an easy win for FIFA.
FIFA 5-8 PES
---
2014
FIFA sticks with Messi again, but this time mixes up the composition a bit. The wider angle does a great job of foregrounding the Barca icon and the light behind gives him a saintly air. A nice dynamic pose too, giving the cover a vital sense of energy.
For PES, Mario Gotze gets the spotlight, a player who went from wonderkid to has-been with dizzying speed. The addition of the signature is a nice touch, while the cover is also adorned with the Champions League and Europa League logos. Needless to say, this is a definite improvement on the previous year, but FIFA still takes this round.
FIFA 6-8 PES
---
2015
Yes, that is Jordan Henderson alongside Lionel Messi. Way before he became a vital part of a Champions League-winning team, the Wearside midfielder won a worldwide poll to appear alongside Messi on the FIFA 16 cover. Fittingly, it looks like Messi is sprinting straight past him. It's not a bad cover by any means, but this is one year where PES definitely stood out.
The PES cover star is Neymar who, it's easy to forget, was once seen as the heir to Messi and Ronaldo as the world's best player. This cover captures him beautifully; there's an almost balletic sway to his hips, and the bright yellow of his iconic Brazil shirt mirrored by the bright yellow floodlights is dazzling. It's a truly striking cover and makes this year an easy win for Pro Evo.
FIFA 6-9 PES
---
2016
The FIFA 17 cover is a true return to form, with Borussia Dortmund star Marco Reus winning the global cover vote and the box art showcasing him superbly. There's a steely determination in his eyes and the yellow and black of his kit is reflected in the artistically burred shot of the famous Yellow Wall stand behind him. The combination is truly atmospheric and you can almost hear the chants at the Westfalenstadion. In short, a beauty.
The PES 2017 cover, on the other hand, all feels a bit thrown together. The key themes are clearly Barca (reflecting the club's status as an official partner of the game) and the Champions League. However, with the ball, the stadium, the lettering and five Barca players vying for attention, nothing really catches the eye and this cover really lacks visual impact. This year, it's FIFA all the way.
FIFA 7-9 PES
---
2017
There's no messing about on this FIFA cover: it's Cristiano Ronaldo and he exhibits all the diffident humility that you'd expect. Arms back, chest out, mouth open; this shot captures the essence of CR7, everything about practically oozes narcissistic machismo. The white of the FIFA lettering does merge into the shirt a little, but this is an undeniably striking cover.
The PES cover looks a bit dull in comparison. The Barca theme continues with a shot of a celebrating Luis Suarez, but it doesn't really catch the eye and just feels like an average, business-as-usual cover. Needless to say, FIFA wins this round.
FIFA 8-9 PES
---
2018
Another Ronaldo cover for FIFA, but the sense of déjà vu is lessened by the bold design decisions made for this cover. The light blue background is striking and does a great job of showing off CR7's black and white Juventus strip (the Portuguese superstar having switched from Real Madrid to the Old Lady). The pose is dynamic and athletic, with the shadow on the background a nice touch. Overall, a cover with great visual impact.
Again, PES struggles a little in comparison. There's nothing wrong with this cover, but  nothing particularly stands out, either. The cover star is Philippe Coutinho who, like Suarez the previous year, appears to be celebrating a goal. In contrast to FIFA, the blurred stadium background doesn't really help Coutinho to stand out and the whole cover just lacks a compelling focal point. Another clear win for FIFA.
FIFA 9-9 PES
---
2019
And finally, we get to this year. It's all change for FIFA, with Eden Hazard, fresh off his £89m dream move to Real Madrid, gracing the cover. Again, the key design choice is a bold coloured background, in this case a light pink that really helps the white and gold of Eden's Real Madrid kit to stand out. He does, however, come across as rather unlikable; the way he's pointing to the Real badge and quite literally looking down on the viewer suggests the arrogance of the Spanish club is already rubbing off on him. He definitely looks like the sort of guy that would casually chat up your girlfriend in a club, and makes this a good candidate for most arrogant FIFA cover in history. Regardless, this is a strong cover and it's nice to see a new cover star.
Oh PES, what the hell happened here? This is frankly a travesty, and I still can't believe it's the actual cover. Let's start with the cover stars, all four of them. No one can question the inclusion of Lionel Messi, still the key player for Barcelona, one of PES' key partner clubs. For Juventus (another partner club) it's Miralem Pjanic, arguably not a star (the lack of Ronaldo is a bit baffling) but still an important player. We slip down the popularity scale with Serge Gnabry, a promising winger for Bayern Munich (who, like Juve and Barca, is another PES partner club) but hardly a guy with mainstream fame. And then we get to Scott McTominay, one of the most unlikely cover stars in history. He makes Gnabry look like a superstar in comparison, even many football fans would struggle to pick him out of a line up. Whatever the reason for this motley crew, whether it's image rights or club demands, it's rather embarrassing for a series of PES' stature. Even if four superstars were there, there's still far too much going on in this cover – and that new title is just completely ridiculous. It's easily the worst cover of the lot, and I think you can guess who wins this final round.
FIFA 10-9 PES