Outbuddies reminds me a lot of Axiom Verge. And I like Axiom Verge a lot.
A Metroidvania with retro looks and a cool colour palette (initially, at least), Outbuddies is a labour of love. Just like Axiom Verge, it's being made by just one man, Julian Laufer, whose passion for titles such Super Metroid, Castlevania and Mega Man has spurred him on to create his own video game offering. And it seems like his efforts have been fruitful. I've spent an hour or so with Outbuddies, and I've enjoyed what I've played.
Your journey begins following a shipwreck. As adventurer and maritime archaeologist Nikolay Bernstein, you've found yourself 36,000 feet under the sea in Bahlam, the sunken city of the Old Gods. And you're not alone – a strange drone-like creature is at your assistance, and proves invaluable to your continued survival. With your newfound buddy in tow, can you unravel the mystery that awaits?
Doing as little as possible to hold your hand, Outbuddies has an air of mystery about it. Picking yourself up and learning the basics, you yearn to explore, and you're soon given the chance. Though of course, you find dead ends everywhere. Only by finding new weapons and equipment can you open up access to new areas. This is a Metroidvania, after all.
With sprawling areas, there's a nice mix of platforming and combat. You can run, wall jump, crawl, and even make use of a steam-propelled slide to avoid enemies and obstacles. There's a bit of puzzling to do, too. By activating your drone, you can take control of it and manipulate platforms. Sometimes you'll simply need to move them so you can use them as ledges, other times you might need to place them on pressure sensitive switches. Who knows what other uses lie in store further into Outbuddies.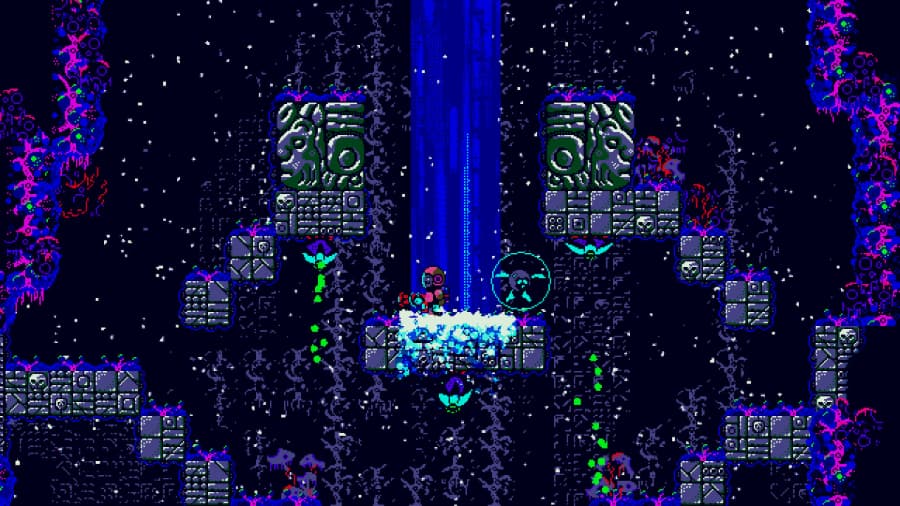 Taking control of your drone also has another use: reconnaissance. You're free to move around the area as you please with the drone, scouting out the locations of enemies and looking for objects of importance. And if you hold a button down to enable your scanner, moving over objects might indicate what they are and what they do. Very useful indeed.
Opening up the map screen reveals a huge world to explore, which of course is populated by some bosses. From what I've seen and played of the game, boss encounters are likely to be a highlight of the experience, offering considerable challenge while also being visually appealing. Honestly, I died fighting the first boss a couple of times before I emerged victorious, but it helped quell one worry I had about Outbuddies: the perceived lack of save points.
I covered a lot of ground without laying eyes on a save point before fighting Outbuddies' first boss, though luckily there was one close to the boss room. I didn't really need it though, as the game is fairly generous with checkpoints. Each time I died I'd find myself taken back one screen at most, allowing me to carry on my journey without frustration. Challenging but not overly so, that's how I like my games, and Outbuddies seems to fall into that category.
Outbuddies is set for release on PC in October, so you've not get long to wait if you want to get your hands on it. You can wishlist it on Steam right now. A console release is also planned at a later date, so if you don't do PC gaming don't worry, you won't miss out. And rest assured, we'll have more about Outbuddies as its release nears. It seems like a Metroidvania worth keeping on your radar.