Help us, help us! We're drowning in gaaaames!
Here's a few things we've said out loud this week at GameSpew HQ: how is it October already? How are there so many games out at the moment? Has anyone found a way to put more hours in a day? All genuine questions. Any answers would be appreciated.
But like the little soldiers we are, we've marched on, covering those games like there's no tomorrow. But of course there will be a tomorrow. And it'll bring with it even more games. No rest for the wicked, eh?
---
Rich: Code Vein has been my favourite waste of time this week. I've been so engrossed making my way through what many have dubbed the Anime Anor Londo. If you love the likes of Dark Souls and The Surge, don't be put off by the negative previews and give it a go. You might be surprised.
Other than Code Vein, I've been pleasantly surprised by both Sniper Elite 3: Ultimate Edition and Call of Cthulhu on Switch, although the latter does have really long loading times. I've also previewed Mario & Sonic at the Olympic Games Tokyo 2020. And I've dabbled with hardcore skateboarding sim Session and uncompromising tactical RPG WARSAW. Throw in some fun with side-scrolling beat 'em up Fight'N Rage, and I've been a busy boy, as usual.
Kim: I've spent a fair bit of time with Yooka-Laylee and the Impossible Lair. The actual Impossible Lair aside – yes, it's a real level in the game, and it's as impossible as the name suggest – I've had a lot of fun with it. It's cute, it offers up plenty of variation, and for a game that's only £25 at RRP, there's a surprising amount of content.
I've also made a bit of headway in Ghost Recon Breakpoint, which I'm very much enjoying. But that's a given; there's yet to be an Ubisoft open-worlder I haven't liked. I plan to spend a lot of time with it this weekend, so look out for a review from me next week. You can also look forward to a review of The Bradwell Conspiracy. I've just previewed it, and I'm very impressed indeed.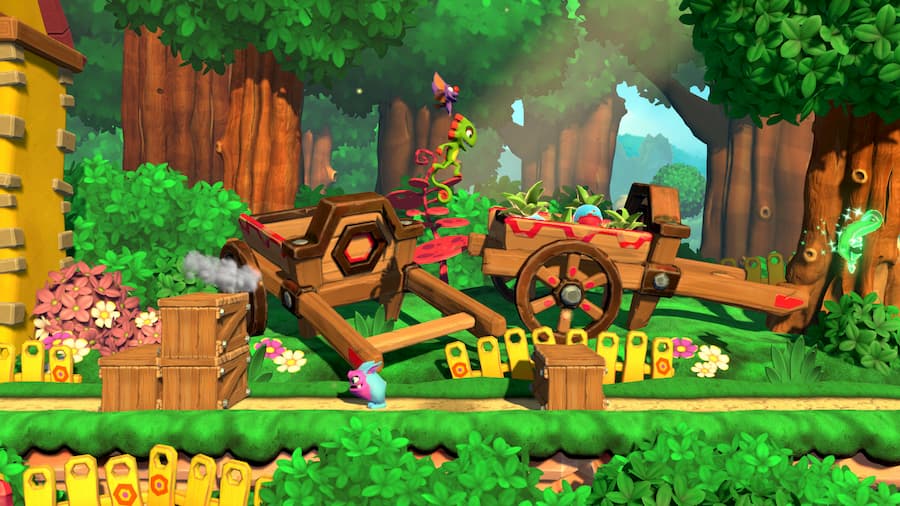 Diggy: Most of my time this week has been taken up by Keanu Reeves simulator John Wick Hex, an upcoming strategy game based on the popular film franchise. You'll have to wait to hear my thoughts on it though, so be sure to check in next week for the review.
However, I did find the time to sit down and record a first impressions video of the recent horror game Blair Witch. Me and Nathan are joined by our pal Kevin for this one. Check it out if you like hearing three guys crack jokes to cover up the fact that they are clearly terrified.
Becca:  I had a bit more free time to play ALL THE THINGS this week. Starting with the point and click game Nobodies which is basically an I Spy game with lots of puzzles. You're hired by the government to cover up government funded assassinations. I was garbage at it, but still managed to finish the whole game. In your face universe.
I also played an oodle and a half of Dead by Daylight for Switch. I kept hoping that the more I played, the more it would grow on me, but it never did. I love Dead by Daylight and would recommend everyone pick it up on another format if you're into horror games but it definitely doesn't hold up on Switch. I also played the gorgeous game Neo Cab, which puts you in the shoes on a cab driver in a futuristic world where cars have become mostly automated. The amount of different conversations and situations you can get into with your passengers makes it well worth giving it a try.
Finally, my dad and I jumped into Borderlands 3. We were less than thrilled at first; playing the game in split screen has its faults, and those faults involve a lot of lagging. But once I got home from visiting him and we were able to play online without the split screen, we really started to enjoy it. I'm looking forward to finishing my first playthrough with Fl4k and then switching to one of the other awesome characters and doing it all over again.
Chris: I figured I'd spend two maybe three hours playing Mosaic for the purposes of previewing this bleak urban adventure. I somehow managed to while away an entire evening playing the in-game clicker game BlipBlop. Some day I hope to forgive myself but for now I'm living with the shameful knowledge that this throwaway mini-game, which isn't fun by any stretch of the imagination, had me hooked.
I'm also wading through Green Hell (which I'll be reviewing next week) and rapidly learning that shoving random mushrooms into your mouth isn't a good idea. I've been spoilt by games where you can grab a turkey leg out of a bin and gnaw on it with no consequences; here, eat a raw bird's egg and you're liable to die of dysentery. Green Hell? Brown Hell, more like.
Stan: Do you know what Volta means? I'm not so sure myself. But, what I do know is that I love it! FIFA 20's new Volta Mode has taken up a lot of my time this week. Following my own 5 tips for success, I've been dominating street football in places like Holland, Brazil and the States. Volta's story is fairly simple, but I love the added depth it gives to the mode (that I was a bit sceptical, of to be honest) and I really appreciate how the mode allows me to complete all the skills and tricks I typically do on a regular basis.
I'm also so close to completing Link's Awakening! I'm just two instruments shy of a full band. I am finding the dungeons a little annoying, and the dead ends in the maps are quite frustrating, but the overall charm keeps me coming back. I was expecting to whizz through FIFA 20 and return to Zelda in a flash, but that Volta Mode just keeps drawing me back in. Plus, I may have started a new Career Mode with Portsmouth, where I'm ensuring my players are customised to either be more realistic or worth so much I can sell them for a fortune.