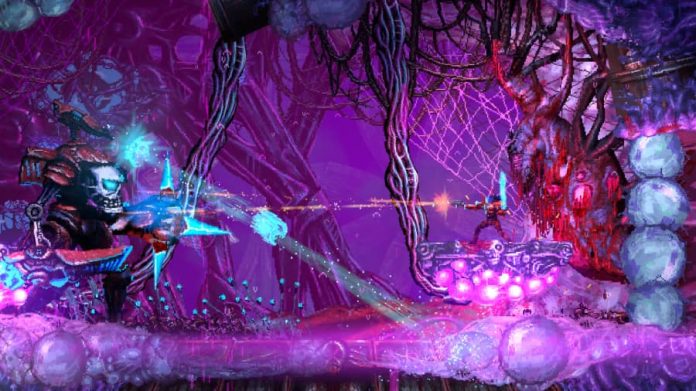 I wasn't overly impressed with Andrew Gilmour's Slain: Back from Hell when I reviewed it back in 2016.
I mean, I really wanted to love it; it had an awesome metal soundtrack and the visuals appealed to me immensely. On a gameplay level, however, I just didn't gel with it. I just didn't think it played very well.
Three years later Andrew Gilmour is back with Valfaris, a 2D shooter that keeps the heavy metal music and striking 2D visuals. Honestly, if you took screenshots of both Slain and Valfaris and put them side by side, you might believe they were from the same game, only with two different characters on screen. And that's not a bad thing. But more importantly, Valfaris is a massive step up in terms of gameplay from Slain. Valfaris rocks in every way.
As video game protagonists go, rarely are they more stoic than Valfaris' Therion. Crash landing on the titular fortress, it's quickly established that he's there to confront his father. To reach him, he'll need to battle his way through an evil that has spread throughout the fortress, but that's no problem. Therion is cool, level-headed and more capable of dealing with anything that stands in his way. Especially once he's bolstered his arsenal with an assortment of weaponry found on his journey.
Starting out with just a pistol and a sword, taking control of Therion is a pleasure. He's responsive to your every command, enabling you to effectively deal with enemies both at range and up close. It's not long until you discover your first Devastator weapon, either, that drains your precious energy reserves when used. Luckily, however, energy can be recharged by hitting enemies with your sword and picking up energy collectables.
Going mental with your new, highly-destructive toy is something that is best done in moderation, though, as energy is also required to power your ever-useful shield. It can stop most attacks from sapping away at your health, and raising your shield at just the right time can even stun enemies or return their projectiles back at them. You can go all out and risk leaving yourself defenceless if you want but it's not recommended. Many enemies and situations demand that you use your shield effectively to survive.
While Valfaris has clear levels defined by their own scenery and enemies, they're not presented as such. There are no level complete screens or suchlike; you flow from one area to the next naturally and often seamlessly, truly making it feel like an adventure. Along the way you'll find plenty of vats, not only filled with a mysterious green liquid but also weapons ripe for the taking. New pistols, swords and devastator weapons are all up for grabs, ever expanding your offensive options. And they all have an otherworldy alien tinge to them.
The capabilities of each weapon you find aren't static, either. A weapon upgrade system means that you can grow their capabilities over time, increasing their range and power, or even adding new effects. The scarcity of upgrade materials means that you're likely to find a loadout that works for you and stick to it, however, upgrading your favourite weapons whenever you can. It's shame that the materials required to upgrade aren't more abundant, as then you'd perhaps be more inclined to experiment and mix things up. As it is, it's still an option, but not a very efficient one.
The action of Valfaris is generally fast-paced and always rewarding. At times it feels very much like a run 'n' gun, but there are also areas that require careful platforming. It's a good mix. You get as much of a kick from successfully negotiating moving platforms laden with spikes as you do turning enemies into little more than piles of gore. Well, nearly. But it's not easy. Valfaris is far from a walk in the park. You're often faced with many threats attacking from multiple angles, and restrictive 8-way shooting sometimes makes it trickier than it perhaps should be to get a good angle.
As hard as Valfaris gets in its later stages, the challenge never feels insurmountable. That's largely because of its great Resurrection Idol system. You find many Resurrection Idols on your travels, and each one held increases your health and energy. But they also have another use: place a resurrection Idol on one of the many altars you discover and a checkpoint is created, which can also be used to change your loadout and upgrade your weapons if you have the required materials.
Whether you try to hoard the Resurrection Idols you find in order to increase your health and energy or use them to activate all the checkpoints you come across so you don't have to go back too far when you inevitably die is up to you. The number of Resurrection Idols you can carry increases as you progress through the game, too. They can also be exchanged for valuable weapon upgrade materials at strange monoliths from time to time. Valfaris can be made very manageable if you find yourself struggling, but those who elect for a greater challenge will find themselves rewarded.
Unfortunately, once you've completed Valfaris' engaging campaign, which will take under ten hours unless you really find yourself getting stuck quite often, there's nothing to do other than start a new game. Developer Steel Mantis is currently working on a New Game+ mode that will be added after launch though. Called Full Metal Mode, it'll let you carry over your weapons and upgrades, introduce a new weapon into the game, and heighten the challenge.
There's a hell of a lot to like about Valfaris. Its soundtrack is excellent and really spurs you on unless you really dislike metal music, but then Valfaris probably isn't the game for you. It's also got a great range of environments and enemies, throwing up new challenges and obstacles with an enjoyable regularity. But it's the responsive controls and engaging combat that really make it shine.
After a breezy first hour or so, Valfaris gets tough, but it rarely feels cheap. Nine times out of ten death is purely your fault. Any frustration you have at the game will be overcome by the urge to beat it, because you know you can once you apply yourself and learn the ins and out of enemy attacks. Plus, the brilliant Resurrection Idol system lets you define the game's difficulty to some extent.
If you like challenging games that are full of action and are dripping with atmosphere, Valfaris comes highly recommended. And if you happen to like metal music, it's even better. Steel Mantis has struck silver with this metal-infused shooter. It isn't perfect but it's bloody good. That's better than the bronze or even maybe copper it struck with Slain: Back from Hell. Maybe next time it'll strike gold. I'm looking forward to that.

Valfaris is available now on Switch and PC. It's launching on PS4 and Xbox One next month. We reviewed the Switch version.
---