It was September 30 1999. In the UK, the pop club classic Blue (Da Ba Dee) was enjoying its time at the top, courtesy of Eiffel 65. More importantly, the sequel to the highly acclaimed real-time strategy game, Age of Empires, was released.
Being an almost-perfect sequel, Age of Empires II improved on all aspects of its predecessor, from the variety of units available to villager pathing. 20 years later, this game is still being enjoyed by hardcore fans – and Microsoft has rewarded their loyalty with a high definition remaster of this classic. But is Age of Empires II: Definitive Edition just a simple remake or an ambitious attempt to bring this well-regarded RTS back to the top?
For those who have never ventured into the depths of this real-time strategy staple, the game revolves around you building a small nation, with villagers collecting goods from the map. As your resources grow, you will expand and claim more of the map, using military units to stake your claim over others before eventually conquering them.
It's a simple premise that relies on you successfully multitasking between managing your resources, economy and warring parties all at breakneck speed. It's easy to imagine, then, that Age of Empires II's formula could go wrong: overpowered units could become an unwanted staple of online play, for example, or there could only be one reliable method of winning, meaning players easily get bored. Thankfully, this was never the case in Age of Empires II, and it's certainly not the case in Age of Empires II: Definitive Edition – despite being 20 years old, this is a game where you can still discover new tactics and ways of warfare.
The Definitive Edition makes only minor gameplay changes to Age of Empires II. After all, it would be silly to tweak a game that is revered for its RTS balance. As such, any changes that have been made are strictly quality-of-life improvements, intended to make repetitive actions less fiddly or unnecessary. An example of this is the reseeding of farms. You can get food by creating farms, but after a while they will run out and need to be reseeded by spending some wood at your mill. In the original Age of Empires II, this wasn't a problem if you had a lot of wood, but if you were otherwise distracted or busy at war, you could find yourself looking back to your base to see it laden with dead farms. Age of Empires II: Definitive Edition allows you to turn on auto reseeding: by simply clicking a button your farms will be reseeded when needed if you have the spare wood. This makes the multitasking that bit easier.
Another similar yet hugely impactful change is that you can mix up build and technology queues. Previously, if you wanted to build three militia units then research its unit upgrade, you would have to visit the relevant building once it was built then click the upgrade. That is not the case in Age of Empires II: Definitive Edition as you are able to queue different kinds of research together. This allows players to plan more in advance and make decisions earlier than they'd be able to in the 1999 original.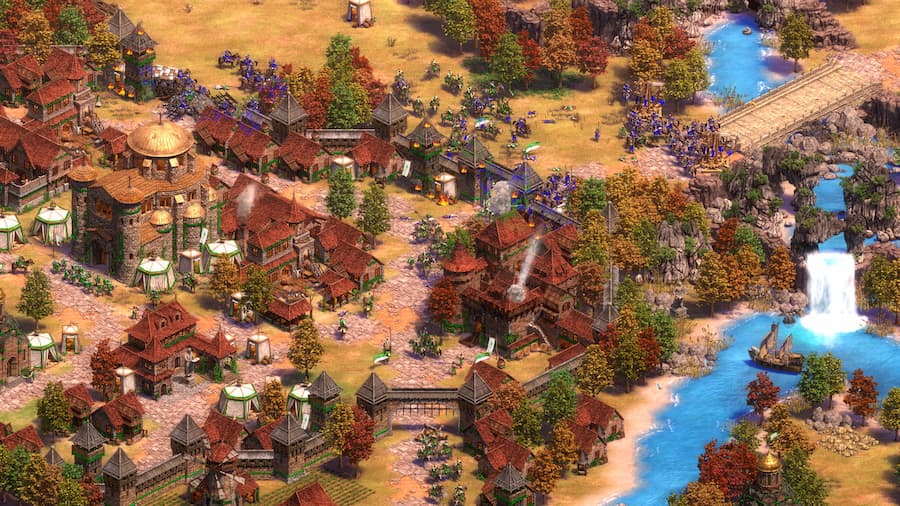 This can, to some, seem like it is making the game easier. And to a point, that's true; these small changes make it easier for an amateur player to manage the multitude of resources, units and upgrades they'll come across while playing the game. With Age of Empires II: Definitive Edition, it's easier to balance your time between managing your economy and your offensive units – which makes the game easier to get to grips with as a beginner. By allowing some elements of the game to run on auto, it allows you to pay more attention to areas of the game you are less unfamiliar with.
It's possible that more experienced players will dislike this – after all, there are people who have spent decades honing their skills playing Age of Empires II – but it's hard to see the Definitive Edition's improvements having much impact on the game's pro level players. It may make it easier to get into, but the best players will always be the ones that are able to react in real time to the scenario around them. I wouldn't be surprised if many of the best players never use these new features at all as they will already be accustomed to having full control of every aspect of their empire. Those who depend on these new features will be washed underfoot.
Aside from those quality of life changes making Age of Empires II: Definitive Edition a little easier for newer players, there are some welcome features for those who take the game more seriously. There's now a built-in game recorder, allowing you to analyse and stream your gameplay. It allows you to watch the game from all perspectives and review in-time building orders, making the game easier to understand. From a streaming perspective, too, it makes a more engaging watch for the audience.
Lastly, and this nearly goes without saying, Age of Empires II: Definitive Edition looks a hell of a lot nicer than the original. It's full of life; the fauna looks more vibrant, the units look sharper and the buildings look more crisp. It's still instantly recognisable as Age of Empires II, but brought into the modern age with cleaner, ultra HD textures and a lot more detail. Every sprite and animation has been lovingly updated while keeping true to its roots. I especially love the new crumbling animation that plays when a building is destroyed. The menus are clear cut and much easier to navigate – but I do think the main menu is a bit boring in comparison to the dynamic start screens and winning cinematics. It's disappointing: the main menu is the first thing you're greeted with, and it completely undersells the transformation this game has undergone.
Age of Empires II is a game that has demonstrably lasted the test of time and arguably didn't need an update; even in its original form it remains a real staple of the real-time strategy genre. However, Age of Empires II: Definitive Edition has taken that winning formula and ever-so-slightly tweaked it; not enough to disrupt anything that makes the game some great in the first place, but just enough to bring the game into the modern day. The small tweaks to gameplay make it easier than ever for new players to come aboard, and the new features like built-in game recording and the fantastic visual overhaul mean it's a treat for Age of Empires stalwarts, too. There's no reason to go back to the original now, and its generously low price (£15/$20) makes Age of Empires II: Definitive Edition an easy must-buy.
Age of Empires II: Definitive Edition is available on PC.