Based on the comic book series of the same name created by Robert Kirkman of The Walking Dead fame, Thief of Thieves: Season One can't make its mind up if it wants to be a stealth or a modern-day equivalent of a point and click game.
It's been available on PC and Xbox One for a while now, and despite its mixed response from critics, it's now also found its way onto Switch. But should you invest in it? Well, that depends if you like stealth and problem solving.
In Thief of Thieves: Season One you take control of Celia. Hot off a plane from Europe, straight from the outset you know you're in for a stylish affair, with a bold visual style complemented well with an attention-grabbing soundtrack. But then disaster strikes. Celia is apprehended by agents of an unknown origin, and they want to to know about her exploits.
You see, Celia is a thief, and despite what her catastrophic first mission with you in control might suggest, a rather good one. In Thief of Thieves: Season One it's your job to guide Celia through multiple high profile heists performed across the world. But she's not alone. Thanks to having a reliable team behind her, no job is too big providing you make use of their strengths.
Many of Thief of Thieves: Season One's story scenes play out via comic book cells wonderfully brought to life with voiced dialogue. Others are relayed via the game's engine, which are less impressive but they still get the job done. Of course, there are dialogue choices to be made, and you're often under the pressure when doing so. When it comes to planning heists, your choices have a real impact as well. Whether innocent people get hurt in the process, for example, is on you.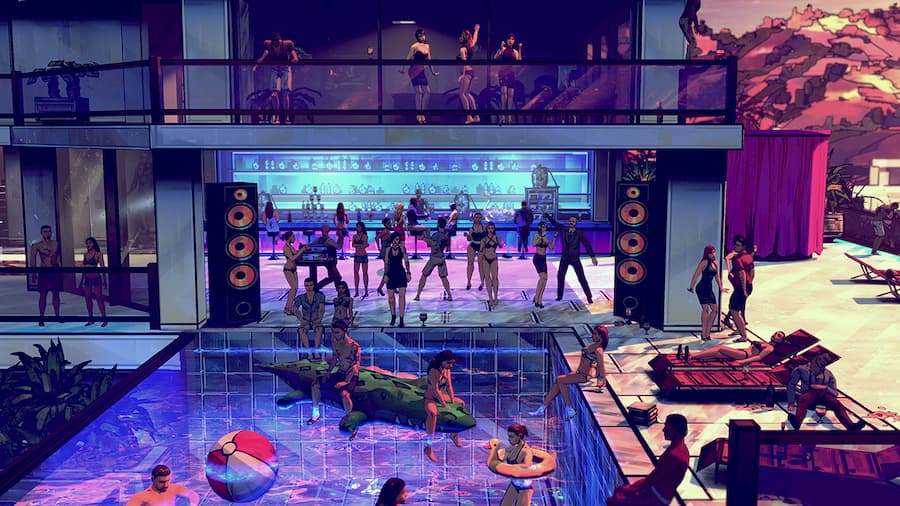 How heists play out isn't all down to the decisions you make in the planning stages, however. Your actions have implications too. Take an early mission in which you need to infiltrate a property to obtain information, for example. You could take the opportunity to disguise yourself as a swimming pool engineer, but that will limit what you can do inside the house without raising suspicion. If you can make it into the house unseen, however, you can disguise yourself as a housekeeper, pretty much giving you free reign.
In later missions, how you use your team members is pivotal as well. They each have their special abilities, and using them effectively will enable you to get jobs done much more efficiently. You can command them to create distractions when you need to get past persistent guards, or point out security devices to them so they can give you advice as to how to get around them. There's often more than one way to achieve a task, but rarely can you succeed using your skills alone.
Essentially combining point and click adventuring with stealth, Thief of Thieves: Season One's gameplay is pretty rudimentary. It's not particularly punishing either, for better or worse. While optional objectives can be failed, there's often no real penalty attached. And if you do happen to get caught and screw up your mission, lenient checkpoints mean you never have to repeat huge sections of gameplay. If you're trying to solve a problem via trial and error it can get irritating, but it rarely comes to that. Thief of Thieves: Season One is a pretty breezy five or so hour journey that's mostly free of frustration.
Having played the Xbox One version of Thief of Thieves: Season One before, I was pleased to find that manoeuvring Celia around seems to be improved in the Switch version. Tweaks have been made to certain sections of the game to make it play better too, though it's still lacking some polish. That's mostly apparent in the game's visuals, which like in the Xbox One version are quite ugly in places. It's best played in handheld mode as the small screen hides some of its flaws, but the blurry nature of the game's visuals impacts the comic book style text, making it harder to read.
If you've never played Thief of Thieves: Season One, then Switch is as good a format to pick it up on as any. The blurriness of the visuals isn't ideal and it still feels a bit rough around the edges overall, but welcome gameplay tweaks are a valuable counterpoint, ensuring you have the best experience that you possibly can with Celia. With its interesting story and a variety of unique ideas Thief of Thieves: Season One is bound to entertain. Just don't expect it to make a lasting impact on you, because it won't.
Thief of Thieves: Season One is available on Xbox One, Switch and PC. We reviewed the Switch version.