Can you believe it's the last week of November already? We can not.
While our American friends have been enjoying their Thanksgiving dinners and are now chowing down on leftover Turkey, we here in the UK have simply been ruing the cold. And playing video games, of course. With most of 2019's releases out of the way we've finally been able to breathe a sigh of relief – and start considering what to tackle from our backlogs.
But we've got a whole Christmas break of playing games to look forward to. For now, here's what we've been playing this week. Have a great weekend, everyone!
Kim: I've become a bit addicted to Tetris 99 again. I'm back up on my game, frequently getting second or third place. Still no win. But soon. Soon.
I've played through Lost Ember, which is a beautiful game about nature, humanity, and the competition between the two. In it, you can shapeshift between animals, so one minute I'm running as a wolf, and the next I'm soaring through the air as a bird. It's just lovely. I've also been finishing off in Pokémon Sword, which I enjoyed rather a lot. I'm not a Pokémon expert – apart from dabbling in Let's Go and the very first games on Game Boy, this is the first time I've fully immersed myself in it. I can't see me having the patience to complete my Pokédex, but it was fun while it lasted.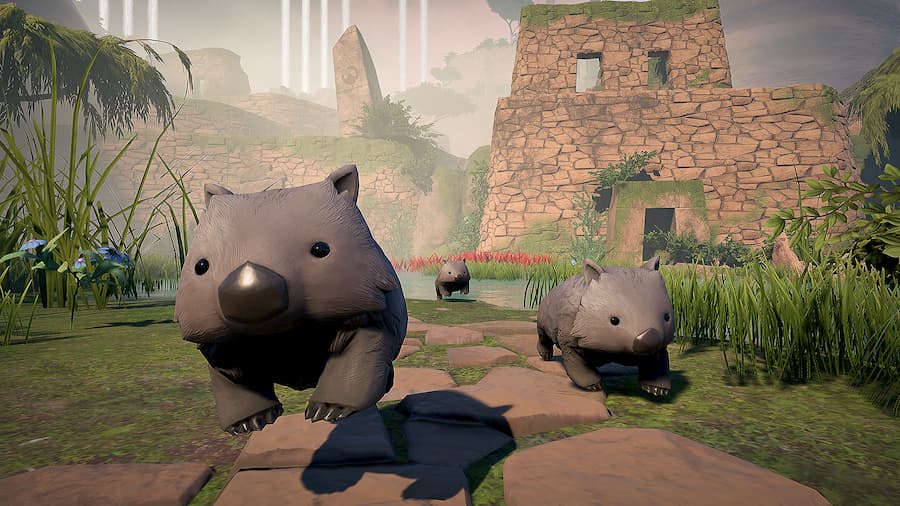 Diggy: Almost all of my free time this week has been occupied by SuperEpic, a metroidvania-style action platformer that satirises the mainstream AAA video game industry. I can't reveal anything else yet, so if you want to hear my detailed thoughts on it, you'll have to check back next week when my review is up.
Other than that, I've spent a lot of this week trying to resist throwing away all my money on various Black Friday deals, with only limited success. One of the many new purchases that I'm excited about finally getting around to playing is What Remains of Edith Finch, which I know many of my GameSpew colleagues rave about. Maybe if I go without food for a week I can buy just a few more games…
Becca: I put my dancing shoes on this week and tackled Zumba Burn It Up! on the Switch. It's a good work out, but I think I burned more calories trying to catch up with what the dancers were doing than actually doing the dance movies. Note: calories burned are not related to the accuracy of your workout.
I also played the intriguing game Where the Water Tastes Like Wine which is all about collecting stories and retelling them as you hitchhike your way across the United States. It's an interesting concept that's terribly difficult to explain, but I did enjoy the interesting stories as well as people that you meet on the road.
To entertain myself on Thursday while my Thanksgiving dinner was being prepared I jumped back into Overwatch for a bit to complete the Mercy challenge so I could get her awesome new skin. Now if only my internet wasn't so terrible that I got kicked out of every other game, I might be able to go back to Overwatch on a regular basis. Lé sigh.
Chris: I'm still messing about in Death Stranding, and even aside from the fact that 'America' doesn't resemble the country in the least, I'm having problems taking it seriously. The horror elements are fantastic, but the main storyline is presented in such a po-faced way that I can't keep a straight face.
I'm also playing a game which I can't talk about, but which I've been keeping an eye on for a while; I'll be reviewing it next week. I'm tackling Star Wars Jedi: Fallen Order still and laughing at how deranged you can be. "May the Force be with you," I utter as I shove yet another Stormtrooper over a ledge. It's like Wolfenstein's B.J. Blazkowicz pretending to be a monk.
Stan: Jedi: Fallen Order is just incredible. I've been playing it pretty much non-stop and I just can not get enough of it. BD-1 is great, and Cal's character is fantastic. I honestly think it may be one of the best Star Wars games ever created, and I'm barely even half way through yet. Yup, the Force is strong with this one.
I'm also nearing the end of my Pokémon Sword adventure. I'm so close to being a champion (even though my mum says I am already a champ), and my team is as strong as I can make it. I've been really enjoying it, and again, I might think it's actually the best Pokémon game ever made. What a fantastic week of gaming!