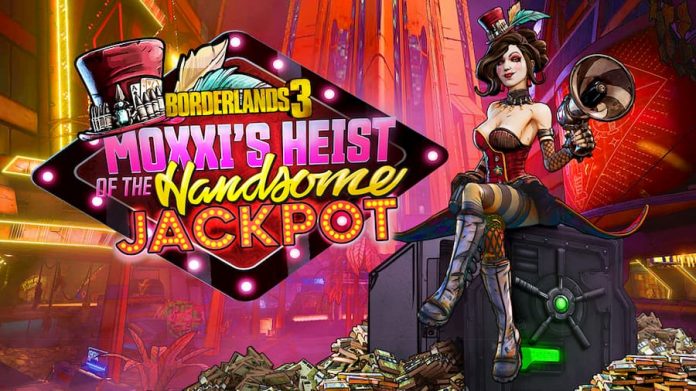 Moxxi's Heist of the Handsome Jackpot is the first DLC for Borderlands 3, sending the vault hunters to Handsome Jack's space station casino in search of booty.
The once-thriving and opulent space station casino may not be what it used to be, but there's still enough loot there to grab the attention of any vault-hunter. In Borderlands 3's first paid campaign add-on, Moxxi wants you to help her take control of the Handsome Jackpot, as a final revenge against her ex Handsome Jack (who may be long-dead, but he's a favourite character of the series so Gearbox will keep wheeling him out for fan service).
Join Moxxi's eccentric crew and face new campaign missions, side missions and crew challenges featuring new enemies and bosses. Loader Bots, stranded casino-goers, and the lingering presence of the great former Hyperion CEO himself are just some of the obstacles that will stand in your way as you plunder the Handsome Jackpot for new weapons, gear, cosmetics and more.
Available now, Moxxi's Heist of the Handsome Jackpot is the first of four planned DLC packs for Borderlands 3, all included in the Super Deluxe Edition but also available for individual purchase. The new campaign is designed for players at at least level 13, but will scale up to provide a worthy challenge for more experienced vault-hunters too. Players will also require access to the good ship Sanctuary III, which is gained at the end of Episode 5 of the main story campaign, to reach the Handsome Jackpot.
Borderlands 3 is available on PlayStation 4, Xbox One, PC and Google Stadia. Watch the Moxxi's Heist of the Handsome Jackpot launch trailer below, or head over to the official 2K website for more information.
---