GameSpew's list of the 50 best games of the decade continues.
We've racked our minds and put together a list of what we feel are the best games released in the last ten years. We've previously revealed #50-#41, and there were some very good games in there indeed. We voted for them after all. Here we unveil #40-#31. Will there be some surprises? Maybe.
How our top 50 games have been decided: Each member of the GameSpew team (there's six of us) has chosen their top 20 games, ranked from 1 to 20. Everyone's highest-ranked game has been given 20 points, down to the lowest-ranked game, which received 1 point. The points have been tallied up, with the games receiving the most points overall making it onto this list. Where multiple games have received the same amount of points, the editors have used their discretion to decide the order of those titles.
---
40. Bastion
Original release date: 20 July 2011
Formats: PC, Xbox 360, Xbox One, PS4, PS Vita, Switch, iOS
There are few games where, once I've finished, I'm desperate to jump right back in and experience it all again. But Bastion is a rare example. First playing it on PC, I've since replayed it on a number of formats, and each time has been just as powerful as the last.
It's hard to pinpoint exactly one thing that makes Bastion so wonderful; it's more a combination of the sum of its parts. A beautiful art style that portrays a broken yet intriguing world is just the start of it; fluid and engrossing gameplay is underpinned by a fantastic soundtrack composed by Darren Korb. Add to that one of the best narrations ever heard in a videogame, delivered expertly by Logan Cunningham, and you're left with a timeless, magical adventure. Despite being made early on in the decade, Bastion shines just as brightly now as it ever did. – Kim
Further reading: Bastion Review (PS4)
---
39. Red Dead Redemption 2
Original release date: 26 October 2018
Formats: Xbox One, PS4, PC, Stadia
After the release of the first Red Dead Redemption back in 2010, expectations were set high for Rockstar's second instalment of the series. Red Dead Redemption 2 not only met those expectations, but exceeded pretty much all of our hopes for a new game based on the Wild West. With an incredible setting to explore, and amazing characters galore, Red Dead Redemption 2 is like a dream come true.
The new protagonist, Arthur Morgan, is such a well-written character. His character progression is brilliant, and he instantly endears himself to the player with his honesty and heart. The same can't be said for some of the other members of Dutch's gang, however, and this creates a fascinating game-long plotline that comes to a thrilling conclusion.
Apart from Morgan's story, the sense of adventure and exploration may well be what is most remembered about Red Dead Redemption 2. From weird and wonderful encounters with NPCs, to stunning settings and fantastic cinematic moments, everything about it comes together to create the perfect journey through the Wild West. – Stan
Further reading:
---
38. Catherine
Original release date: 17 February 2011
Formats: PS3, Xbox 360, PC, PS4 (via Catherine: Full Body), PS Vita (in Japan)
Despite releasing nearly nine years ago, there's still nothing out there that compares to Atlus' Catherine. Part visual novel, part puzzle game, it's Catherine's eccentric style that makes it stand out from anything else. In it, you play as Vincent, a hapless 20-something who finds himself involved with two women: his long-term girlfriend Katherine, and the enchanting and mysterious Catherine, who's just entered into his life.
Vincent's days are spent in the Stray Sheep, his local bar where he hangs out with his friends and discusses his problems. His nights are spent having nightmares where he's chased by grotesque creatures, forming the puzzle sections of the game. Both challenging and thought-provoking – Catherine will pose questions to you about your own relationships, too – this is a game like no other. Add in the game's timeless animation, a stellar soundtrack and top-class voice acting, and it's an experience you won't forget in a hurry. – Kim
Further reading: Catherine: Full Body Review
---
37. Animal Crossing: New Leaf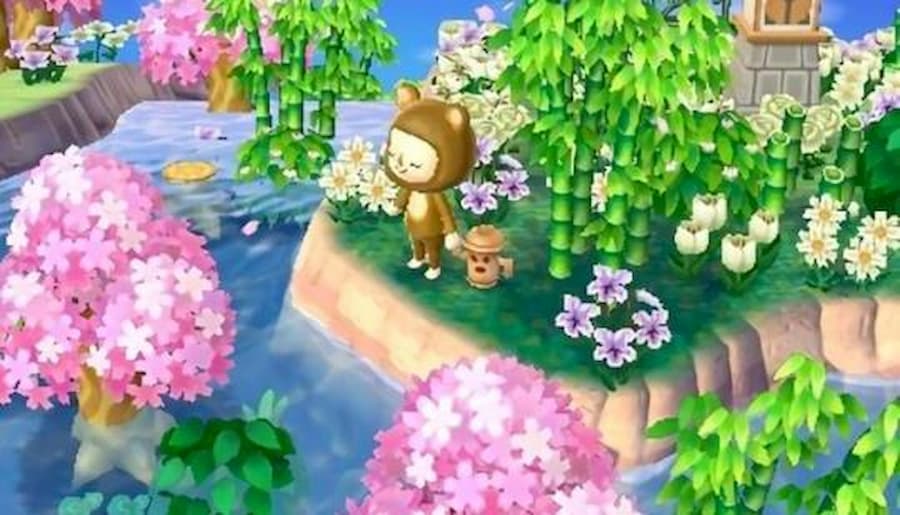 Original release date: 8 November 2012
Formats: 3DS
If you want to know what it feels like to be deeply in debt, then Animal Crossing: New Leaf is right up your alley. Thankfully, it's just as easy to pay off that debt as it is to accumulate it. Shake a few trees, sell a few dino bones and you'll soon have a mansion with three floors and a balcony.
Animal Crossing is simplistic – wake up, do chores, say hello to your neighbours and just enjoy life – but that's what makes it such a joy to play. Plus, Nintendo has a built in way to make you feel incredibly guilty for not visiting your village every day: your villagers tell you how much they missed you. So you'll find yourself going back again and again and again, upgrading and helping out the weird dog that lives next door that keeps calling you "babe." It's easy, it's fun and you're guaranteed to get addicted. – Becca
---
36. Telltale's The Walking Dead
Original release date: 24 April 2014 (season one, episode one)
Formats: PC, PS3, Xbox 360, PS4, Xbox One, PS Vita, Switch, Android, iOS
The Walking Dead is one of those games that I tell each and every person I come in contact with that they need to play. In the first season you jump into a world that is only just experiencing the beginnings of the zombie apocalypse. You'll spend your time connecting with the characters as they struggle to survive in this more dangerous world.
When you first come to terms with the fact that people in this world are more dangerous than the monsters outside, it is a dark, dark day. As the series continues, things get more and more heated and you're introduced to even more characters that you fall in love with and care about. The Walking Dead has some of the best storytelling of any game series and you're sure to feel like you're a part of the world before the final credits roll. – Becca
Further reading:
---
35. Resident Evil 2 Remake
Original release date: 25 January 2019
Formats: PC, PS4, Xbox One
Resident Evil fans waited a very, VERY long time for a remake of Resident Evil 2 – which just so happens to be a lot of people's favourite game from the series. Because of the long wait, many of us were incredibly nervous to finally get our hands on this title. Thankfully, 2019's Resident Evil 2 delivered.
After previous instalments of the game came away from the survival horror genre and twisted into more action/adventure, Resident Evil 2 appropriately went back to something that gave players a real challenge. With limited ammo and tight quarters to run around in, you'll find yourself biting your nails to bits trying to survive in the halls of the Raccoon City Police Station which has recently become overrun with infected. Whether or not you have fond memories of the original, it's hard not to see what makes the Resident Evil 2 remake so special. – Becca
Further reading:
---
34. Dishonored
Original release date: 9 October 2012
Formats: PC, PS3, Xbox 360, PS4, Xbox One
Dishonored is what I wanted Thief 4 to be, before that game killed the series dead. It's a superb blend of stealth, steampunk and spells – and while you don't have to slaughter your way to victory, the combat system is absurdly stylish.
Dishonored's overall story is excellent, and each mission is dripping with lore but it's the freedom the game offers that makes it so appealing. You can teleport yourself to the rafters, even possess fish to get through an open pipe; every time you ask yourself.. "Hey, maybe I could…" the answer is nearly always yes. If you've never played Dishonored, and you've the slightest interest in stealth games, you owe it to yourself to hunt it down. – Chris
---
33. Until Dawn
Original release date: 25 August 2015
Formats: PS4
Until Dawn is a game that players are likely to go back to again and again thanks to all of its different possible endings. You play as multiple characters in a classic horror setting – a quiet cabin located on a mountaintop. Things take a turn for the worse when you realise that not all is well atop the mountain.
What made Until Dawn so brilliant, though, was how to game catered to your personal fears. If you said that you were scared of spiders and clowns, at some point during the game you would be faced with both of those horrific creatures. Not only that, but the atmosphere for the entirety of the game will have you on the edge of your seat. And there's so many unexpected twists, you'll have a kink in your neck by the end. I originally played the game with friends and it was just as terrifying as playing it alone with the lights off. Until Dawn is the perfect game to play around Halloween or simply when you're in a spooky mood; it's undoubtedly one of the best horror games we've seen yet. – Becca
Further reading:
---
32. DOOM
Original release date: 13 May 2016
Formats: PC, PS4, Xbox One, Switch
DOOM ripped and tore its way through development hell to be one of 2016's best games. And even now, more than three years later, we find ourselves returning to it time and time again to split open demons with a chainsaw or obliterate them with a short-range shotgun blast.
Everything about DOOM, aside from its ho-hum multiplayer, is simply fantastic: its metal soundtrack, its balls to the wall action, its humour. That's why we gave it 10/10. As far as first-person shooters go, there's nothing else quite like DOOM available right now. It's a game that fills you with adrenaline, constantly keeping you on your toes and challenging you. DOOM Eternal seems like it might push the bar even further, but as that has now been pushed into next year, it's DOOM that will be remembered as one of the best games of this decade. – Rich
Further reading:
---
31. BioShock Infinite
Original release date: 26 March 2013
Formats: PC, PS3, Xbox 360 (PS4 and Xbox One via BioShock: The Collection)
A highly unconventional sequel, BioShock Infinite keeps strong ties to Ken Levine's original objectivist satire while exploring its own ideas, from religion and jingoism to fatalism and redemption. Despite the complex themes running through it, the plot still manages to remain introspective, intimate and personal. Each interaction between Booker and Elizabeth feels profoundly human, as we the players gain insight into these two deeply scarred characters.
The new Vigors are just as enjoyable to use as the original BioShock's Plasmids, with the Skyrail system adding a new dimension to the gunplay, making the most of the cloud city setting. Throw in the stunning art direction and soundtrack, a deep and highly detailed world and a string of three-dimensional characters to meet (and murder), and you've got a rare crafted piece of art that's thoughtful and ambiguous as well as fun to play. – Diggy
Further reading: Bioshock: The Collection Review
---