If I have to do any more squats I think my legs might fall off.
The ring himself is so encouraging, though, that I always try my hardest. And he'll be there motivating you throughout your entire workout in Ring Fit Adventure.
Ring Fit Adventure released for the Nintendo Switch back in October. I picked up the game a few weeks after its release after seeing loads of ads for it and hearing nothing but good things. There's a reason why people are raving about it: it's a really great workout.
I am an incredibly lazy person at the best of times which simply means it's hard to get me up off the couch when I get back from my regular work day. So I was pretty excited about the prospect of a video game that would get my little legs moving again. And it really does. Ring Fit Adventure gets you off the couch and will have you sweating by the end of your workout. And it has some really fantastic features to get you there.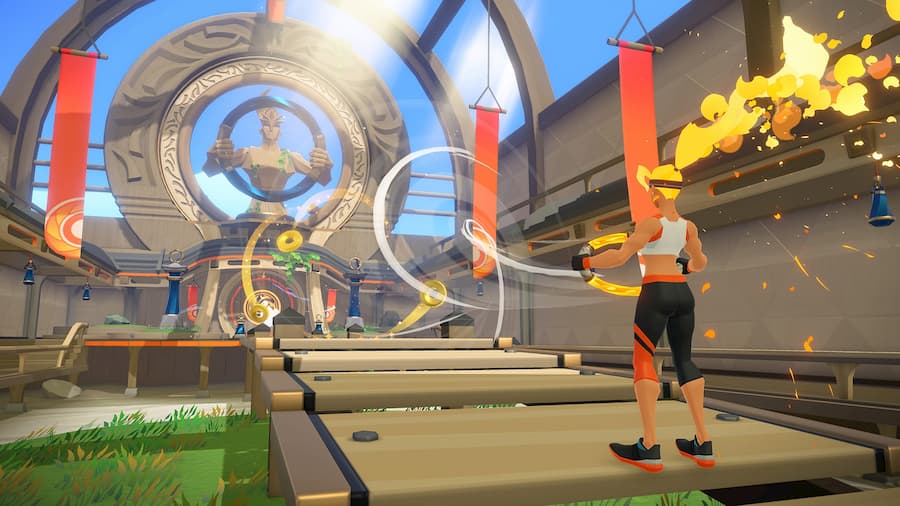 In terms of its gameplay presentaiton, Ring Fit Adventure plays a bit like a typical adventure game. You'll be running along a track, where you'll encounter various monsters you'll have to fight. The difference here is you'll literally be running in place. Combat is akin to turn-based battle, but instead of simply selecting a type of attack, you'll fight enemies by doing certain exercises like squats, arm presses, leg lifts and more.
If you beat the monsters by performing these exercises accurately, you'll move back into the level where you'll have to begin running again. While on the track you can stretch the ring outwards to pull coins and other goodies towards you, and if you squeeze the ring inwards you'll shoot a gust of air destroying boxes and opening up doors that block your path.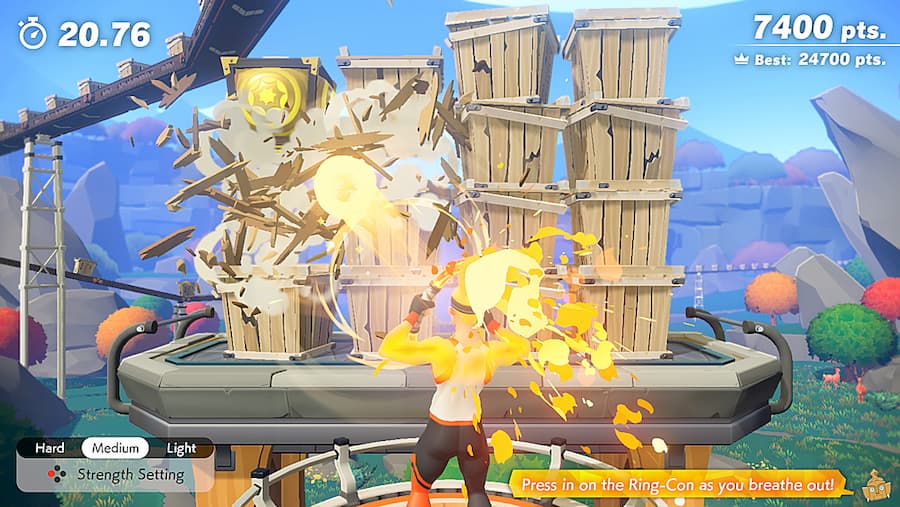 When you're not playing the main game, there's a wealth of mini-games to enjoy that will also get your heart pumping. No matter what options you choose in Ring Fit Adventure, it offers a fantastic workout. I've been playing the game most days for the past few weeks, and I can certainly feel my arms strengthening – and I can squat with the best of them. In fact, it's probably time I increase the difficulty of the game so I can keep honing my skills.
What's truly brilliant about Ring Fit Adventure, though, is how it focuses on making sure that you're working out all the parts of your body in different ways. If the whole game was just running in place, then you wouldn't work out your arms or your core for example. So you start working up a sweat, and then the game will have you doing squats or getting on the ground and doing some leg lifts. There's a bit of everything – and no matter your fitness level, Ring Fit Adventure will encourage you to push yourself without ever feeling like an impossible challenge. Here's hoping that more games will come out that support the Ring-con technology so there'll be even more ways to vary your fitness regime.
---
Want to support GameSpew? Buy Ring Fit Adventure using our Amazon affiliate link. It won't cost you anything extra, but we'll get a small slice of the purchase.
---