GameSpew's list of the 50 best games of the decade continues.
We've racked our minds and put together a list of what we feel are the best games released in the last ten years. Over the course of the week, we've unveiled the first 40 games in our list. Today's the final, most important part of the list: the top 10 games of the decade.
How our top 50 games have been decided: Each member of the GameSpew team (there's six of us) has chosen their top 20 games, ranked from 1 to 20. Everyone's highest-ranked game has been given 20 points, down to the lowest-ranked game, which received 1 point. The points have been tallied up, with the games receiving the most points overall making it onto this list. Where multiple games have received the same amount of points, the editors have used their discretion to decide the order of those titles.
---
10. Heavy Rain
Original release date: 18 February 2010
Formats: PS3, PS4, PC
Heavy Rain was one of the first games I ever played that (a) made me weep and (b) focused almost entirely on story without much focus on gameplay or combat. What makes it brilliant is its unique characters – all of which you switch between throughout the story.
Uncovering how the characters relate to one another as well as solving a murder mystery makes for an exciting and intriguing story that you can play over and over. Despite being nearly 10 years old it stands the test of time – proven by its recent PC release – and aside from Quantic Dream's follow-up releases, you'll still be hard pressed to find something quite as unique. – Becca
Further reading:
---
9. God of War
Original release date: 20 April 2018
Formats: PS4
In this writer's personal opinion, God of War might be the greatest game of all time – ever. From the moment that you step into the shoes of Kratos you're given insight into his complicated life. When he first jumped onto the video game scene in the original God of War in 2005, Kratos was a character that was incredibly hard to relate to. He's a tough guy with, let's be honest, little personality.
2018's God of War, however, gave players the chance to really see Kratos as a man who is simply afraid to get attached to the people that he loves. Atrius, Kratos' son, just wants to be loved – and being able to see Kratos go from a tough-love father to a loving dad is heart-wrenchingly beautiful. Not to mention the fact that the entire game is brilliantly done, without any cut scenes separating you from your immersion. Add on to that awesome combat and one of the most beautiful videogame worlds you'll ever come across, and you've got yourself a complete masterpiece. – Becca
Further reading:
---
8. South Park: The Stick of Truth
Original release date: 4 March 2014
Formats: PC, Xbox 360, Xbox One, PS3, PS4, Switch
South Park: The Stick of Truth had a tough time coming out of the door. Despite production starting on it in 2009, it didn't see light of day for another five years, following a series of delays. And despite eventually releasing nearly six months after PS4 and Xbox One had launched, it still only game to PS3 and Xbox 360 to begin with. Not a great start to life, then.
Despite all that, though, The Stick of Truth managed to be every bit the South Park game fans deserved. It captures the irreverent nature of the series perfectly, keeping the spirit of the characters alive yet translating it to a videogame expertly. Who'd have thought that using powerful farts as an attack in a turn-based battle would be so wonderful? And not many other games boast a level where you explore someone's colon. Only South Park could get away with the things that it does – and getting to act them out yourself in Stick of Truth is nothing short of magical. Sure, its brand of humour isn't for everyone – but if you're a fan of the show at its peak, games don't come much better than this. – Kim
Further reading: South Park Games, From Worst to Best
---
7. Assassin's Creed IV: Black Flag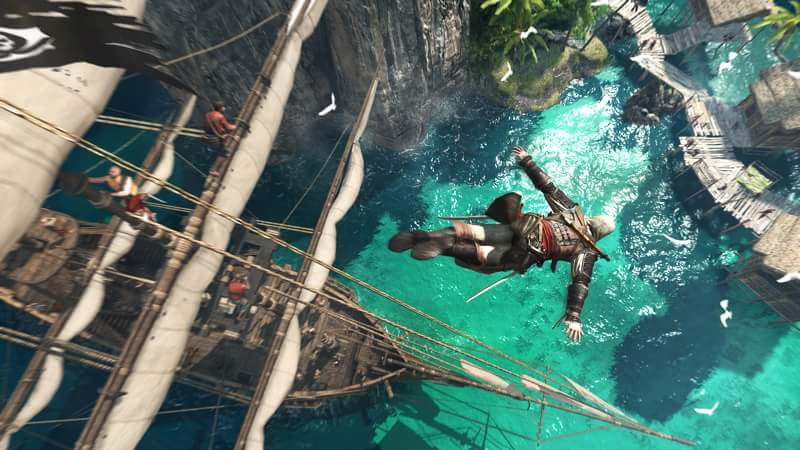 Original release date: 29 October 2013
Formats: PC, Xbox 360, Xbox One, PS3, PS4, Switch
The Assassin's Creed series hit a low point with Assassin's Creed 3. What it did introduce, however, was naval battles, and the seafaring aspect would go on to make Assassin's Creed IV: Blag Flag rather special.
In Assassin's Creed IV: Black Flag you are Edward Kenway, a pirate. To that end you can sail the seas, engaging in naval warfare to plunder valuable resources or simply ruin the plans of the Templars. It's truly up to you, but it sure is fun.
On land, Assassin's Creed IV: Black Flag is your typical old-fashioned Assassin's Creed game through and through. There's plenty of climbing, eavesdropping and assassinating to be done, but the varied range of environments and the fact that you can just run to your ship and set sail whenever you please makes the whole affair so much more open  and enjoyable.
Without Assassin's Creed IV: Black Flag the series probably wouldn't be where it is today. Assassin's Creed Origins and Odyssey are obviously heavily inspired by it. But Black Flag still has that old Assassin's Creed charm that some of us are beginning to miss. – Rich
Further reading:
---
6. Forza Horizon 4
Original release date: 28 September 2018
Formats: PC, Xbox One
Few racing games compare to the Forza Horizon series. If you're looking for an open-world racing game, there really is no reason to go anywhere else. Each entry in the series has been excellent, but the latest offering, Forza Horizon 4 is a culmination of everything that's made Forza Horizon so great – refined near to perfection.
The arcade racing is as slick as ever, and the massive collection of cars you can choose from continues to impress. What sets Forza Horizon 4 apart though, is just how incredible it looks. Set in a recreation of Britain, it's a mixture of historic cities, castles, open fields and quaint villages. New to the series was its seasons, bringing with it a new host of weather effects – this time not only affecting your driving but altering the world, too. Add to that Playground Games' continued support of the game and constant new content that's been added in the year since release, and Forza Horizon 4 is the game that keeps on giving. It's hard for a racing game to stand out in this day and age, but this is one that proves an entry into a tried-and-tested genre can still be something incredibly special. – Kim
Further reading:
---
5. Borderlands 2
Original release date: 18 September 2012
Formats: PC, Xbox 360, Xbox One, PS3, PS4, PS Vita
Gearbox may have milked Borderlands 2 for all its worth – following its original release last gen, it's been 'remastered' for PS4 and Xbox One, made handheld on Vita and there's even been a VR version – but you can't blame them. A shooter-RPG as fine as this deserves to be as many places as it can possibly be – and it's one we've never grown tired of.
Of all the games this decade, few have had as many collective gameplay hours from us as Borderlands 2 has. From its stellar core campaign to its fantastic DLC additions (who can forget the Game of Thrones pisstake? Punching 'Jeffrey' will forever be one of our favourite videogame missions), there's dozens upon dozens of hours of gameplay to sink your teeth into. And let's not forget one of the best videogame villains we've ever seen in Handsome Jack. Not only is Borderlands 2 still a fantastic looking game, it also plays like a dream, is genuinely funny, and throws an incredible amount of loot at you. We want to love Borderlands 3, but Borderlands 2 set the bar so high that we doubt the franchise will ever surpass it. – Kim
Further reading: The Funniest Moments of Borderlands 2
---
4. The Elder Scrolls V: Skyrim
Original release date: 11 November 2011
Formats: PC, Xbox 360, Xbox One, PS3, PS4, Switch
Skyrim is a ridiculous game. The game's NPCs regurgitate the same tedious lines and express such an inordinate interest in your behaviour that it feels like you've blundered into a Nordic version of The Truman Show. And one of your primary means of defence is yelling people off a cliff; if you're looking for highbrow fantasy, you won't find it here. But what makes Skyrim so great is how heavily it leans into the madness, more so than previous Elder Scrolls games.
Fus-Ro-Dahing enemies never gets old and the sheer amount of freedom you're given is glorious. The quest design is equally excellent (a few fetch quests aside) and likewise leans into the ridiculous; a monk asks you to track down some missing corpses and, a few hours later, you're teamed with a gang of cannibals and are having him for dinner. It's the role-playing equivalent of fast food (Skyrim, not the monk). Each time I dive in, I know exactly what I'm getting but I always leave Skyrim satisfied. – Chris
Further reading:
---
3. Diablo III
Original release date: 15 May 2012
Formats: PC, Xbox 360, Xbox One, PS3, PS4, Switch
Diablo 3 didn't get off to the greatest of starts. I remember eagerly awaiting its launch then playing it every minute I could, and while I enjoyed my time with it there were many glaring issues. The real money auction house was obnoxious, and so was the jump in difficulty as you went to normal to nightmare then hell. It didn't help that items you found never had the stats you needed on them thanks to the new character development system. But Blizzard wasn't about to give up on it.
After years of patches, new features and additional content, Diablo 3 has been totally turned around. We'll still welcome Diablo 4 bringing back some of the old Diablo 2 features that we loved as well as being darker, but Diablo 3 has won us over. We love the fact that we can change out skills to match the class set we've finally found. And we just can't stop running Nephilim Rifts whenever we want a quick blast of of co-op action. The introduction of seasons also means we still get totally addicted to it again once in a while, creating new characters and trying to make them gold-like at the expense of sleep.
Diablo 3 started out being one of the most disappointing games of the decade, but now it is assuredly one of the best. Well done Blizzard, but can Diablo 4 be brilliant from the outset, please? – Rich
Further reading:
---
2. The Last of Us
Original release date: June 2013
Formats: PS3, PS4
Developed by Naughty Dog, we always knew that The Last of Us was going to be good. What we didn't expect was it to really blow our minds.
With its adult story and morally grey characters, The Last of Us is a far cry from the Uncharted series with its Hollywood action scenes and larger than life characters. Essentially charging you with escorting a young girl to a militia group for a procedure that isn't made clear, what stands between you and your goal are the grotesque victims of a mutant fungus called Cordyceps. On top of that there are deranged survivors too, who would sooner shoot or pummel you on sight rather than open a dialogue.
While The Last of Us' brutal combat and tense moments of stealth are no doubt a part of what makes us love it, it's the human story that it tells that holds it dear in our hearts. By the time the journey is over you truly feel for both Joel and Ellie. They've both been through the ringer, yet you know there's no happy ending for them. That's perhaps what makes us so excited though also apprehensive for The Last of Us Part 2. It isn't going to end well, is it? – Rich
Further reading:
1. The Legend of Zelda: Breath of the Wild
Original release date: 3 March 2017
Formats: Switch
Even before we started gathering up votes for our Games of the Decade, I had a sneaking suspicion that Breath of the Wild may be very close to the top. Not much of a surprise, then, that it's finished in first place. And absolutely deserved.
When I first started playing The Legend of Zelda: Breath of the Wild, I wasn't convinced. It was a massive departure from the rest of the series, and a leap that initially seemed too bold to work. Breakable weapons felt like a chore, and the game's open world, devoid of the usual dungeons Zelda fans had grown used to, was unsettling. But a few more hours into the game everything clicked into place, and the next 80-odd hours I poured into this new and improved Hyrule flew by like a dream.
Not only is Breath of the Wild's world absolutely beautiful, it respects you as a player more than most modern open world games. There's no hand-holding in sight. You feel truly free to explore the world as you see fit, and it makes every discovery truly a thing of wonder. Completing the game's shrines – small puzzles in place of the series' legacy dungeons – always felt like a true achievement and even though you didn't need to complete them, you'd be compelled to search out as many as possible. Breath of the Wild is an adventure in the word's truest sense, and it's one that never ends if you don't want it to: there's always something new to discover, even after 100+ hours. It's a truly special game, and a remarkable achievement that will be hard for Nintendo to beat.
Further reading: