GameSpew's list of the 50 best games of the decade continues.
We've racked our minds and put together a list of what we feel are the best games released in the last ten years. We've previously revealed #50-#41, #40 to #31. There have been some very good games in there indeed. We voted for them after all. Here we unveil #30-21. Will there be some surprises? Maybe.
How our top 50 games have been decided: Each member of the GameSpew team (there's six of us) has chosen their top 20 games, ranked from 1 to 20. Everyone's highest-ranked game has been given 20 points, down to the lowest-ranked game, which received 1 point. The points have been tallied up, with the games receiving the most points overall making it onto this list. Where multiple games have received the same amount of points, the editors have used their discretion to decide the order of those titles.
---
30. Overwatch
Original release date: 24 May 2016
Formats: PC, PS4, Xbox One, Switch
Overwatch is everything that you could possibly want from a player vs. player game. You've got a tonne of different options for characters so players can play exactly how they like to. And there are multiple game options for you to choose from.
To switch things up, Overwatch includes holiday events as well as events that give players more lore for the characters. The community might be aggravating sometimes – but when you weed out the 12-year-olds, you might find yourself making life-long friends as you bond over working together to take out the enemy team. – Becca
Further reading:
---
29. Her Story
Original release date: 23 June 2015
Formats: PC, iOS, Android
Her Story isn't the first full-motion video (FMV) game, but it is the one that's typically credited with starting a new wave of interactive films. In Sam Barlow's thriller, you take on the role of a police detective. By staring at an ancient police database operating system, you've a wealth of videos to sift through: the videos being comprised of police interviews with a woman named Hannah Smith, masterfully acted by Viva Seifert.
It's your job to extract important information from Hannah's testimony – relating to the disappearance of her husband Simon – and piece together exactly what has happened. There's no set beginning, middle or end; exactly how Her Story plays out depends on how you process the information you're given. Videos are only accessible by searching for keywords, and it's up to you to find those keywords based on what Hannah says in previous footage. You'll be hooked from the get-go with Her Story; it's a world-class detective drama, but one where you're at the heart of it. Plenty more FMV games have come along since – including Sam Barlow's follow up, Telling Lies, but nothing else has stood out quite as much as Her Story. Yet. – Kim
Further reading:
---
28. Castlevania: Lords of Shadow
Original release date: 5 October 2010
Formats: PC, PS3, Xbox 360
While there had been numerous attempts at making a 3D Castlevania game before Lords of Shadow came along, they honestly weren't very good.
Developed by MercurySteam, Castlevania: Lords of Shadow took elements from many games that were hugely successful at the time. The combat was God of War-ish, and the titan battles were reminiscent of Shadow of the Colossus, but it still felt like Castlevania. There was plenty of platforming to be done, scores of vampires to defeat as well as other foul creatures such as werewolves, and traps galore. But what really elevated Castlevania: Lords of Shadow was its story, which turned the Castlevania series around on its head: you weren't fighting against Dracula, you were Dracula. Or at least the man that would become him.
With brilliant direction, a stellar voice cast that included Robert Carlyle and Patrick Stewart, a rousing soundtrack, and brilliant visuals, it was easy to fall in love with Castlevania: Lords of Shadow in 2010 despite it having some issues. It still looks good on PC now, and you can play it on Xbox One, too, thanks to backwards compatibility. It's just a shame that its sequel was a bit of a letdown. – Rich
Further reading:
---
27. Grand Theft Auto 5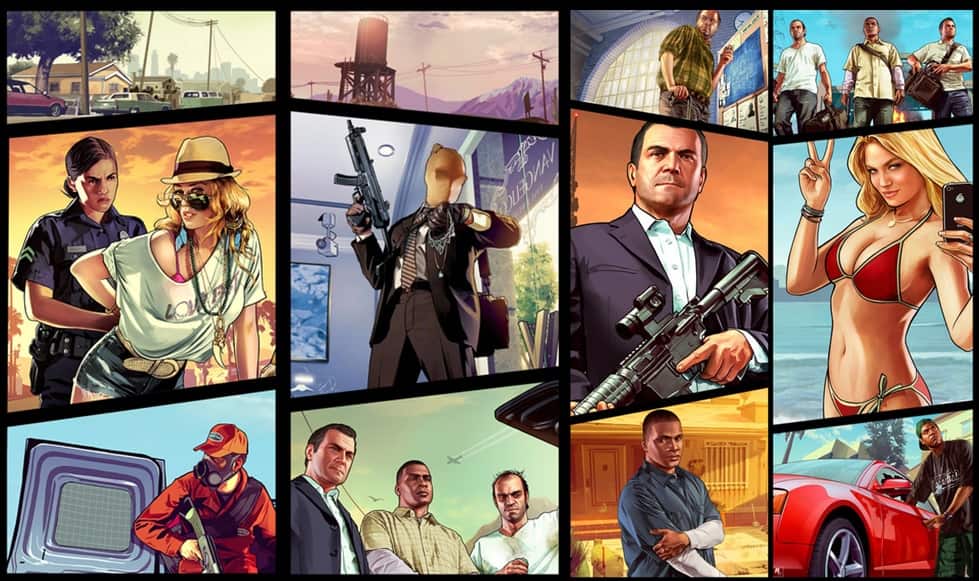 Original release date: 17 September 2013
Formats: PS3, Xbox 360, PS4, Xbox One, PC
Few games have the fantastic legacy that Rockstar's Grand Theft Auto franchise boasts. Since 1997, players have been able to explore the open world sandbox that Rockstar crafted, and each entry in the series has been a defining moment in the gaming world. But no entry has had the impact that Grand Theft Auto V had: the game that took 2013 by storm.
For the first time in the history of the franchise, Grand Theft Auto V allowed the player to switch between three separate characters – and what fantastic characters they are. Trevor, Michael and Franklin perhaps define Grand Theft Auto V more than anything else. Each have a brilliant character arc, and all their stories intertwine so well in what is the most impressive open world Rockstar have ever created.
But the lasting legacy for Grand Theft Auto V may well be the online content. It's still hugely popular to this day, and may well be the best example of a great online community. Whether its heists, competitions, or general anarchy, Grand Theft Auto V Online's world has it all. Quite frankly, Grand Theft Auto V has it absolutely all: undoubtedly one of the finest games ever made. – Stan
Further reading:
---
26. Tetris 99
Original release date: 13 February 2019
Formats: Nintendo Switch
In the era where battle royale has taken the gaming world by storm, Tetris is the last game I thought I'd ever see getting the massively multiplayer treatment. Nintendo surprised us all when Tetris 99 released in February earlier this year: it's a classic game of Tetris, but you're playing alongside 98 others. Do well, and you'll send bricks onto an opponents' screen – and they'll send bricks onto yours. Keep on top of the game and you'll soon be defeating opponents left, right and centre.
The great thing about Tetris 99 is, at least to me, is it feels like a competitive multiplayer game for people who hate competitive multiplayer games. I hate the thought of jumping into a match of PUBG, but I enjoy healthy competition – and Tetris 99 allows me to channel that without needing to be any good at playing online shooters. It's truly the most original twist to the battle royale genre we've seen so far, and I'm still optimistic it'll inspire others in the future. – Kim
Further reading:
---
25. Portal 2
Original release date: 19 April 2011
Formats: PC, PS3, Xbox 360
Valve had a tough job making a worthy sequel to the unexpected phenomenon that was Portal. Broadening the laser sharp focus of the original, Portal 2 introduced a more ambitious narrative, taking the player on a journey through the origins of the facility and its psychopathic AI overlord. Ellen McLain's performance as GLaDOS is absolutely iconic, but Stephen Merchant is also perfectly cast as the bumbling Wheatley, and J.K. Simmons gives a hilarious performance as the eccentric Aperture Science founder Cave Johnson.
New elements such as gels, light bridges and gravity funnels manage to keep the core concept fresh and exciting, making full use of one of the most genius mechanics in gaming history. And while the story mode seems to occasionally prioritise storytelling over puzzles, this is more than made up for in the brilliant co-op campaign, which is packed full of tricky problems that necessitate wrapping your mind around an extra set of portals.
I think I can speak for everyone when I say: Hey Valve, where have you been this decade? Make more games. – Diggy
Further reading:
---
24. Life is Strange
Original release date: 29 January 2015 (episode one)
Formats: PC, PS3, Xbox 360, PS4, Xbox One, Android, iOS
Telltale may have brought the episodic game formula to the mainstream, but you could argue that DontNod perfected it with Life is Strange. Telling the story of Max, a high school student who discovers she has supernatural powers, and her best friend Chloe, Life is Strange is, at its heart, a teen drama. There's the usual trials and tribulations that young adults face – family woes, grief, dabblings with drugs and alcohol, depression – but it's underpinned with the supernatural.
But while Max's powers may take Life is Strange into the realms of science fiction, it's the game's grounded themes that make it such a special adventure. Despite her ability, Max is a regular kid; her and her schoolfriends are going through issues that we can all relate to. It's filled to the brim with empathy and emotion, in a way that'll make you care for videogame characters almost like never before. – Kim
Further reading:
---
23. Resident Evil 7
Original release date: 24 January 2017
Formats: PC, PS4, Xbox One, Switch (in Japan)
With Resident Evil 7, the series returns to its horror roots. Zombies in the traditional sense are absent, but there are shambling undead enemies that need dealing with, as well as a deranged family that wouldn't feel out of place in a Texas Chainsaw Massacre movie. Needless to say, it's fantastic.
Played from a first-person viewpoint, you're closer to the action than ever. Resident Evil 7 does a great job of immersing you in a nightmare, keeping you on edge as you explore its locations, wondering what's around the next corner. On PS4, the game also has PSVR support. I tried to play it in VR and I honestly got too scared. It wasn't a pleasant experience at all.
While the Resident Evil 2 remake took the series back to its roots, we really hope that Resident Evil 8 builds on the foundations that Resident Evil 7 laid, because otherwise it would really feel like a step backwards. – Rich
Further reading:
---
22. Alan Wake
Original release date: 14 May 2010
Formats: Xbox 360, PC
Alan Wake is quite possibly the best game that Remedy Entertainment has ever made, and Remedy Entertainment only make great games. When a retreat to get over his writer's block goes wrong, it's up to Alan Wake to try and unravel the mystery as well as save his wife. But he's not a superhero, you can tell by the way that he can only sprint a few yards before running out of breath. He's just a regular man armed with a torch and a gun.
Alan Wake looked brilliant when it released in 2010, and it still looks nice now. What has remained timeless, however, is its brilliant story. And so to its soundtrack. Alan Wake was actually removed from storefronts for a while due to music licensing issues, but Microsoft paid so it could return. Hopefully that means that Alan Wake 2 could still possibly happen someday? It's up to Microsoft, Remedy says. We can dream. – Rich
---
21. Fallout: New Vegas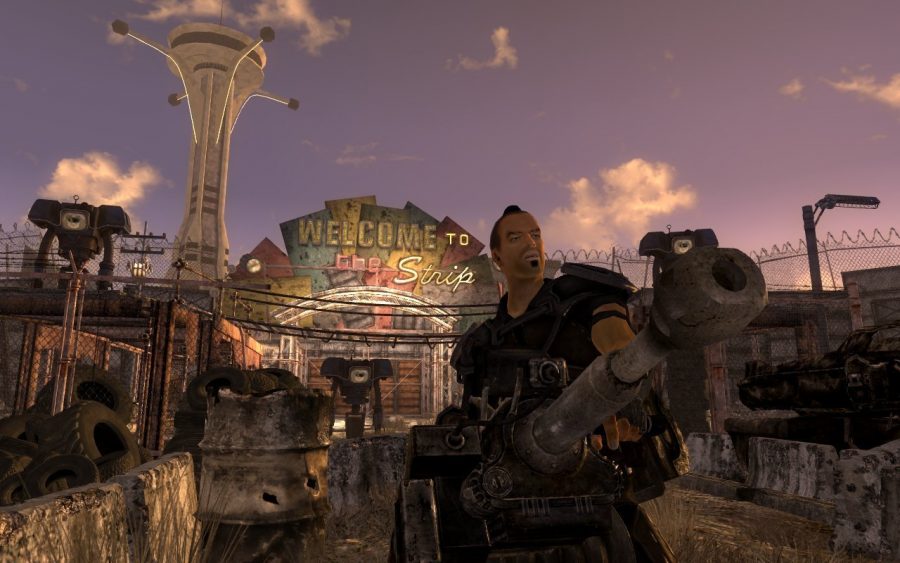 Original release date: 19 October 2010
Formats: PC, PS3, Xbox 360
There are so many reasons to love Fallout: New Vegas, more than I could ever list here. It's Obsidian's finest game and it's a crying shame that they never got a chance to make a sequel. The western aesthetic is a huge draw, but what sells me on the game is how morally ambiguous it all is.
Every choice you make has consequences, more so than other black-and-white RPGs; I remember smugly thinking that helping a character get their vengeance was the 'right' thing to do, only to be told that my choice had resulted in the destruction of the wasteland's supply chain, which in turn led to serious starvation. Nothing's straight forward in Fallout: New Vegas and that's the way it should be. – Chris
---