As well as being cute, funny and charming, Mythic Ocean has a surprising amount of depth to it that I didn't expect to find.
Created by a team of just three developers under the name Paralune LLC, Mythic Ocean is a narrative-led underwater exploration game that puts you in the shoes (fins?) of an unknown being. Addressing such grand notions like the creation of the entire universe, the game has you traversing several different areas, talking to various fish and interacting with mysterious creatures known as 'the Gods'.
Exactly who you are in Mythic Ocean is purposefully a mystery: even your character doesn't know who they are. All you know is that you need to explore, and the answers will come to you in time. The dawn of all creation sounds like a rather serious subject matter to contend with, but this isn't a game that doesn't allow itself to have fun. It's packed with witty, well-written dialogue and a wealth of humorously kooky characters that'll undoubtedly bring a smile to your face: there's a breakdancing crab, a death-metal blowfish and a narcissistic dolphin, amongst others.
Your time will mostly be spent in conversation with the Gods; you'll be something of a go-between, delivering messages from one to the other. As you speak with them, they'll ask you questions, relying on you to respond with a multiple-choice answer. How you interact with each of the Gods will determine what they think of you and, in turn, how the game's story will play out. There are multiple endings and which one you get will be dependent wholly on the choices you've made while playing.
Outside of conversations, you'll be free to explore each of Mythic Ocean's biomes, and it's here where you'll get to experience the game's joyous characters at your leisure. There are also a number of 'lost' pages to find as you play, adding a purpose to your exploration. Each of the game's individual areas has its own unique feel; from a gorgeous and vibrant coral reef to the dark and mysterious depths of an underwater cave system, each area is a pleasure to explore. Mythic Ocean opts for a more cartoony art style than anything too realistic – it is a game where an otter-type creature is a talking god, after all – and it works very much in its favour. It's a game teeming with life and character; from the fish you meet as you travel around to the environments themselves, it's beautifully designed.
Mythic Ocean isn't the longest game in the world; you're likely to complete it in three to four hours – maybe less if you don't explore as thoroughly as I did. But every moment spent with it is a delight; the tales told by each of the Gods are captivating, so you'll become invested in their stories and, more importantly, the outcome of the game.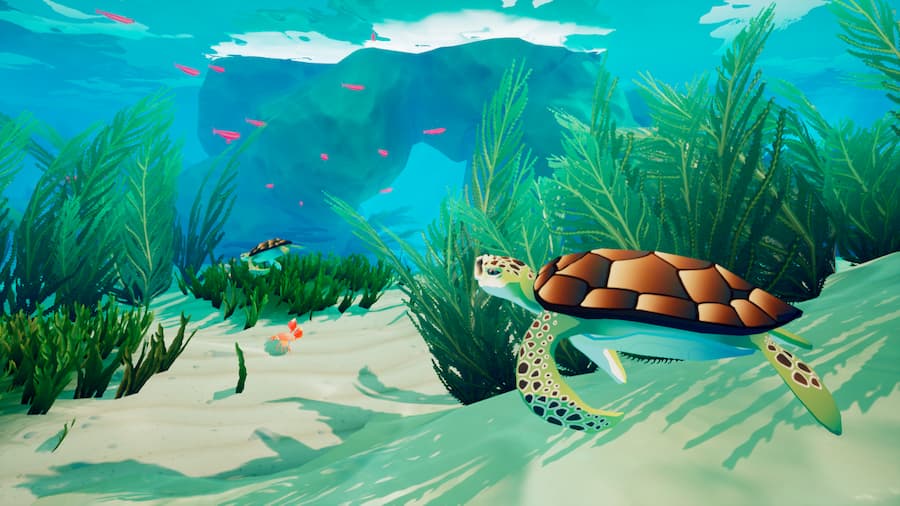 During the course of my playthrough, I'd forged strong bonds with each of the Gods; I'd helped them with various tasks and, more often than not, my responses appeased them and made them fond of me. With the positivity far outweighing the negativity, I was certain I'd wind up with a happy ending. Apparently not. I won't spoil it, but the first ending I encountered in Mythic Ocean was dark and deflating. On the flipside, it made me more keen to jump back into the game and try again, taking more care with the choices I made the second time around in the hopes of a better outcome.
Devoid of any conflict or action, Mythic Ocean is a tranquil, laid-back experience. It's the perfect remedy for a busy day; traversing the ocean depths is serene and relaxing, and encountering the game's myriad of weird and wonderful creatures is continually delightful. If you've enjoyed games in the past such as Abzu or Dear Esther, you'll find something to love here. And the fact that Mythic Ocean has been created by such a small team makes it even more impressive.

Mythic Ocean is available on PC.