Happy New Year, everyone!
After a brief hiatus over the holiday period, we're back to share with you once again the games that have been keeping us busy.
For us gamers, the festive season is traditionally a time to catch up with some of our backlog, so here are the games that have been keeping us cosy over Christmas.
---
Rich: Thanks to it doling out a bevy of free cars, I was drawn back into Forza Horizon 4 this Christmas. I'm determined to complete a full Forzathon Festival series, so I'm booting it up every day to complete all the challenges it throws at me. This game is the best.
Alongside Forza Horizon 4, I've also been putting countless hours into Monster Hunter: World again. I love it, but there are so many aspects of it that are irritating, especially when playing in co-op. Still, I keep going back to it because every fight just feels epic.
Kim: Along with Rich, I've been playing an awful lot of Monster Hunter World. Most of our afternoons over the last week or so have been spent trawling through the forests and wastelands of MHW, looking for big beasties to slay. It's a lot of fun, but by god the multiplayer functionality of the game – while key – is so poorly implemented. Why make us start a story mission separately just until we've seen a cutscene, make us leave then join each other's game? It's a mess. But it's a beautiful, addictive mess.
I've also played through Blacksad: Under the Skin on Xbox One, which is a fun adventure game that feels like some kind of half-way point between a Telltale game and a classic Lucasarts title. That's no bad thing, and it packs in a rather enjoyable dark murder mystery tale, too.
On mobile, I very much enjoyed playing through Simulacra 2, which is decidedly more enjoyable than its predecessor. Or perhaps simply playing on mobile – the format the game apes – makes it that much more engaging and believable. Either way, it's an enjoyable thriller.
Becca: I'm not going to lie to you – on New Years Day I played Dead by Daylight from 7am to 11pm with brief pauses for sustenance. I had the day off from work and the current Rift closes in just a few days so I was DESPERATE. And now that there's a double blood point event happening, I'm going to be playing it just as much over the weekend. Oh boy. Wish me luck.
Over Christmas I didn't have too much time to play games as I was with family, but while we were travelling I played the first episode of Telltale's Batman: The Enemy Within. It's been a long time coming. I really loved the first season of Telltale's Batman but, as I wasn't responsible for reviewing the second season, it went a little under the radar and got shoved under a million other things on my "to be played" list.
Finally, my dad and I fully played through A Way Out. Also a long time coming. I played Vincent (as much as I didn't want to) and he played Leo. It was actually the perfect fit. I won't spoil the ending for you because it is incredible, but we finished the game with me sobbing like an idiot. If our Best Games of the Decade List hadn't already gone out, I would have for sure put my vote in for this one. [Good job it made it on there anyway! – Kim]
Diggy: In the spirit of the season, I've spent a large chunk of the holidays avoiding my family and playing video games.
I got through all of Far Cry 5 for the first time, which was pretty enjoyable. For the record, I wholeheartedly recommend not playing most Ubisoft games these days. Far Cry 5 was the first in the series I've bothered playing since the third one, and consequently I wasn't bored of the formula yet. On the other hand, I played a few too many of the Assassin's Creeds and now looking at them makes me feel sick – it's the same thing that happened with me and spiced rum.
I'm currently having a lot of fun with Forza Horizon 4, which was a bit of a surprise to me. I've said before that I'm only interested in silly racing games rather than the more realistic driving sims, and the Forza series always struck me as the latter. I guess being able to customise your license plate to read "GAY4BONO" was enough for it to appeal to me.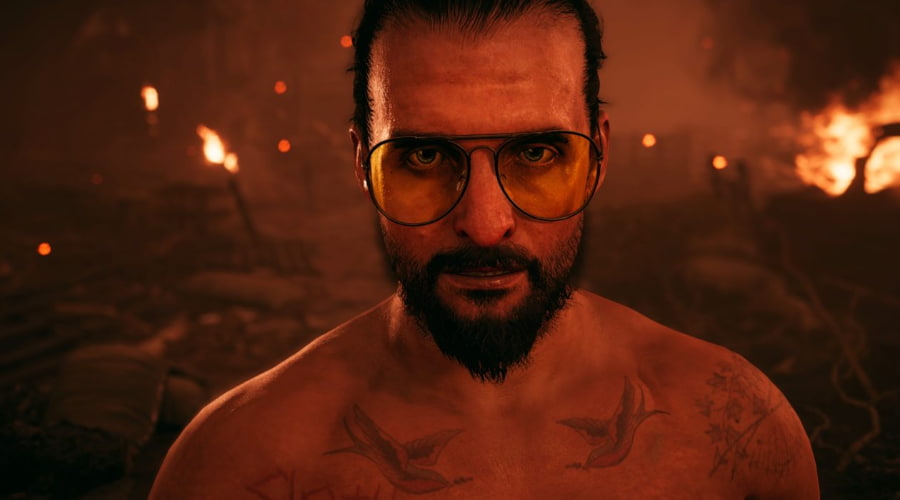 Chris: I've not done a huge deal of gaming over Christmas and the New Year, though I have added to my backlog by purchasing Disco Elysium and a few other titles in the various holiday sales. I still haven't finished Monster Hunter World, for crying out loud. My PlayStation 4 has started to drop the connection to the controller which hasn't helped.
I have been dipping into retro gaming more, though – I've been having a blast with the Mega Drive Mini, having flashbacks to the days when Street Fighter 2 Super Championship Edition dominated my leisure time. If I do get my PS4 working properly I'm eyeing up Red Dead Online – the idea of being a cowboy appeals to me more than anything Grand Theft Auto Online has to offer.
Stan: What was my New Year's resolution? To follow my dreams. And I've done exactly that by becoming the Portsmouth manager once again, thanks to Football Manager 2020. I've been wheeling and dealing my way to the Championship (I'm a proud wheeler and dealer – not like Harry Redknapp), and I've also started to work towards the ultimate tactic: possession based tiki-taka with a direct final ball to my awesomely quick striker. It's worked a charm, and I expect my official offer to be the real Portsmouth manager any day now.
Outside of my new football manager career, I've been unwinding by rewinding back to what may be the best Star Wars game of all time: Star Wars Battlefront 2 for the Xbox. Galactic Conquest is just so addictive, and it also helps me work towards my other New Year's resolution: galaxy-wide domination. I just wish I had unlimited credits to spend on the leader card – it's enough to make me sing like Jaskier (Dandelion): "toss a credit to your Jedi, oh galaxy of plenty…"