Leaked Facebook ads suggest that a Crash Bandicoot endless runner game could soon be launching on iOS and Android devices.
It might not be the sequel that many of us wanted, but it looks like we will be getting a new Crash Bandicoot game soon – on mobile.
Twitter user JumpButton claims to have discovered adverts and images for a Crash mobile game by searching "Crash Bandicoot" on Facebook, and claims were backed up by screenshots posted on Kotaku Australia.
CRASH BANDICOOT MOBILE GAME REVEALED
investigation by myself and @Motwera

This game can be signed up for NOW it seems.

The way the link was found was by searching the name on FB after previously being a fan of the FB page tied to the Brazilian ads.https://t.co/98Qq3jkJCZ pic.twitter.com/AE6bPek4rq

— JumpButton (@jumpbuttoncb) February 7, 2020
It seems like the Crash spinoff will be brought to us by King, Activision's mobile development studio and makers of Candy Crush. Check out some of the leaked promotional images below.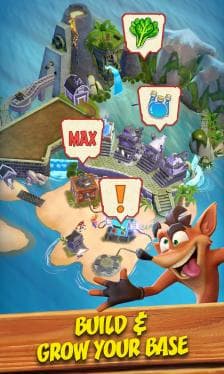 The listing also reportedly features a full description of the game:
"Calling all Bandicoots! Crash is back, this time on mobile! Embark on a brand new adventure with your favorite characters and put a stop to Dr. Neo Cortex's evil plan to destroy the multiverse! In this new episode, Dr. Neo Cortex dispatched mutagen henchmen across the multiverse to enslave all dimensions. With the help of his spirited sister Coco, Crash must strike and bash Cortex's minions back to their own worlds!"
While this mobile spinoff might not be quite as exciting as a full-scale sequel, it's possible that Activision is using this mobile version to build hype for a larger Crash project that's still in the works. One can dream, anyway.