It was only a couple of months ago that I played through Darksiders Genesis on PC for review.
I enjoyed it, as you can see (or rather, read). But for some reason, I'm enjoying it even more now that I can play it on Xbox One.
Playable solo or in co-op, online or off, Darksiders Genesis lets you take control of two of the Four Horsemen of the Apocalypse: War and Strife. As War, it's business as usual for any Darksiders fan, only with the camera pulled back to reveal more of the battlefield. When taking control of Strife, the action is more akin to that of a twin-stick shooter – though he's still capable of taking down enemies with violent melee attacks.
Across 17 missions, it's your job to solve puzzles, defeat enemies big and small, and conquer dungeons; all in the name of figuring out what exactly Lucifer is up to. Along the way you'll acquire souls, which can be used to purchased a wealth of additional skills or useful items from Vulgrim. And each mission is also ripe with upgrades and collectables for you to discover. Many of them you won't be able to obtain the first time around, so you'll need to return at a later date once you have some new tools at your disposal.
It's the variety packed into Darksiders Genesis that makes it so enjoyable. It's fast-paced, there's both melee and ranged combat, platforming plays a large role, and those brain-teasing puzzles are pitched just perfectly. When playing alone, switching characters is easy, and you'll be doing so often to make the most of each character's strengths. In co-op, the game is tweaked in ways to make it imperative that you work as a team. Either way, you're sure to become engrossed.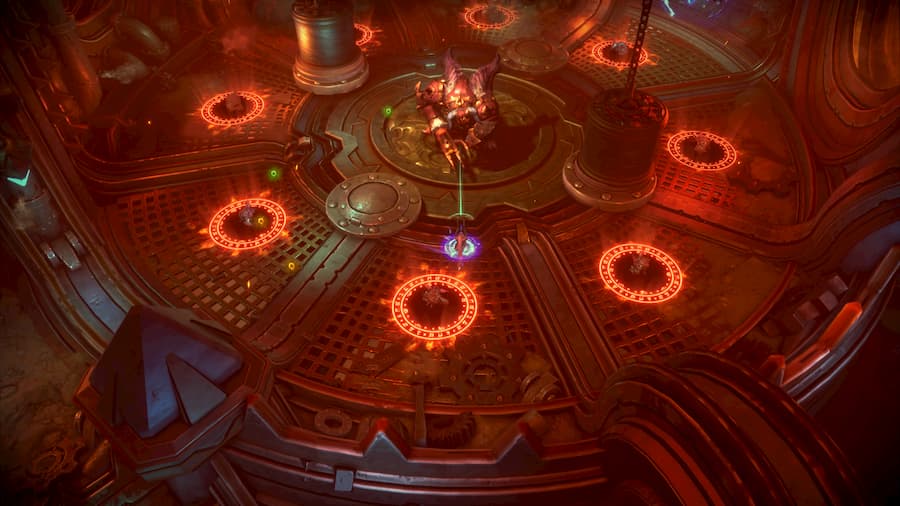 Landing months after the PC release on PS4, Xbox One and Switch, Darksiders Genesis' console ports benefit from updates made to the game since release. There are less bugs, an additional difficulty level has been added, and there are slight changes throughout that overall simply make it a better game than it was in December 2019. Unfortunately some issues I previously encountered still exist, like the way that camera sometimes obscures your view. Also, it's a real shame that the game doesn't have matchmaking or support true drop-in, drop-out co-op.
I've been playing Darksiders Genesis on Xbox One X, and while it's a shame that there's no option to run the game at 60fps, it sticks to its 30fps target like glue for the most part; only when playing in split-screen co-op have I noticed a tiny bit of screen-tearing. It looks gorgeous, too, just like the PC version does at max settings. Environments are detailed and dripping with atmosphere; there are a wealth of effects that bring them to life; and both enemy and character models are varied and well animated. It doesn't have the price of a triple-A game, but it sure as hell looks and plays like one.
Needless to say, if you're a fan of Darksiders or action RPGs, Darksiders Genesis is certainly worth a look. As it's set before the events of the original Darksiders game, you don't need to have any prior knowledge of the series, either. It's a game that you can just jump into and have a good time.
Darksiders Genesis is available on PS4, Xbox One and Switch from tomorrow.
Want to support GameSpew? Buy Darksiders Genesis using our Amazon affiliate link. It won't cost you anything extra, but we'll get a small slice of the purchase.