How do you review a game like Florence?
Originally a mobile-only game releasing in 2018, Florence from developer Mountains and publisher Annapurna Interactive has now made its way to PC and Switch. I loved it when I played it on Android, and I love it just as much now I've played it on Switch.
At only an hour long, Florence is, at face value, a hard sell in a world that often values a video game on its length. But we're seeing more and more short games, delivering quality experiences based on storytelling and art that often go beyond typical gameplay tropes. Just look at last year's Sayonara Wild Hearts; around an hour in length and best described as an interactive music album. Florence is something quite different, though. Florence tells the story of 25-year-old Florence Yeoh as she goes about her regular life. Lectures from her mother, dull days at work, enjoying her hobbies, and falling in love. By its very design, Florence deals with the mundanity of life. But, oh, it does so oh-so-beautifully.
Broken up into bite-size chapters, you'll follow Florence through snippets of her life. The first is her morning routine: snoozing her alarm clock, brushing her teeth, eating breakfast. Then there's her commute to work: swiping through social media and robotically hitting 'like' or 'retweet' as she goes. Next is her job: mindlessly entering data into a spreadsheet.
Florence doesn't task players with complicated gameplay. Florence's chores have been gamified for the sake of the format, asking players to wiggle their thumbsticks to illustrate brushing her teeth, for example, or clicking on a piece of sushi as she eats her lunch. As such, it demands very little from players and doesn't really offer any degree of challenge. But that's not what Florence is about. It wants to tell a story, and you're merely taken along for the ride.
It's impossible to play Florence without being overcome by emotions. The focus of the story is Florence falling in love – presumably for the first time. Anyone who has ever had the pleasure of experiencing falling in love will grin along with Florence as she falls for Krish, the handsome musician. The exploration of their relationship – from simple scenes of them cooking together, to exchanging text messages made up of smiley faces and love heart emojis – is impeccable in its simplicity. Your heart will swell along with Florence's as you take it all in.
Equally, your heart will break as the game begins to tell the story of Florence and Krish's relationship breaking down. As much as you may like it to, Florence doesn't have any branching narrative so their break-up is inevitable. It's emotional, and portrayed so tenderly. For a game that's more or less made up of animated comic strips, how so much emotion pours out of every scene is a feat.
It's exactly how Florence and Krish's relationship and interactions are depicted that makes Florence truly special, though. Here's a game devoid of any dialogue or words, yet manages to tell a simple story more beautifully than a majority of the medium. Take their conversations, for example. As they talk, you need to piece together Florence's speech bubbles like a jigsaw. On their first date, Florence's speech bubbles have six pieces. Later, that shrinks down to four, three, then just two pieces. Such a simple yet brilliant way to illustrate how conversation becomes more relaxed and easy over time.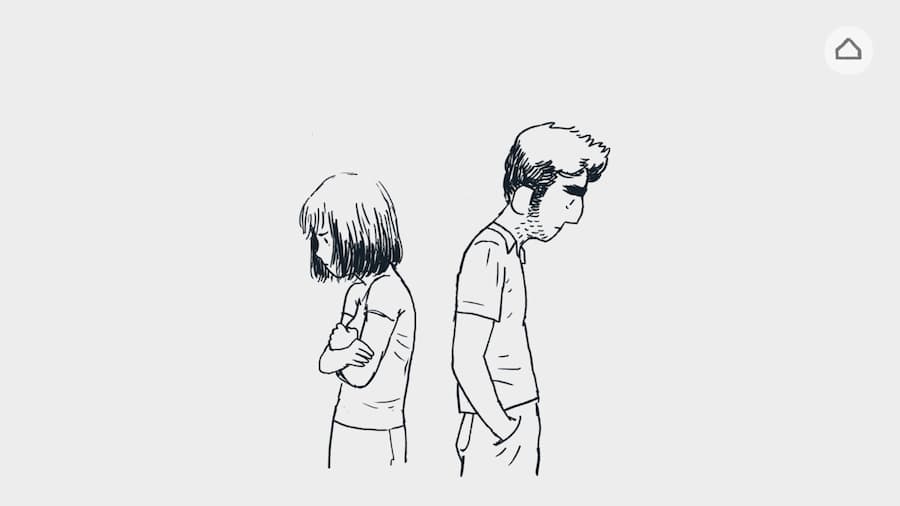 What's really special about Florence, though, is how relatable everything is. No matter what walk of life we come from, there's something here we've all experienced. Be it falling in love, breaking up, being stuck in a boring job – there's a bit of Florence in all of us.
Brought to life with gorgeous illustrations that look fresh out of a graphic novel and accompanied by a fantastic score that highlights every mood perfectly, it's a game that needs to be experienced to truly appreciate. Florence is unlike anything else you'll play, but its introspection on what it means to be human is simply sublime.
It's worth noting, though, that if you've previously played Florence on mobile, the Switch or PC version offers nothing extra. It's simply a new way to play it for those who may not game on their phone. You're paying slightly more for the privilege (it's £5/$6 on Switch and £4.79/$6 on PC compared to £3/$3 on iOS/Android), but it's still very much worth it. And despite its short, singular narrative, it's one I will undoubtedly visit multiple times. Just because it's so touchingly beautiful.
Florence is available on PC, Nintendo Switch and mobile devices. We reviewed the Switch version.