Another week gone in the blink of eye. Soon it will be Christmas, and we'll have nice new consoles to play our games on. Well, as long as that Coronavirus sods off soon.
Okay, so we're getting ahead of ourselves. There's still a good nine months or so before we'll even get a whiff of a new console we reckon. And before then, there are still plenty of games to play. Although things are a bit quiet on the AAA front at the moment.
The show (or website) must go on, however, and so the GameSpew team has been beavering away at a multitude of titles to help you separate the wheat from the chaff. What have we been playing? Well, read on and find out.
---
Rich: I've played some rubbish this week. I really have. Old-fashioned horror game Dawn of Fear should be avoided like the plague. Honestly, it's truly awful. Action RPG Arc of Alchemist is better, but only because it's not borderline broken. Don't waste your time or money on either.
Outside of those stinkers, The Dark Crystal: Age of Resistance Tactics and Sisters Royale: Five Sisters Under Fire aren't bad but are both quite forgettable. So, thank god for Zombie Army 4: Dead War, which offers a huge dollop of zombie slaughtering fun. Me and Kim have spent a lot of time shooting various undead entities in the face with a shotgun, including a zombified Hitler. Oh, and last Friday I played a bit of Nioh 2, which appears to be awesome. Check out my preview of it if it interests you.
Kim: As Rich says, a lot of time has gone into Zombie Army 4 which is more fun than it has any right to be, really. There's something incredibly cathartic about unloading bullets into zombie head after zombie head. Blood, gore, explosions. I'm actually disappointed we've finished the main campaign already – but there's horde mode to sink more time into, and DLC on the way soon. Hype.
I'm back on with the Mighty Quest bullshit on mobile, and I've been well and truly suckered back in with the hopes of making my hero a Strong Boi. Disappointingly I even bought an in-app purchase yesterday. But the justifcation is I've been playing it a hell of a lot, so the devs deserve a few pennies back. I also dared to delve into Diablo 3 for a couple of hours last night, and so the lure for loot has me there too. I have a feeling I know where most of the weekend is going to go…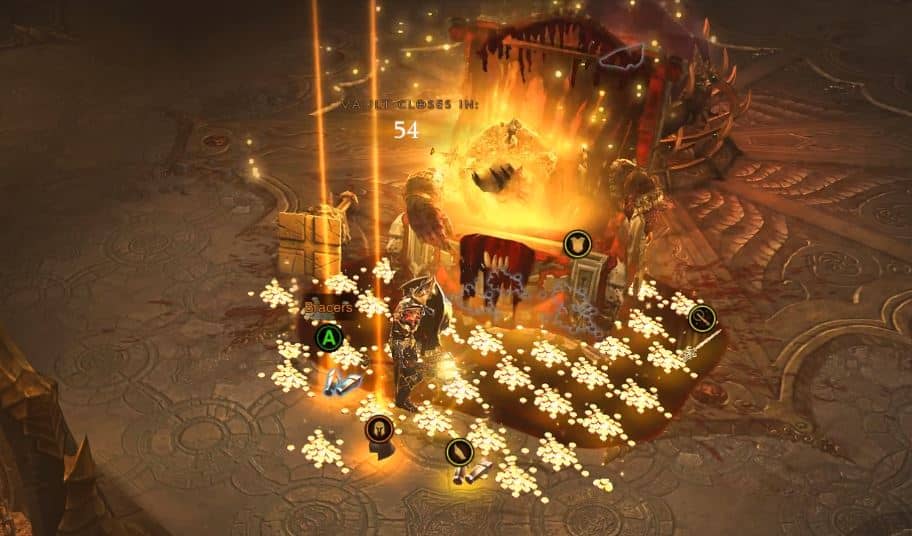 Becca: This week, despite having little to no Star Wars knowledge whatsoever, I decided to take a stab at Star Wars Jedi: Fallen Order. I'm really enjoying it. I find the story easy to follow because it has its own plot and characters separate from the Star Wars Universe, and the combat is challenging and fun. I only wish that Cal would stop waking up in the morning and then spread Vaseline all over his body, because boy does he slide off of stuff a lot.
I've also been playing It Came From Outer Space and Ate Our Brains, a fun little arcade shooter with an art style reminiscent of Minecraft. It's a weird one, but still silly and enjoyable.
Diggy: Much of my week has been taken up by the turn-based strategy game Here Be Dragons, which caught my eye with its charming "living map" art style. You'll have to wait for my review early next week to hear my detailed thoughts on it though.
I had a friend stay over last weekend, so I took to the Xbox Game Pass to see if there were any decently-rated party games. Supermarket Shriek provided some good laughs; in party mode, each player controls a shopping trolley bearing a man and a goat, with the aim of steering it through obstacles by controlling how loudly each one is screaming. The co-op mode was perhaps even more fun, with one player assigned "man" and one assigned "goat", working together to navigate supermarket death traps was a hilarious challenge.
The star of the night, however, was Overcooked! 2. Using teamwork to prepare increasingly complex recipes in increasingly confusing kitchen layouts, all against the clock, provided endless fun (and stress). So if you ever have to entertain another human, that's a game I can definitely recommend – even if it's just so you can finally understand why Gordon Ramsey has such a short temper.
Chris: I've been under the weather the past few days, so gaming has taken a back seat to me going to sleep at random times. I did manage to play Song of Horror: Episode 4 though. Wandering around an ancient monastery is clearly a great idea with no possible downside and/or horrific consequences, so that went well.
I also dug out the original Alone in the Dark, which was doing the dogs-jumping-through-windows thing well before Resident Evil. The characters are hilariously angular but, that aside, the game's aged relatively well. The thing that astonishes me, even to this day, was the way the original played sound effects through your PC's beeper, even if you didn't have a speaker. To this day, I still don't know how the game did this (I'll have to look it up) but it was a real revelation given my younger self didn't have the cash to fork out for a proper soundcard.
Stan: You know why I love gaming? Escapism. You know when escapism is most important? When England loses in an embarrassing fashion to France. That's why I've been playing Rugby 20 this week – it's like a palate cleanser for the England vs Scotland game. I've been able to dominate Scotland in Rugby 20, so that's a good sign for Saturday, right? … Right?
I've also been continuing my journey to Football Manager stardom by playing Football Manager 2020 in any spare moment I have. I'm still in the Championship, but I'm currently second in the league. I'm liking those odds, and I'm very hopeful for a promotion to the Premier League. Fingers crossed.