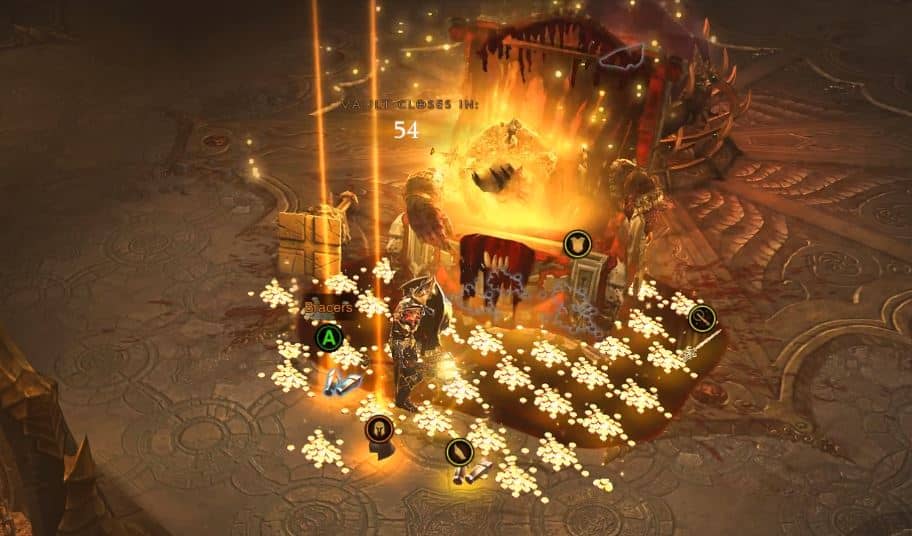 Happy Valentine's Day, readers!
On this day of romance, what games will you be seeing the weekend in with? Or will you be opting to step away from your PCs and your consoles in order to attempt to woo the love of your life? We've been hard on the romantic content this week: Kim's reminded us all that playing video games can be a romantic way to spend time with your partner. Games are also filled with romantic moments, and some excellent couples that we can't help but ship.
But it's not all about love! The regular show must go on! And so here are the games we've been playing this week, that may or may not contain themes of love. Have a great weekend, everyone.
---
Rich: My Diablo III barbarian has been very dizzy this week as I've been spinning my way though Nephalem Rifts, Greater Rifts, Bounties, Cow Levels and Vaults alongside Kim. My Diablo III time has had to be measured, however, as I've had other games to play.
I've reviewed the tedious Daemon X Machina for PC, which I really wanted to like but couldn't, and also Code: Realize ~ Guardian of Rebirth~ on Switch. If you like visual novels, you really should give that one a go. I've put some time into Darksiders Genesis, too, which is even better than I remember it to be, and tried upcoming Souls-like Hellpoint. That's one to keep an eye on.
Next week, keep your eyes peeled for my review of Bayonetta & Vanquish 10th Anniversary Bundle, which I'll be really getting stuck into this weekend, and more.
Kim: Diablo III has been the flavour of every evening this week. I've finally followed Rich's lead and built what we call a 'Spinny Barb'; a Barbarian that spins forever, doing literally billions of damage to every enemy in its path. Sure, this devolves gameplay into simply holding R2 and watching chaos ensue on screen but man, it never gets old. I've been seeing that Spinny Barb in my sleep and having to step away from it so I can actually, you know, go to work, eat, and generally be a functioning human being, has been more difficult than it should be. Damn you, Diablo. The lure for newer, better loot has never been stronger.
I have managed to pull myself away to play some other things too. I've played through the narrative adventure The Suicide of Rachel Foster, though you'll have to wait 'til next week to see my thoughts. Goblin Sword on Switch, an old-school platformer, provided plenty of entertainment, and while physical dating sim Table Manners was fun in short bursts it was ultimately a little disappointing. OH! And I finally played Untitled Goose Game, which is more charming than it has any right to be.
Becca:  This week I've been busy again so I haven't had a lot of time to play many things– but I did play a few lovely indie titles. First I played the silly Pac Man-like game Long Loot the King. You play as a selfish king whose hidden his gold away in his dungeon. When his castle comes under siege he's forced to go into the dungeon himself and collect it. It's simplistic and weird but also deliciously addictive.
I also played the short puzzle/platformer game Selma and the Wisp, where you control a blue wisp who in-turn controls a girl named Selma through a nightmarish world. It's a lot like Limbo, but a bit more aggravating at times. Finally, I played a game called Luna the Shadow Dust, which is a beautifully drawn puzzle game with adorable characters and challenging, but lovely puzzles. My review will be published Monday if you want to read my thoughts.
(As a final thought I've put way too many hours into Animal Crossing: Pocket Camp on my phone because I'm too damn excited for Animal Crossing: New Horizons next month.)
Diggy: Early in the week I reviewed the light-hearted turn-based strategy game Here Be Dragons. I'd say it left a good impression considering I'm usually pretty lukewarm about tactical games; it had some interesting mechanics and a cute art style, even if the Monty Python references were already trying my patience after the first hour.
Most of my remaining play time has been spent with Steep, Ubisoft's open world winter sports-em-up. I played it a lot on PC when it came out, but I recently grabbed the Xbox version on sale, bundled with all the DLC packs I haven't seen yet. You see, it's one of my favourite "Podcast Games"; a game with chilled, mindless gameplay and minimal story that I can play while listening to a podcast, audiobook or equally mindless TV show. I've usually got one of these on the go because it's a great way for me to switch off and unwind.
It's a style of game I've started to appreciate a lot more since becoming a father, funnily enough.
Chris: I picked up Control a few weeks ago and I've finally leapt into the game's mind-bending, SCP-style world. I appreciate its superbly crafted storyline, though I seem unable to just sit back and enjoy it without trying to guess the inevitable twist (or feeling the urge to look it up on Wikipedia). I will say this – it's a hell of a lot better than Beyond: Two Souls, a similarly supernatural outing.
I also messed about with Rustler which, despite only being in Alpha, is pretty promising. The last time I got to be a medieval arse was when I went sheep surfing in Kingdom Come: Deliverance so it was good to get back to some serious dark-ages dickery. It's also made me want to dive back into A Plague Tale: Innocence for some equally muddy medieval antics.
Stan: Honestly, I have never been more insulted in all my life! I thought it would be a nice and pleasant experience for me to try the demo for Pokemon Mystery Dungeon. After all the questions at the beginning they gave me a Pokemon to be. And, WHO'S THAT POKEMON? It's… Psyduck. Psyduck. Yup. The Pokemon that is known for being dimwitted. Thanks Nintendo.
After this traumatic experience, I think I've started to act out in violent ways. I've got involved in gang warfare, started driving dangerously, and even made new and frightening friends. As you've probably guessed – I acted out by playing Grand Theft Auto 5 again. I'd forgotten just how much of a masterpiece this game is. I may not be too far right now, but I cannot wait to get deeper and deeper into the criminal underworld of Los Santos.