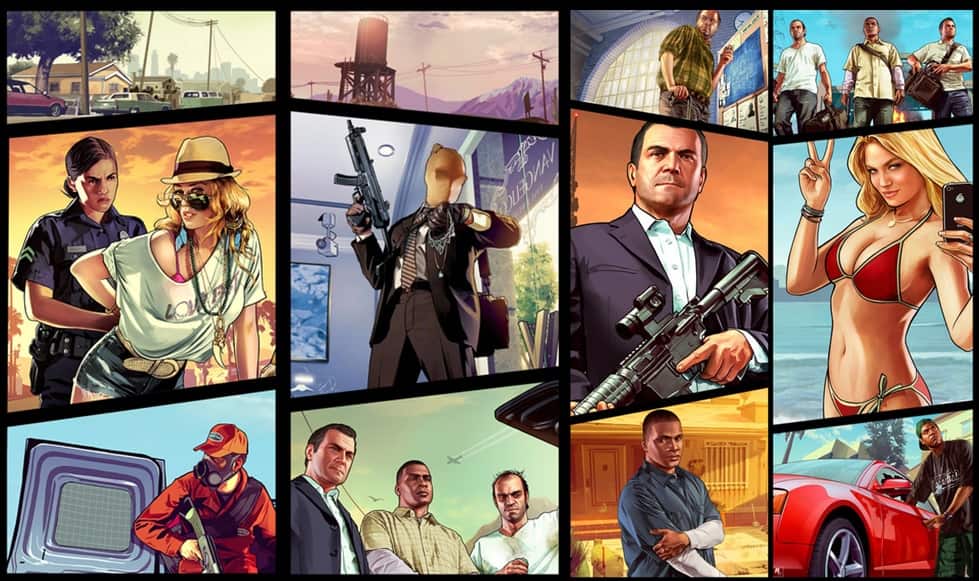 What do
Minecraft, Tetris
and
Wii Sports
have in common with
Grand Theft Auto 5?
They share the honour of being the four highest selling games in history. 
Grand Theft Auto 5 sits in a proud third place in the list of best selling games ever. That's no small feat, especially considering the price of Minecraft and the age of Tetris. Grand Theft Auto 5 even bats Wii Sports out of the ground, which is pretty amazing considering that Wii Sports came free with every Wii. 
So what makes Rockstar's most iconic crime game such a success? Having sold over 120 million copies to date, Grand Theft Auto still dominates the charts to this very day, and its success looks set to steadily continue. 
Of course, releasing on countless consoles (both older generations and current generations) helps, and the appeal of GTA Online doesn't seem to be fading at all. But there's so much more magic to Grand Theft Auto 5 than just that. And like the perfect heist, we've done our research and planned well, to come up with a list of reasons that contribute to GTA 5's continued success.
That Los Santos life 
The Grand Theft Auto series is well-known for making highly compelling and vast open sandboxes to explore. Few games create a sense of openness quite like the Grand Theft Auto franchise, and that truly peaked with Grand Theft Auto 5. Los Santos is a huge living city; one that is bigger than the maps of Grand Theft Auto San Andreas and Red Dead Redemption combined. 
Los Santos is a true playground of countless possibilities and opportunities. From the bustling downtown area, to the rougher South Los Santos, and even the sprawling rural areas surrounding the city; Los Santos has it all. There is no developer that creates a setting quite like Rockstar, and Grand Theft Auto 5's map offers chances for constant replayability. 
Switching it up 
The Grand Theft Auto series has always had interesting protagonists – from the muted leads of the earlier games to the constantly endearing CJ. But Grand Theft Auto 5 ramped this up by not just having one great protagonist, or two, but three great leads to pick from. The ability to swap between them was a fresh approach to the Rockstar formula. 
Three lead characters means three great character-led stories, and they all interweave brilliantly. Trevor and Michael have a deep backstory and past, and Franklin is the perfect addition to this duo. Three lead characters mean being able to experience the fantastic map of Los Santos in different ways, and being able to approach missions in different ways, and this really sets Grand Theft Auto 5 apart. 
Trouble in paradise for Michael 
Michael is one of the main leads in Grand Theft Auto 5, and is the first character the player controls in the game. After the botched heist at the beginning of the game, the story truly begins with Michael and his therapist. It's the perfect introduction to Michael and his life; one that is not as perfect as his situation would have you believe. 
Despite living in a gorgeous property in Los Santos, and despite playing golf most days and watching old movies, Michael is desperately bored and unhappy. His family is a mess, with his son being a typical layabout, and his daughter seemingly willing to do anything to become famous. Plus his marriage is breaking apart. All of this brilliantly sets up Michael's character arc, and makes him one of the most intriguing protagonists in Grand Theft Auto history. 
The unbalanced and unhinged Trevor Philips 
Perhaps the most unique gaming lead of all time, Trevor Philips really sets Grand Theft Auto 5 apart. From his first introduction where he has an affair with a married woman, to stamping down on the husband's skull, to then driving to a local trailer park and killing a bunch of bikers, Trevor's character is clearly displayed early on. He's crazy, he's reactive, and he's dangerous. 
But, most importantly, Trevor is incredibly likeable. Despite his (many) complications, he's a loyal and dedicated friend – until he finds out that Michael lied to him, at least. Trevor is a hugely fun character to play as, and his missions based around Trevor Philips Enterprises are amazing. Trevor can fly a plane or helicopter, he can fly off the walls, and he can even fly into love with someone; who will ever forget that heartfelt moment with Patricia as 'If You Leave Me Now' plays in the background? 
From rags to riches with Franklin 
Franklin's first mission in Grand Theft Auto 5 involves repossessing a high-end sports car and taking it back to the dealership. It's clear that Franklin is unhappy with this career, and wants much more from life. His close friend Lamar is confident about his ability to operate on the streets, but in reality this just leads to Franklin having to save Lamar time and time again. Franklin's personality is instantly relatable, and he's a brilliant protagonist. 
When repossessing a car from Michael's son, the two form a connection and Franklin sees Michael as a mentor; a gateway into a better life. This begins Franklin's story, and his rise from the streets to bigger and better heists with much more money on the line. We see Franklin grow throughout Grand Theft Auto 5, and he's one of the most likeable characters in the entire franchise. 
A story for the ages 
Grand Theft Auto 5 is well-loved for its open world and gameplay, but few people give the story the credit it deserves. Weaving together a believable and fun plot with the three protagonists is a true accomplishment. The story is something that can be played again and again. 
With lots of twists and turns, the GTA 5's narrative is constantly compelling. Whether it's the return of Trevor, the lie being revealed, or the inclusion of the government, the story never fails to disappoint. It's something that's worth experiencing again and again, and it's one of the main reasons why Grand Theft Auto 5 is a game that is so replayable.   
The heist is on 
With the three great protagonists comes many different possibilities, and these are best displayed when planning a heist. The added ability to have a say in these heists makes them feel much more important and compelling. With options to either go in quietly or all-guns-blazing, the heists are real highlights of Grand Theft Auto 5. 
The heists themselves are fantastic to play through, combining action with high speed pursuits. With each heist being able to be planned and played through in multiple ways, their replayability factor is incredibly high, and it's a huge reason why people return to Grand Theft Auto 5 over and over. 
Mission possible 
Grand Theft Auto 5 has some of the most memorable missions in the whole franchise. Whether it's based on Trevor, Franklin, or Michael, there's no shortage of great missions. Grand Theft Auto 5 also has some hilarious side missions placed around Los Santos. From legalising cannabis to getting photos of celebrities, these side activities offer a great distraction from the main story. 
But the main missions are where Grand Theft Auto 5 truly stands out. There's just so many fantastic missions. No one could forget the shootout on Grove Street, rescuing Michael, or fighting the government. Each of these missions alone make Grand Theft Auto 5 a must play.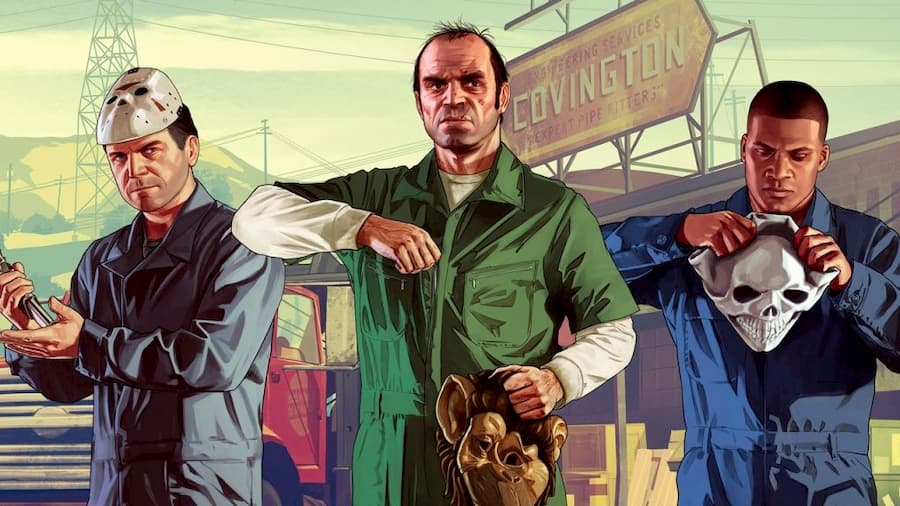 Online success 
6 billion dollars. That's how much Grand Theft Auto 5 has made. So much of this amount comes down to GTA Online, and it's impossible to look at the success of the game without looking at the online component. It's one of the biggest money-makers in the whole entertainment industry, and rightly so. 
Before Grand Theft Auto 5, the idea of an online open world sandbox like Grand Theft Auto seemed like a dream. From the mayhem of playing online with others, to unique games and group heists, GTA Online is a huge money maker, and a big reason why players continue to return to Grand Theft Auto 5. 
From another perspective 
Grand Theft Auto 5's Los Santos is spectacular. Its beauty was only heightened when it arrived on PS4, Xbox One and PC. But those versions also offer something pretty different, something that has never been used in a Grand Theft Auto game: a first person perspective. 
It's so much more than just a camera angle. It's a new way to see the world of Grand Theft Auto 5, a new way to play the game. It's easy to understand why so many gamers would have purchased the same game on a new platform: to re-experience Grand Theft Auto 5 in a completely new way.