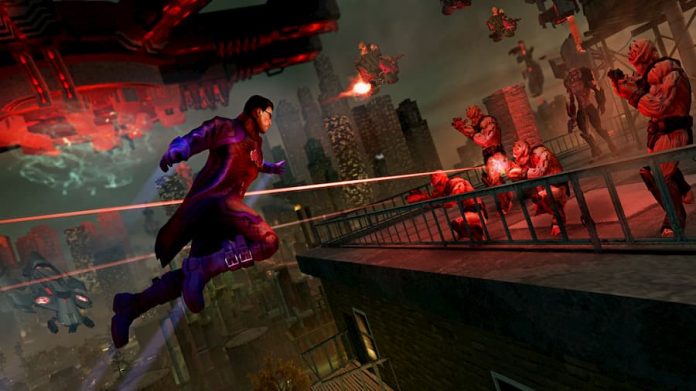 The Saints Row series dialled up the fun for its fourth entry.
When GTA V was delivering a world more realistic than ever while introducing us to three protagonists each with their own personal dilemmas, Saints Row IV essentially gave us a multi-format Crackdown with a touch of the Matrix thrown in for good measure. Needless to say, Saints Row IV was great.
The good news is that greatness has now landed on Switch, in the form of Saints Row IV: Re-Elected. It contains the brilliant base game plus a whopping 25 pieces of DLC, granting players access to goodies such as the Dubstep Gun (Remix) Pack, the Commander-In-Chief Pack, and its two expansions: Enter the Dominatrix and How the Saints Saved Christmas. It's just a shame that the standalone expansion Gat Out of Hell isn't included, because that's jolly good fun too, and was bundled up with the PS4 and Xbox One version of Saints Row IV: Re-Elected.
"Saints Row IV essentially gave us a multi-format Crackdown with a touch of the Matrix thrown in for good measure"
Regardless of the strange absence of Gat Out of Hell, Saints Row IV on Switch remains as fun today as it was way back in 2013. As the leader of the Saints you've somehow become president after saving the world from nuclear disaster. But you know how life is for this ragtag gang turned celebrities – another catastrophe is just around the corner. In this case, it's an alien invasion. As your friends/gang members are sucked up one by one, you do your best to fight off the otherworldly aggressors, but in the end your efforts are in vain. Ultimately you end up trapped in a simulation of Steelport, where you're supposed to be being tormented.
Of course, you have other ideas. Enabled by Kinzie, you discover you have access to superpowers. Within the first hour of Saints Row IV you gain the ability to jump over buildings and run faster than any car. After that, a trickle of additional abilities are unlocked as you play, and they can all be upgraded by finding packets of data. Eventually, you're truly a force to be reckoned with. You become a superhero, essentially, able to fly around and thwart your alien aggressors with either your guns or the elements.
"Saints Row IV on Switch remains as fun today as it was way back in 2013″
The core gameplay loop remains true to the Saints Row format. There are main missions that progress the story, side missions that act as interesting diversions, and a bucketload of activities. To increase your abilities you'll want to engage in all three, and the Cache you earn will allow you to make yourself and your arsenal more formidable, and dress with more style. What good is a superhero if they look like a dog's dinner, eh? Though the fact is, even without the incentive, you'll plough through Saints Row IV's content simply because it's fun to play. You'll want to spend time with the game's characters and overcome its silly challenges.
Saints Row IV: Re-Elected isn't perfect, however. Eventually its alien encounters can feel a little samey, even with your wide range of abilities. It's particularly tiresome fighting the same hulking beast time and time again, finishing it off with a button mashing sequence that starts out as irritating and goes south from there. Also, if you don't like collecting things, you'll hate having to search for data packets to power up your skills. It's definitely a love/hate kinda thing. Overall though, the good far outweighs the bad.
Switch players will be happy to hear that Saints Row IV: Re-Elected isn't plagued by the same technical issues that struck Saints Row: The Third – The Full Package at launch. Despite looking a lot better, Saints Row IV: Re-Elected's performance is much more stable – perhaps thanks to it having a dynamic resolution. If you favour eye-candy, however, you can turn it off. That's not to say that performance isn't ever an issue, though. Even with dynamic resolution enabled you'll still encounter the odd hiccup, which can make some situations a little more trying than perhaps they should be. Still, this is Saints Row IV, a sizeable and chaotic open-world game on essentially a handheld – perfect performance is perhaps a large ask.
"Even if you have played it before, [Saints Row IV] remains a wonderfully joyous experience"
Other than the occasional performance woes, the only other Switch-centric issue is controls. If you're playing the game docked with a Pro Controller you'll be fine, but in handheld mode the Joy-Con analogue sticks just aren't very pleasing to use at all. Thankfully Saints Row IV: Re-Elected does have motion controls, so that alleviates the issue if you don't mind using them. That's about the only new addition though.
It's hard to imagine that anyone who would be interested in playing Saints Row IV hasn't already done so on the many formats it's been available on, but if so, there's no reason not to pick it up on Switch. It's just as much fun here as anywhere. Frankly though, even if you have played it before, it remains a wonderfully joyous experience. Saints Row IV: Re-Elected's over-the-top antics, larger-than-life characters and superpower-focused gameplay make it one of the most ludicrous ways to waste away a decent number of hours. And in these trying times, perhaps that's what we all need.

Saints Row IV: Re-Elected is available on PS4, Xbox One and Switch. We reviewed the Switch version with code provided by the publisher.
---
Want to support GameSpew? Buy Saints Row IV: Re-Elected using our Amazon affiliate link. It won't cost you anything extra, but we'll get a small slice of the purchase.