Connecting with someone is all about the conversations you have along the way.
If you can't understand someone, their history or their story, you'll never be able to have a meaningful connection with them. That's the lesson at the forefront of Echodog Games' casual card game Signs of the Sojourner. Using a small deck of cards, players will make connections all over by meeting up with fellow entrepreneurs that wish to sell you their goods. By speaking with folks, you'll forge connections or break them in a compelling game about life, meaning and the power of connecting with people.
In Signs of the Sojourner you play as a young and nameless merchant who has just lost their mother. Along with their best friend, your character decides to join your mother's old caravan, gathering materials to bring back to the shop that your friend runs for you. Players won't know much about any of the characters to begin with, but as you jump from city to city details will be revealed about the characters, the caravan and your mother. You'll be surprised to know that some people know more about your mother than you did – and you might even make some totally new friends along the way.
"A compelling game about life, meaning and the power of connecting with people"
Signs of the Sojourner's gameplay mechanics are initially a little difficult to understand. This isn't your average deck building game where your cards have different amounts of health or cost magic to spend. Here, your cards act as your dialogue options – or what you would say or not say to the person you're speaking to. Each card being played has a symbol on it. Your goal is to match up the symbols on the right or left of the other person's card with the symbols on your own cards to have a successful conversation. If the person you're speaking to plays a card with a circle on the right, you'll look for a card in your deck with a matching circle on the left. A successful match creates a positive connection and the conversation continues on.
"Strategy is more important than you might imagine"
What makes things more complicated is when you don't have a symbol to match. The conversation will reach a stand still and you'll have to try again. If you fail a certain number of times that person will walk away, leaving you with nothing. Of course, you can fail on purpose if you don't want to talk to that person any more, but your overall goal is to complete the conversations to either create a positive relationship or to get something from them to sell back at your shop when you return home from your trip. As you progress, you'll encounter other specific types of cards: there's the 'Chatter' card that allows you to play a card immediately after playing one; or 'Reconsider', which gives players the ability to shuffle their deck and get a new hand.
At the beginning and end of each conversation you'll have to remove a card from your deck and add in something new. This mechanic not only makes it so that each playthrough feels different, but it allows the player to try and think ahead and strategise. Did the man in Clifton have a diamond card last time we spoke? Or was it the woman from the Desert Oasis? Strategy is more important than you might imagine.
"Signs of the Sojourner's world, characters and dialogue are a joy to experience"
A single playthroughs of Signs of the Sojourner take place over five in-game days where you hit the road and go to different towns collecting items to sell. During the course of the trip you'll collect 'fatigue' cards which are added to your deck and can cause some serious problems. These cards don't have symbols that can match and will cause the conversation to come to an immediate halt. Thankfully, you can get rid of all of your fatigue cards when you return home for a rest.
For a game that seems relaxed at the beginning, it becomes quite obvious as you progress that a lot of thought is required in order to be successful. You constantly have to think about where to go and what to do next; otherwise you risk ruining previously nurtured relationships.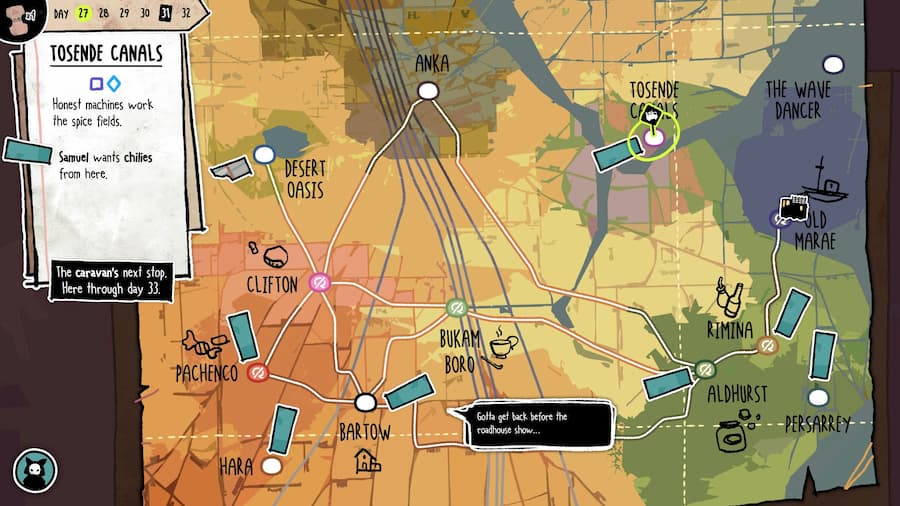 Signs of the Sojourner's world, characters and dialogue are a joy to experience. On the surface, everything may seem light-hearted and silly, but there are important lessons to be found underneath. A single playthrough isn't enough to experience everything, so you'll likely dive in multiple times before you're through. Unfortunately, due to the unpredictable nature of the cards, even a second time around you might fail at a conversation you really wanted to complete. In this way, the cards and the game mechanics themselves can be unforgiving.
Signs of the Sojourner is clever and charming. While the game mechanics can put a dampener on the laid-back feeling of the game, you'll probably be too engrossed in the touching story to care. In a time where everyone in the world is being forced apart, a game about making connections and appreciating what you have feels like the perfect antidote.

Signs of the Sojourner is available on PC. We reviewed the game with a code provided by the publisher.