A visual novel with dogs that act like humans? You've gotta be yanking my leash.
No, it's true! That visual novel is A Summer with the Shiba Inu, which has just released on consoles. Developed by Quill Game Studios, players can expect what feels like quite a normal visual novel – but starring dogs with personalities and complexities that you'd never imagine. Yes, it's barking mad.
In the game you follow a Shiba Inu named Syd. She left her home of Shiba Island ten years ago, but she's just returned. But upon returning to the island, she's faced with parts of her past she's rather forget. She finds herself caught up in a mysterious series of events that affect not only her, but those she left behind all those years ago. To avoid spoiling the story, I'll refrain from saying much else. But there are three different endings to look forward to, and over 70,000 words. It's literally novel-length.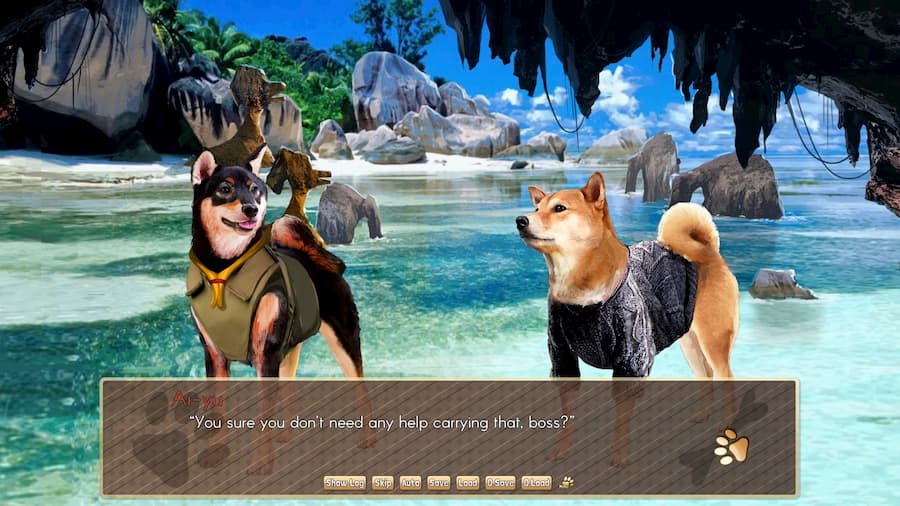 While A Summer with the Shiba Inu is incredibly cute, it undermines the serious tone of the detailed narrative. It's hard to appreciate a good story when you're staring at photos of good doggos in human clothes. And while the plot is intriguing enough, each playthrough takes several hours due to the game's sheer length. It isn't very likely that players will want to dive right back in to try and get the other endings.
As hard as it may be to take A Summer with the Shiba Inu's story seriously, there's no denying it's pretty to look at. The backgrounds are colourful and detailed – and I'd be damned if I didn't say the dogs look great too. But everything just feels "off" in this doggie world. You'll feel conflicted by the narrative's depth, while wanting to enjoy the hilarity of having a "bark" button.
If you're a fan of visual novels, you could do much worse than A Summer with the Shiba Inu. The characters are fun and silly, and the story is strangely detailed and even intense at times. It's worth checking out, especially if you love cute doggos. But if you're looking for a visual novel you can take seriously, you'd be barking up the wrong tree here.
A Summer with the Shiba Inu is available on PC, PS4, Xbox One and Nintendo Switch.