Never before has a game left me so conflicted as Kojima Productions' Death Stranding.
When I reviewed it on PS4 last year, I awarded it a 6/10. But it could have easily been higher or lower. It's a game with great highs and deep, laborious lows, but it's just so unique. The fact you'll have certainly never played anything like it means you should at least try it at some point. There's one thing about it that still lingers in my mind, however: its presentation. Death Stranding looked great on PS4, and its soundtrack was just magnificent.
Well, Death Stranding is now available on PC, and its biggest strength has just got even better. This isn't your quick and easy port that exists simply to make a quick bit of cash from a new audience; this is Kojima Productions showcasing its debut title in its best possible light. And it also has some additional bells and whistles to sweeten the deal.
While PS4 Pro gamers could enjoy Death Stranding at 4K, it was done so via trickery. That's not the case on PC, where those with the hardware to do so can run it natively at that resolution. And if you've got an Nvidia RTX graphics card, DLSS 2.0 can be used to boost framerates and image quality. On the DLSS Performance setting, even an RTX 2060 is enough to play the game at 4K 60fps, which is outstanding. Those who have no aspirations to run it at 4K will find that even a modest gaming PC can run it better than PS4 at 1080p.
Admittedly, there aren't all that many graphics options. You can change the usual things such as shadow resolution, model detail and how much memory is used for streaming etc., but anisotropic filtering can't be set in-game, and ray tracing hasn't been implemented. The truth is though, that all Death Stranding needs to truly shine on PC is native 4K (or DLSS Quality) and high frame rate support. It just makes the world so much richer and more detailed.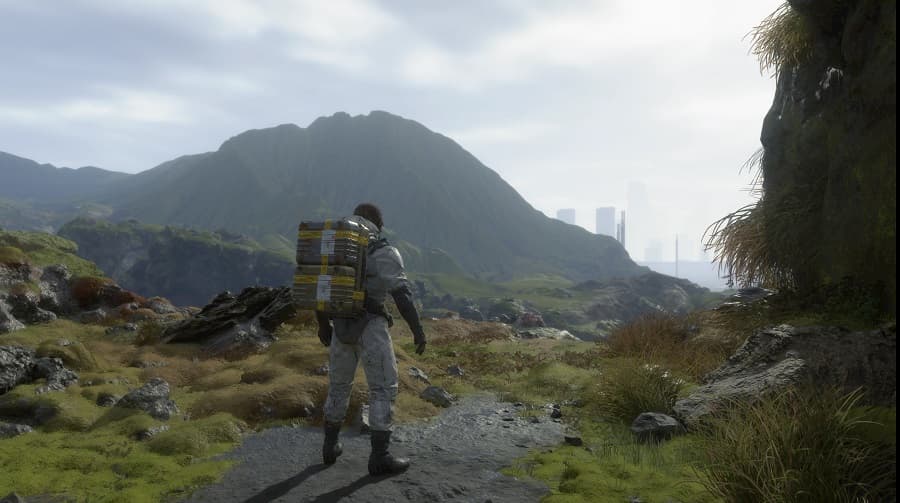 Unfortunately in-engine story scenes are locked at 60fps, but credit where credit is due, at least that's double what they were on PS4. And so ultimately, Death Stranding on PC looks and plays better than ever before. And those extra bells and whistle I mentioned? Well, there's a photo mode that is likely to get a lot of use – Death Stranding's scenery truly is breathtaking – and you also get some Half-Life crossover content, which is neat if you're really into Half-Life, I guess. Many players won't really care for the cosmetics it provides, however.
Ultimately though, Death Stranding is what it is, and no amount of beautification can change that. It's a game that's dreadfully boring at times, a game with a story that never pays off. But it has high production values; so high that you just become mesmerised by the stunning scenery and brilliant music. It's also unchallenging. Most of the time it's just you versus the environment, and so persistence rather than skill pays dividends.
Available for £54.99/$59.99 on both Steam and Epic Games Store, Death Stranding isn't cheap on PC, and it's one of those games that you'll either love or hate. It is possible to get it cheaper on sites such as CD Keys, however, where it's currently available for just £39.99/$50.79. So, if you've got the money to spare and you're after something that's utterly unique and looks phenomenal, give it a try. Just be aware that after just a few hours in, your fun with it may just come to a halt.
Death Stranding is available on PS4 and PC