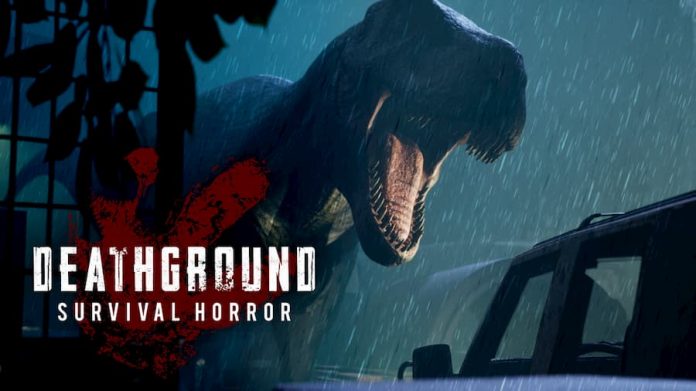 Looking for a multiplayer dino game? Life uh… finds a way.
UK-based developer Jaw Drop Games has launched a Kickstarter campaign for its upcoming game, Deathground. It's a co-op survival horror which has players being terrorised by AI dinosaurs. Sign us the hell up.
Players will take on the role of professional hunters and survivalists who are on missing to the "Deathground" to find some high-value loot. Not sure if we're talking gold or money, but it better be something good if we're facing off against evil raptors.
While you can play alone, in co-op you'll have to co-operate with your teammates to succeed. Together, you'll be traversing terrifying, dark environments which are completely overrun by dinosaurs. There will also be a character class system which includes special traits, skills and tools for each person giving the game some awesome customisation and strategy.
The dinosaurs that players will be facing will be AI, but they are said to unpredictable, dynamic and reactive – determined to hunt you down.
If you're interested in supporting Deathground, head over to the Kickstarter page. As of publishing this story, there's 23 days left in the campaign, with £47,356 raised of an £80,000 goal.
Pledging £12 or more will bag you a digital copy of the game, along with other digital goodies. Tiers run all the way up to £8,000 (!), which will bag you your own in-game dino, a day out with the devs, a physical T-Rex statue and a whole host of other goodies.
Give the trailer a watch below. We're getting a definite Alien Isololation-but-with-dinosaurs vibe, which is no bad thing. Deathground is currently scheduled to release in early access in autumn 2021, with a full retail release following in mid-2022.