It's hefty and it's huge – but the Black Shark 3 Pro really is the ultimate gaming phone.
Along with a suite of accessories (including an external cooling fan, for crying out loud), a huge AMOLED screen with 1440p resolution, eye-watering specs, this phone has triggers. Yes, actual controller triggers that you can map to any control in any game. And they pop up and retract back into the phone when they're not in use.
Do you need any more information? Because I was sold on the triggers alone.
Let's talk specs. When I say the Black Shark 3 Pro is a hulking powerful beast, I mean it:
5000 mAh battery
Qualcomm Snapdragon 865 LPDDR5
7.1″ 1440p AMOLED screen
90Hz refresh rate
Liquid cooling system
SA+NSA 5G
12GB RAM
256GB built-in storage
Advanced sensors: Gravity, Ambient Light, Proximity, Gyroscope, Compass, Fingerprint
That's some serious grunt. It's the same processor that's in Samsung's flagship handset, the Galaxy S20. It also shares the same amount of RAM – but the Black Shark 3 Pro has a bigger screen, a larger capacity battery (by 25%) and it's 5G as standard. A 5G S20 model costs you an extra £100.
However, it's not a brand you've heard of, probably. It's actually the gaming arm of Xiaomi, a Chinese manufacturer whose handsets have become more popular in the west in recent years. How much stock you put in familiar brands is a very personal decision – and the Black Shark 3 Pro's RRP of £799 might sound like a lot for a phone from a brand you're not familiar with. But if that's not an issue for you, there's a hell of a lot to get excited about here.
As to be expected from its gargantuan 7.1″ screen, the Black Shark 3 Pro is a huge handset with a hefty weight to go with it. It weighs around 253g, over 100g more than my own superlight Pixel 3A. An extra 100g doesn't sound like much, but it feels incredibly weighty in your hands. Its size also means it's difficult to use in one hand, like you might do with a smaller, more standard handset. But its build quality is excellent; it feels like an incredibly sturdy, well-made piece of technology – although the extra weight will take some adjusting to.
If you're a casual phone user, or maybe you simply dabble in a bit of Candy Crush – this phone isn't for you. No; this is for the serious gamers; those of us who spend a considerable amount of time in games like PUBG Mobile or Call of Duty Mobile. It's also a fantastic handset for those who consume a lot of media on their handsets. The huge screen makes for an excellent place to watch Netflix or stream movies.
But it's gaming where the Black Shark 3 has been designed to excel – and indeed, it pays off. Out of the box, the huge screen and those pop-up triggers already set it ahead of most of the competition. The triggers seem a bit gimmicky in principle, but they work really well, and slide back into the phone automatically when they're not in use. To summon them, you simply need to hit a switch on the side of the phone which loads up 'Shark Space', Black Shark's bespoke gaming software. In there, you can access your library of games and configure the triggers. Essentially, you can map the trigger to any area of the screen, so it's fully customisable depending on the game you're playing.
The Shark Space idea is an intriguing one. Flipping the physical switch on the side of the phone tells the handset you're ready to enter gaming mode – and doing so will mute all incoming notifications and reject all incoming calls. You can customise the settings as you wish (so important notification can still come through), but the idea is you won't be disturbed if you want to knuckle down in your favourite game.
The triggers, while not exactly comparable to those found on a proper gaming controller, are pleasant enough to use. There's a satisfying click when you press them down and, with a game that allows you to use them to their full potential, they can massively transform the experience. Plus, seeing them pop up and down automatically never gets old.
But outside of the functionality built directly into the phone is a whole ecosystem of accessories from Black Shark. You can purchase a specially-made gamepad which slides on to one side of the phone, giving access to a proper thumbstick, triggers and face buttons. It's very similar to Razer's Junglecat controller, though even more limited as it can only be used on Black Shark phones. It's also not cheap; the Left controller alone retails for £52.90, although they are designed to be used alone.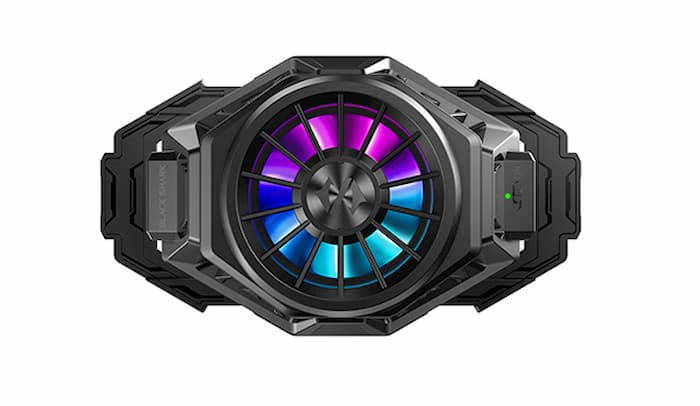 There's also an external fan – given the very jovial name of FunCooler Pro – if you want to get really serious (and perhaps rather OTT) about your mobile phone gaming. These clip onto the back of your phone; there's space for two if you absolutely want them, but they're rather big and chunky, so they're far from the ideal. In most situations, the Black Shark 3 Pro's built-in cooling system should more than suffice. The FunCooler can be operated manually, or you can connect it to your phone via Bluetooth to customise some funky light options, change the cooling mode, and view some temperature data.
It's not just in over-the-top gaming that the Black Shark 3 Pro tries to excel, either. It packs in a 64MP triple camera, with a 13MP ultra-wide lens, a 5MP f/2.2 camera "for bokeh" and a 64MP f/1.8 "super clear camera". The front camera also sports a 20MP sensor. It supports low-light enhancement, 4K video recording at 60fps and a range of slow-motion video capture options.
Ultimately, the Black Shark 3 Pro is an exceptionally premium-feeling phone. It oozes quality in its unique features, its build and its wonderfully bright and clear screen. At £800/$900, it's hardly a budget option, but you get what you pay for – and compared to other flagship phones for the same price or higher, the Shark attempts to do a lot more. Its sheer size and weight might put some people off – it's very heavy to have in your pocket all the time as a regular phone – but if you're a serious mobile gamer, then it should be a serious contender.