Some months before its launch, we've already seen numerous reasons why players might want to invest in Codemasters' DIRT 5 when it launches. And now another has been revealed: Playgrounds.
Thanks to Playgrounds mode, not only will you be able to make your way through a thrilling campaign in DIRT 5, with or without friends by your side, and engage in exhilarating online multiplayer events, but you'll also be able to create your very own challenge arenas for the first time.
Thanks to access to a preview build of DIRT 5, we've been able to go hands-on with the mode, creating our own events in the three arenas that will launch with the game and having a go at other players' creations. Needless to say, a great deal of fun can be had, but there are also the pitfalls of user-created content to deal with.
When you enter Playground mode you have three options: create a new event, play a masterpiece you've already poured some time into, or attempt one of the many events that other players have shared with the world. Chose to create a new event and you'll be thrown into the course editor after choosing an arena. Choose to play an event and you'll be thrown right into it, with online leaderboards providing the impetus to master it.
The three arenas available at launch will be Cape Town Stadium, and small and large variants of Mesa Valley, Arizona. They all specify that they have a dirt surface, so we can presume that further arenas added down the line may introduce some new surface types into the mix. Within those arenas, three event types can be created: Gate Crasher, Gymkhana, and Smash Attack.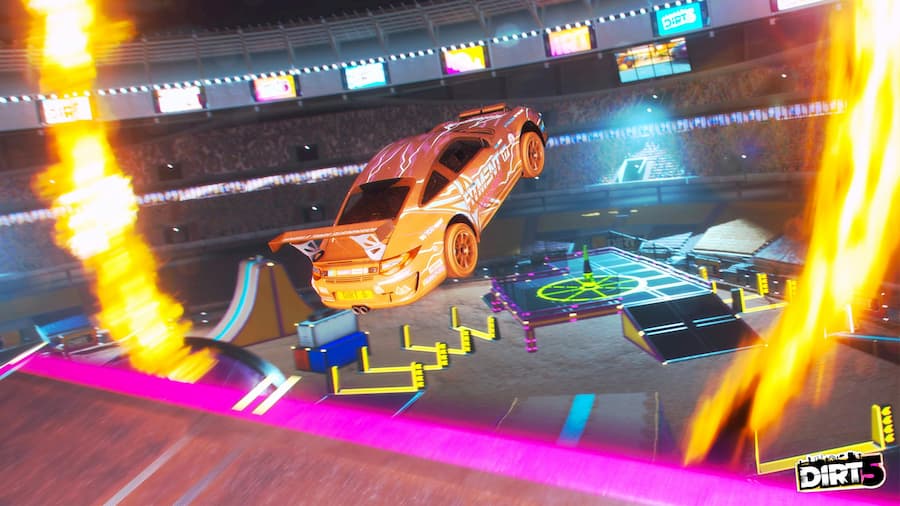 Gate Crasher is the closest thing you'll get to creating your very own race in DIRT 5's Playgrounds mode. After placing a starting line, you can place as few or as many checkpoints as you wish. Whether you just dot them around and let players make their way through them in any order, or place barriers to steer their movement is up to you – it's your event, after all. And of course, every event ends with a finishing line.
If you want to create an event that's less of a race, then Gymkhana and Smash Attack will serve you well. Challenging you to either perform as many tricks and combos as you can, or smash into inflatable objects in a limited period of time, designing these events generally requires a different approach. It's less about directing the player, and more about providing great spaces to pull off donuts, jumps and other outlandish manoeuvres, as well as presenting interesting obstacles to overcome.
Using the course editor is thankfully very simple. With just the push of a button you can open up a menu full of objects, sorted into tabs according to their theme and/or functionality. You'll find that you can place blocks to add some verticality to your creations; barriers to restrict movement; and a whole host of obstacles such as bales of hay, tyres, vehicles, and steel drums. Jumps can be placed, too, along with flaming rings to jump through.
At any point you can test out your creation to make sure that it works, and you'll want to do so often because things don't always play out like you planned. In any case, before you finalise an event and share it with the world, you'll have to play it through to completion yourself – Codemasters doesn't want you uploading any old guff that simply doesn't work. And you'll need to choose a vehicle to go along with the event, too; pretty much any vehicle from any class class be selected, and all players will use it to keep the competition fair.
Our best creation is a Gate Crasher event with only a start and finish line. With barriers, we've created a confined, snake-like track, full of obstacles to overcome as players race through it in an Aston Martin. There are sharp turns, a tricky chicane, some tyre rings, plenty of barrels, a perilous jump, and then a final stretch with two humps accompanied by fiery rings to jump through. It's not overly complex, but it's been fun trying to race through it as fast as possible.
Trying out other players' creations has been eye-opening. Some players have created almost labyrinthine events made out of shipping containers, with signs leading the way to prevent frustration. Others have created more standard courses but with corkscrews that take players high up into the area, or massive jumps that are as dangerous to your efforts as they are breathtaking to behold.
Playgrounds gives creators a lot of freedom, and those who run with it will be rewarded. We're sure that the tools available will allow some to create some pretty spectacular challenges that players will want to attempt time and time again, vying to move up their leaderboards. But of course, there will be plenty of detritus alongside them. A player rating system will hopefully ensure that that type of content doesn't make its way to the forefront.
We've been entertained tinkering with and trying out creations in DIRT 5's Playgrounds mode, but honestly, it hasn't really made us any more excited for the final product. We're looking forward to the carefully created tracks that take us through a variety of stunning locations, complete with truly impressive weather effects. And we're excited about the game's career mode with its branching paths and story featuring the vocal talents of Nolan North and Troy Baker.
Still, Playgrounds looks to be another string in its bow, and something that may keep a certain group of players interested in the long term. That can only be a good thing.
DIRT 5 launches 16th October on PS4, Xbox One and PC. A PS5 and Xbox Series X release will follow later in the year.