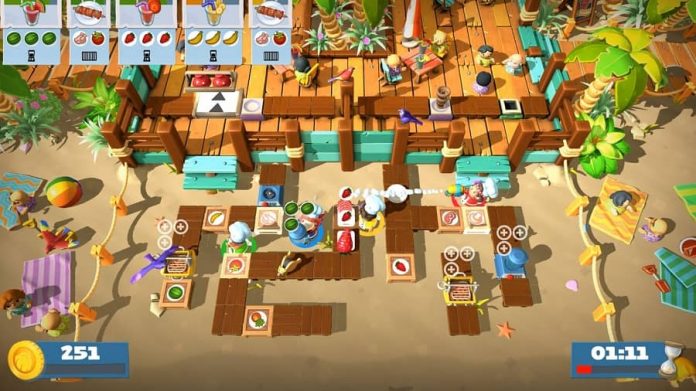 Grease your pans and tie up your aprons – it's cooking time.
Since its initial release, players have been enjoying the hectic cooking simulator Overcooked! 2 that puts four chefs against ridiculous and difficult cooking challenges. Team17 and Ghost Town Games want more players to have access to the game's awesome DLC.
The Overcooked! 2: Surf 'N' Turf DLC has just been added to Xbox Game Pass Ultimate Perks. Anyone that is a member of Xbox Games Pass Ultimate now has access to over a dozen story levels, three new chefs and new recipes. The game is already available on Xbox Game Pass on both console and PC, but players with Perks can head to their Perks gallery to access the new content.
Surf 'N' Turf is a fun, sandy adventure that includes BBQ skewers and smoothies. Players will also learn how to use new equipment to help make their recipes delicious! We covered the Surf 'N' Turf DLC upon release and found the levels to be challenging, but just as fun as the main campaign.
The Overcooked! creators also recently announced that the game would be headed to PlayStation 5 and Xbox Series X with Overcooked! All You Can Eat. The title combines content from both games in the series as well as adding new levels, chefs and skins.
Log onto Xbox right now if you're a part of Xbox Game Pass Ultimate and try out the Overcooked! 2 Surf 'N' Turf DLC today.