"My death would have meant something!"
Ellie's haunting words to Joel provide the main crux of The Last of Us Part II's winding story and conflicted protagonist. She knows Joel would have done anything for her – and he did. She feels guilty and remorseful for his actions, but also wants nothing but vengeance. All Ellie has ever known is pain, loss, and confusion. 
Ellie's story is what makes The Last of Us series so memorable and brilliant, with players being able to step into the shoes of Ellie in The Last of Us Part II while she sets out on her journey of revenge. From the early stages of The Last of Us, there were some amazing moments that made us feel complete empathy for Ellie. Its sequel pushed that feeling to the boundaries. 
The Last of Us Part II is certainly one of the best sequels of all time, and so much of that a result of Ellie's characterisation. Naughty Dog created a masterpiece of a world around its protagonist, and wrote a story that is as haunting as it is poignant. These are the six best moments in The Last of Us Part II; the ones that will stay with us forever. 
Warning! Spoilers ahead!
Infiltrating and escaping the Scars' island 
Throughout The Last of Us Part II, both Ellie and Abby are surrounded by violence brimming from the ongoing war between the Seraphites (the 'Scars') and the Washington Liberation Front (the WLF, or 'Wolves'). Despite Abby's connection to the WLF, she builds a bond with a young Seraphite named Lev. When Lev runs away to his home island to save their mother, it's down to Abby and Lev's sister, Yara, to save them. 
What Abby sneaks into is a warzone, with the WLF sending their forces to attack and kill the Seraphites. In the midst of the Seraphites' village set ablaze, Abby's stealth skills are put to the test when taking down the remaining guards, and then opening fire on all enemies – even her old WLF comrades. We also get to see a powerful moment with Lev and his mother. The events on the Seraphites' island are shocking, relentless, and show how Abby's bond with Lev became so strong. 
Travelling to the aquarium   
In Seattle, the aquarium becomes a main base for Abby, Owen and Mel, and it's even the setting to some peaceful flashbacks between Abby and Owen. But that all changes when Ellie discovers their location, and sets off towards them. With a thunderous storm overhead, Ellie embarks on her journey for revenge. 
This journey also includes one of the most unique passages in The Last of Us Part II when Ellie finds a speedboat to steal and use. Of course, this is far from a pleasant trip, and Ellie finds herself constantly having to fight enemies to open gates, which then help her find a passage towards the aquarium. It's a wholly atmospheric experience, and has an ending that fully justifies the trip. 
When Ellie learns the truth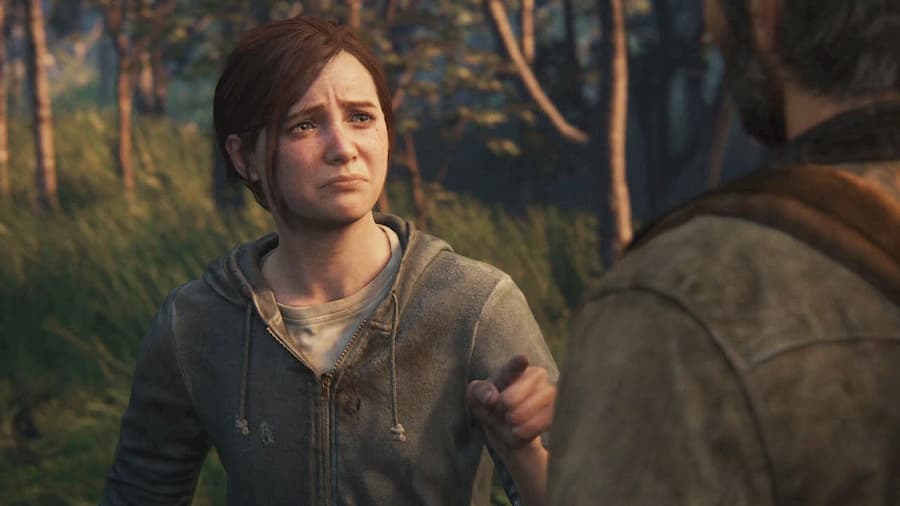 The Last of Us Part II is divided into different chapters which are told from two main narrative viewpoints, and includes various flashbacks too. One of the most powerful memories is one that we all expected to come: when Ellie discovers the truth from Joel about how she left the hospital within the Firefly base. 
It's a complex scene that highlights how deep and conflicted Ellie's feelings are for Joel. After all, Ellie is still a teenager who sees Joel as her only father figure, but she always knew what he was capable of. In this moment, Ellie finally learns just what Joel can do, and actually did to rescue her. This causes Ellie's feelings to twist even further, and acts as a catalyst to a large part of The Last of Us' sequel. 
Ellie takes on Seattle 
During day one of Ellie's journey in Seattle The Last of Us Part II allows us to explore a more sandbox-like downtown Seattle. Accompanied by Dina, Ellie uses her new-found map to mark off places she has visited, and uses it to explore the city in full. Ellie doesn't have to visit every location, but some of them offer highly memorable experiences. 
Of course, some locations (like the hotel) are brimming with infected – but some areas offer a much more peaceful experience. In the music store Ellie finds not only much-needed supplies, but a guitar too. This begins a beautiful cut scene where Ellie plays an acoustic version of A-Ha's Take On Me to Dina. It's a truly wonderful moment, and stands out within the haunting atmosphere of The Last of Us Part II. 
Exploring Ground Zero 
When Yara has her arm shattered by a Seraphite, Abby realises she is going to need medical supplies to help her recover. The search for these supplies takes her to the home base of the WLF, and to the lower levels of the hospital. Surprisingly Abby finds a whole range of infected right under the safe location of the WLF base. 
But it's not too surprising, considering it's described as "Ground Zero", a location that was used to study the infected long before their true dangers were known. This means that Abby has to face a range of infected who have been that way for a long time, and ends up fighting one of the most fierce enemies in the whole game: the Rat King. A combination of Stalkers, Clickers and Bloaters, this enemy is immensely powerful, and wholly terrifying. It's certainly one of the most memorable boss fights in the series. 
The birthday gift 
It's only right that the greatest moment in The Last of Us Part II focuses on both Ellie and Joel. For Ellie's birthday, Joel surprises her with a trip to the Wyoming Museum of Natural History. It's a completely peaceful moment in the highly tense game – especially considering that the flashback takes place just after Ellie discovers Dina is pregnant. 
Ellie gets to wander around the dinosaur exhibit to her heart's content, allowing her to be the excited birthday girl she deserves to be. Her conversation with Joel is completely natural, and we get to see just how close the two are. This moment is highlighted when they discover the space exhibit, and Ellie gets to pretend (with the help of Joel) that she is blasting off into space. With all that happened to Ellie in the first game, it's easy to forget just how young and vulnerable she is, and the The Last of Us Part II showcases this perfectly in one of the most beautiful moments in gaming history.
---
More The Last of Us Part II