At this point, you know what you're getting whenever a new Disgaea game comes around.
If you're a PC gamer who's into the series, however, whatever comes around isn't ever actually brand new. Originally released on PS3 way back in 2011, Disgaea 4 has found its way onto multiple other formats including PS4 and Switch before finally landing on PC just over a week ago. But at least it's the Complete+ edition, crammed packed full of additional unlockable characters, extra story campaigns, and the odd improvement here and there.
Central to Disgaea 4 Complete+ is Valvatorez, a rather likable vampire residing in Hades. Unable to drink blood thanks to a promise he made in the past, he now spends his time eating sardines and training Prinnies. His life is suddenly thrown into turmoil, however, when he learns that the Corrupternment plans to mass exterminate all the Prinnies in Hades. And so he springs into action along with his his loyal servant Fenrich, determined to put an end to the foul plan. Even if it means taking down the Corrupternment by force.
Anyone that has played a Disgaea game before will know what to expect; Disgaea 4 offered little truly new upon its original release, and this Complete+ edition doesn't now. What you do get, though, is a lengthy strategy RPG adventure filled with humour, deep character development and enjoyable battles. You befriend many new characters as you battle across the Netherworld, each bringing their own set of skills to the table. Though of course, you can create your own characters to round out your party too.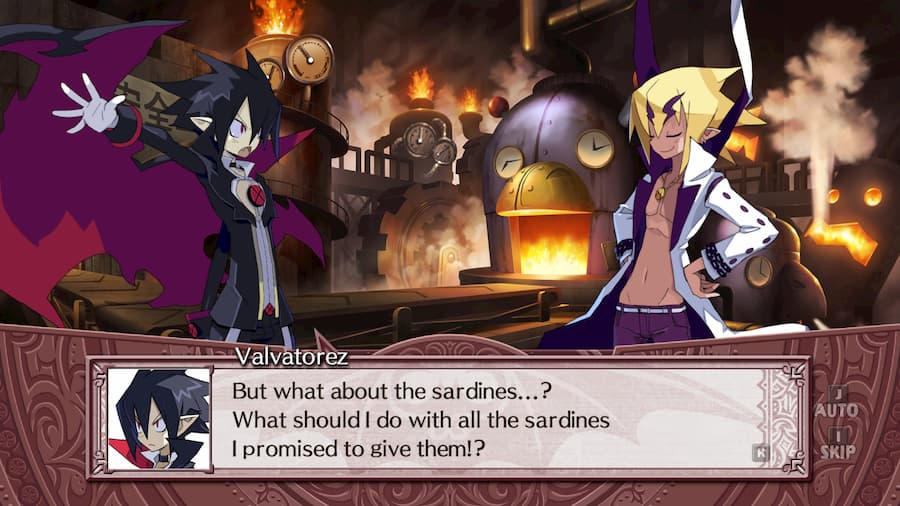 While most strategy RPGs are serious in tone, Disgaea 4, like other games in the series, takes pride in being absolutely unhinged. Its story is chaotic, some of its mechanics are ridiculous, and you can develop your characters to monstrous levels, enabling them to inflict obscene amounts of damage. Even after completing the game's story, many players will still find things to do. Simply building your own demonic army and making them as powerful as can be is entertaining enough.
Of the new features introduced by Disgaea 4, one of them isn't yet present in the PC version of Disgaea 4 Complete+. You can fuse demons together in battle to make more formidable adversaries for your opponents, and you can place items on captured land, which has a range of effects and benefits. But you can't yet build your own pirate ship and invade other players' custom worlds – on PC, network features such as this are currently unavailable. They are planned to be implemented at a later date, however.
For anyone that's a fan of the series and who hasn't already picked the title up on PS4 or Switch, Disgaea 4 Complete+ is sure to be a blast. Is it the best? That's questionable and highly subjective – we still think of the first game the fondest thanks to Loharl and his zany escapades – but you might take to Valvatorez and his plight more. And that's the only thing that really differentiates the Disgaea games at this point: their stories. But when the strategy RPG gameplay that they hold together is as good as can be, that's not much of a problem.
Disgaea 4 Complete+ is available now on PS4, Switch and PC.