Aren't special edition controllers great? Who wouldn't want to game while cradling  a detailed rendering of Norman Reedus's oily buttocks?
Okay, so the Reedus Shock 4 isn't actually a thing, but there have been numerous limited edition controllers released over the years. Unfortunately, they're usually stupidly expensive and, more often than not, ridiculously rare.
That's where ExtremeRate comes in. They're not the only company doing this, but ExtremeRate offers a range of custom shells, light-up buttons, remappable button kits and more.
Looking for a controller shell that lets you show your support for Umbrella, gaming's stupidest corporate entity? Or maybe you want it to look like you cut yourself quite badly but couldn't be bothered getting a plaster before you jumped back into Overwatch? ExtremeRate has got you covered.
So, as someone who fawned over the original Xbox Crystal controller,  I jumped at the chance to give their products a spin. Here's my take on three of ExtremeRate's Playstation 4 offerings.
ExtremeRate Face Plate Shells
ExtremeRate give you the option of switching up the front of your controller or the whole controller shell. I opted to change the front, plumping for a see-through shell that mimickS the official Death Stranding controller. All ExtremeRate's products come with instructions, along with any tools you might need to open up your controller. You even get a few bonus screws, as an alternative to crawling around the carpet when you inevitably lose one.
But there's a catch. The company produces kits for the PS4, Xbox One and Nintendo Switch but whichever controller you choose to modify, you're going to invalidate the warranty. Xbox One and PS4 controllers are pretty sturdy, but if your Switch controller is suffering from Joycon drift and Nintendo realises you've cracked your Joycon open, it may well refuse to fix it.
Still, if you're prepared to take the plunge, swapping out your controller's shell is relatively painless. My DualShock 4 was well outside warranty so I didn't much mind. Zero lost screws later, though plugging in the touch pad ribbon cable was slightly fiddly, I'd given my PS4 controller a new look. It was relatively painless, and I'm pretty pleased with the results, especially considering the official Death Stranding controller goes for around £80 on eBay.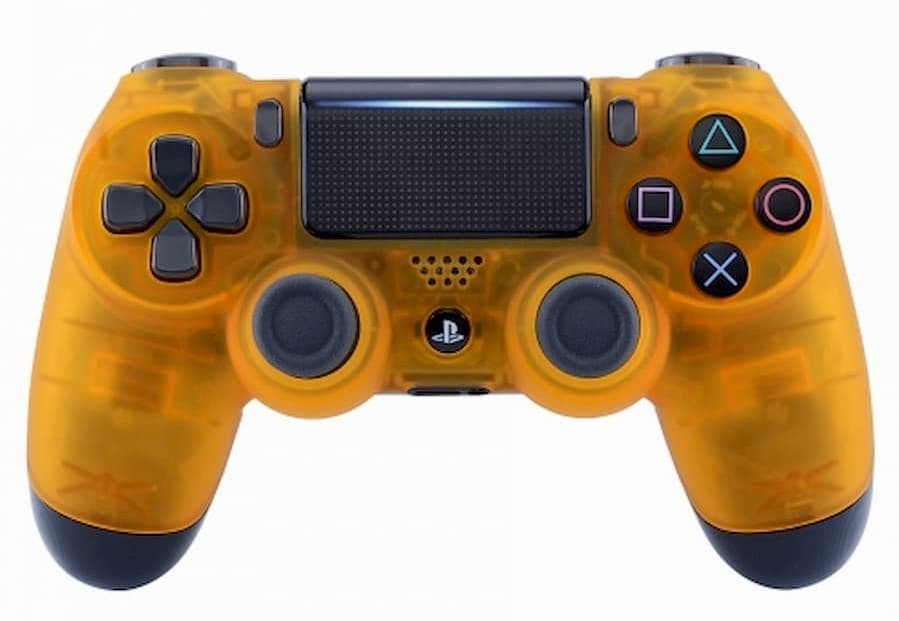 ExtremeRate LED buttons
Suitably heartened, I dived into the next kit. Five minutes later, I was still gawping at the massive fold-out instruction sheet, pausing occasionally to pick up the equally daunting LED components ExtremeRate had provided. Changing the controller shell was a cinch by comparison; this required what seemed like an absurd amount of steps.
Thankfully, there's a YouTube video that made things a little easier and is infinitely preferable to the paper instructions. But it was still a tricky endeavour; for example, I had to fold a wafer-thin circuit overlay, place it over the controller's existing circuitry and then stick it in place with a bit of tape. I then had to hook the corners of that board over the trigger loops, getting the placement just right.
Then, I had to remove an absolutely tiny circuit board from the base of the controller, which was tricky enough but the transparent plastic piece on the bottom kept falling out. Then there was the two ribbon cables that needed plugging in, using a pair of plastic tweezers that refused to co-operate. The only thing that got me through the procedure was jumping into Among Us every five minutes.
But you know what? I got there in the end. And, looking at my handywork, I'm proud of what I'd accomplished. The great thing about the ExtremeRate LED kit is that you can change the colour of the LEDs whenever you wish; you can't give each button its own colour, but you can cycle between green, red and various other colours.
The snag, apart from how tricky it is to assemble, is that the new see-through buttons have a marginally different design to the PS4's original buttons. Presumably, this is because the original PlayStation symbols, which have been with the console since the PS1 days, are copyrighted. Still, the resultant look is suitably snazzy.
ExtremeRate Button Remap Kit
ExtremeRate's button kit gives you a series of additional buttons at the back of the controller which can be remapped to various other buttons. So if you're playing Street Fighter 2 and getting sick of reaching for the shoulder buttons, you can remap them to below the controller, which is less of a stretch.
Unfortunately, it was at this point that things went horribly, horribly wrong. In theory, it's possible to have the LED button kit and the remap components in one controller; one of ExtremeRate's videos actively encourages it. However, it's a long process – it took me about ten minutes to change the controller shell, and 40 minutes to install the LED mechanics. But an hour in, I was still struggling with the remap kit.
It was my own ham-handedness that was my downfall, that and my assumption that I could cram both kits in with ease. The LED and remap kits contain some absurdly thin wires; they have to be thin enough to fit inside the controller shell. However, faced with shoving two new circuitboards into the controller, my skills failed me and I ended up damaging the wires, putting paid to both the remap and LED functions.
The one small mercy was that, because of this bodge, I didn't get as far as trying to solder the tiny wires onto the circuitboard; an operation that's required if you want to get the most out of the remap kit. I probably would have ended up skewering the touchpad had I done so.
Final Verdict
ExtremeRate's kits are a great way of giving your controller a fresh look, especially if you've got more than one controller and find yourself always picking up the wrong one. As far as the remap kit goes, my skills failed me, though you might have better luck. But if you've not got much experience in the way of soldering, I can't recommend it.
However, installing a new controller shell is a breeze; the only problem you're going to have is choosing which one to go for. The LED kit too is excellent; it takes a lot of patience and skill to install it. But if you take the plunge, your controller will thank you for it.
ExtremeRate's kits are available on Amazon and the official website.