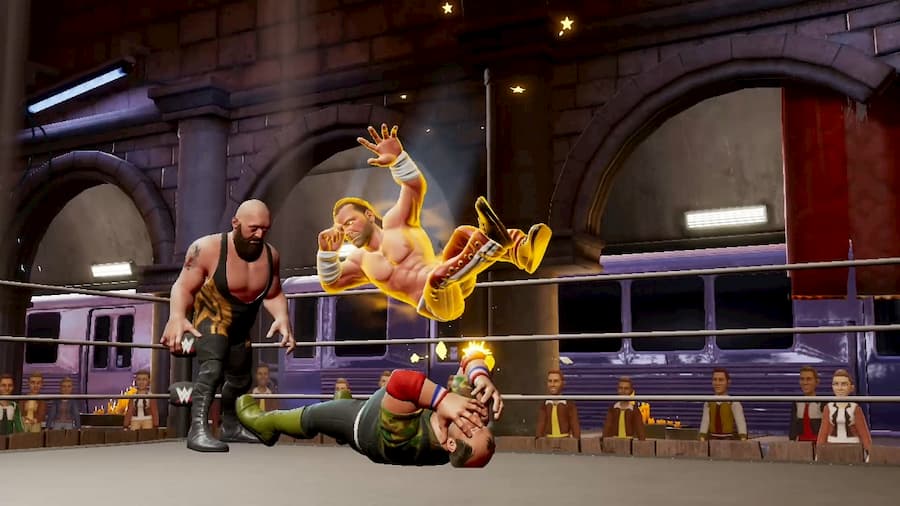 When you first start playing WWE 2K Battlegrounds, you'll be disappointed to find that there aren't many wrestlers available. There are many more in the game, however – you just need to unlock them.
To unlock characters in WWE 2K Battlegrounds, you generally need to buy them with Battle Bucks. You earn Battle Bucks for completing fights, and also as reward for completing various objectives and challenges. Once you have a stash of Battle Bucks, head on over to the WWE Superstars option on the game's main menu, then enter it to find all the characters that you can unlock with them
Wrestlers cost either 3,000, 6,000, 9,000 or 12,000 Battle Bucks to unlock depending on their rarity. Once you've unlocked a wrestler, you'll also be able to unlock alternative versions of them at further cost. So, unlocking all characters in WWE 2K Battlegrounds is basically a massive grind. Our advice is to unlock the wrestlers you really want to play as first. Though of course, if you're made of money, you can also buy Golden Bucks with real money to unlock them faster. You shouldn't though.
Not every wrestler in the game can be unlocked with Battle Bucks or Golden Bucks, however. Many wrestlers, including John Cena, are unlocked by playing through WWE 2K Battlegrounds' campaign mode, in which you take control of seven characters created just for the game. As you progress through the campaign, you'll unlock an additional WWE Superstar in each area, and also gain a fair amount of Battle Bucks as you go if you explore optional paths.
Finally, if you're wanting to play as Edge, you might be disappointed. Edge was available as a preorder bonus for those purchasing the standard edition of the game, though physical copies of the game may still contain a code to unlock him. He is also included in the Digital Deluxe Edition of the game, which costs a bit more. You also get early unlocks of Stone Cold Steve Austin, The Rock and Ronda Rousey with the Digital Deluxe Edition, and 1,100 Golden Bucks.
Chances are Edge will be made available for purchase further down the line for those not buying the Digital Deluxe Edition though. He may even end up being added for free. After all, at least 50 characters are set to be added to WWE 2K Battlegrounds after launch.
Buy WWE 2K Battlegrounds on Amazon
---