When it released last year, the Oculus Quest was perhaps the best VR headset money could buy.
Sure, it might not have been as technically spectacular as a HTC Vive, but it was a fraction of the price, and allowed anyone to jump into an immersive VR world whether they owned a PC or not. Free from cables, Oculus Quest became the best way to play. And now, that best way to play has just got even better. The Oculus Quest 2 has taken everything that made the Quest great, and improved on it. It's more powerful, it has a better display, a better refresh rate, better controllers, it's lighter, more portable, and it's cheaper.
Before we talk about the experience of using the Oculus Quest 2, let's see how it compares to its predecessor.
Oculus Quest vs Oculus Quest 2 specifications
Oculus Quest
Oculus Quest 2

Resolution per eye

1440 x 1600

1832 x 1920

Refresh

rate

72Hz

Up to 90Hz

Processor

Snapdragon 835

Snapdragon XR2

RAM

4GB

6GB

Weight

571g

503g
As you can see, there are marked improvements in every area. The Oculus Quest 2 has 50% more pixels than its predecessor, resulting in sharper and clearer visuals. But where the Oculus Quest had a separate OLED panel for each eye, the Oculus Quest 2 has a single LCD panel. It's a change which likely keeps the manufacturing costs down while still ensuring the device delivers better quality. If you've tinkered with VR from the early days of Oculus you'll remember blocky pixels and clearly visible gaps between each pixel. That's a thing of the past; games inside the Oculus Quest 2 have never looked better.
The processor also helps with that. Qualcomm's Snapdragon XR2 is a new chip especially designed for VR, AR and mixed reality devices. According to Qualcomm, it has twice the CPU and GPU performance as the Snapdragon 835 which powered the first Oculus Quest. It also supports "4x more video bandwidth, 6x higher resolution and 11x AI improvement". Basically then, it's a heck of a lot more powerful than the processor powering the Oculus Quest.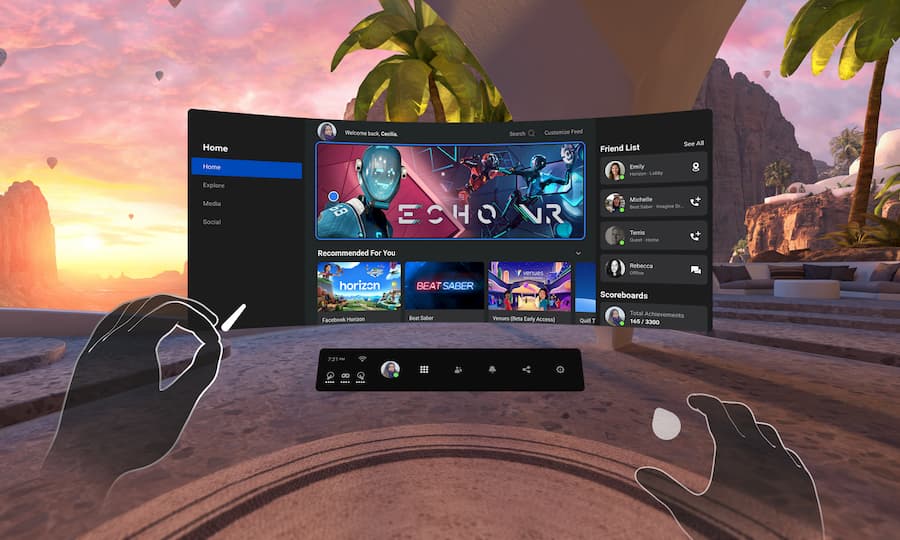 Oculus Quest 2 review: the headset
If you've previously used an Oculus Quest, then you'll be able to hit the ground running with a new Oculus Quest 2. In terms of UI and functionality, it's practically the same. You navigate menus in the same way, and you're able to access all of the same games. Any games you've purchased for Oculus Quest will of course work here. And, going forward, the majority of games releasing for the platform will continue to work on last year's headset too. At some point, Facebook expects that as games develop further, there'll come a point where Oculus Quest will no longer run them, but that's likely at least a year or so away. All newly-announced games arriving this holiday will work on both headsets.
But of course, Oculus Quest 2 is the best place to play them. As stated above, the visual clarity in the headset is noticeably improved over its predecessor. Colours pop out of the screen, objects are crisp and sharp, and everything is a pleasure to look at. It goes a huge way in helping you immerse in the VR world you're part of; whether you're watching a virtual reality video or getting lost in a game, the additional clarity afforded by having more pixels is plain to see.
In terms of getting the Oculus Quest 2 set up to suit your own vision, there is one change from the first Quest that may be a negative to some: the available IPD (interpupillary distance) settings have been simplified. IPD is simply the distance between your pupils, and the lenses within the headset can be adjusted to fit you. If the lenses are too close or too far apart compared to your personal measurement, it will affect how clearly you can view the image in front of you. On Oculus Quest, you could adjust this via a slider underneath the headset. Oculus Quest 2 has done away with this, instead giving just three options.
Facebook claims that the three available IPD settings have been carefully set after a lot of research, but we do have concerns that the lack of fine-tuning may make it so some users won't be able to find a comfortable focus within the headset. We didn't have any problems, but with IPD being something that's personal to the user and very different among all people, it's easy to imagine someone struggling to find a good fit from just three settings. It's also worth noting that you need to take the headset off to change the IPD with the Oculus Quest 2; rather than using a slider, you manually move the lenses until they click into one of the three settings.
IPD concerns aside though, it's hard to find fault with anything else regarding the Oculus Quest 2. The tougher plastic head strap of the first Oculus Quest has been replaced by a fabric strap. It means the headset is easier to pack away and easier to carry around, and it also allows for easier adjustment over your head. It's also more than 10% lighter than its predecessor, making it more comfortable to wear. And the Oculus Quest 2's battery life is around the same as Quest 1 – between two and three hours – which is a little disappointing, but when you consider the extra power the headset packs in, it's actually quite impressive.
Oculus Quest 2 controllers
Considering all the improvements made to the headset, it'll come as no surprise that the Oculus Quest 2 controllers have also been redesigned. Though they'll be instantly familiar to anyone who's seen an Oculus controller before, numerous changes make them more pleasant to use. The space for your thumb to rest has been increased, meaning it's more comfortable to play games that rely solely on motion controls. There's better haptic feedback and more intuitive reading of hand gestures, too. Most impressively, the controllers' battery life has been improved by up to four times the original Quest.
Oculus Quest's controllers were already fantastic, but these changes make them even more pleasant. Like before, the headset tracks them in real time, supporting six degrees of freedom. That essentially means the Oculus Quest 2 knows where your hands are at all times, and what they're doing – even as far as tracking individual finger movement. Move your index finger from resting on a button to a pointing motion, and it'll be reflected on screen. How this technology is utilised depends on the game, but more and more apps are making use of more intuitive touch controls. That means you can physically press buttons in games, rather than making a general gesture in a direction.
Hand tracking was introduced to Oculus Quest last year, and that technology will continue to be improved here, too. Though it's not used by many games right now, it allows the headset to pick up your hands without controllers. The built-in Oculus Hands app lets you take it for a test drive, and seeing your hands fully recreated in a VR space is rather strange indeed.
Using Oculus Quest 2
As we've already touched upon, playing games and using apps in Oculus Quest 2 is better than ever. The extra pixel density in the screen coupled with the more powerful processor, and the ergonomic changes made to the headset and its controllers mean VR is more pleasant and comfortable than ever. And of course, as was the case with the first Oculus Quest, being free of any cables makes for a fantastic and immersive experience. It really is the platform's unique selling point. You don't need a powerful PC. You don't need to be near to any other kind of hardware or even a power outlet. Simply find yourself a big enough space, and away you go.
Like before, you'll be asked to set a guardian boundary when you first use Oculus Quest 2. Essentially, you'll draw a perimeter around the safe area you have to play. If you step out of this perimeter, the headset will warn you – it's a very simple and effective way to ensure you don't go flying into expensive ornaments or your fancy TV while lost in a VR world.
The Oculus mobile app allows you to purchase games, browse your library and set things installing on your Oculus Quest 2 headset. It's a great way to ensure your latest apps are ready for you when you next strap it on. You can, of course, browse the store and manage your purchases within the headset too, but it makes more sense to do that "admin" outside, so your battery life can be used up on the things that matter: apps and games.
There's already a huge library of games available to Oculus Quest 2 users, and more will be coming at launch. Up until now, more "power hungry" games haven't made it to the Quest, with developers instead favouring Oculus Rift S. But the Quest 2's more powerful processor means that should no longer be a concern. In fact, Facebook has confirmed that the Oculus Rift S will end production early next year, meaning that Oculus Quest 2 will be the primary Oculus VR platform. Quest has often felt like an afterthought, with titles like Walking Dead: Saints and Sinners not coming to the platform at launch. But going forward, it's more likely the leading VR releases will come to Quest alongside other platforms.
Oculus Quest 2 will launch alongside a wealth of new games, including the aforementioned Saints and Sinners. There'll be a new Beat Saber music pack, Little Witch Academia VR, battle royale game POPULATION: ONE, Rez Infinite, Space Channel 5, Sniper Elite VR, Jurassic World Aftermath and more. Adding onto the library of hundreds of games that already exist for the Quest, there's an absolute tonne of excellent content to enjoy. Though if you're anything like us, you'll find yourself returning to Beat Saber more often than anything else.
Oculus Quest 2: Excellent value for money
The most important selling point of the Oculus Quest 2 is its price: it starts at £299/$299, a whole £100/$100 cheaper than the previous Quest headset. A markedly improved headset that's 25% cheaper? It's a no brainer: if you've been wanting to try VR for some time, the Oculus Quest 2 is without a shadow of a doubt the best headset money can buy.
There are two models available: the £299 64GB model, or a 256GB model for £399/$399. Again, another improvement on Quest 1, where the upgraded headset (costing £499) only had 128GB storage. Games generally aren't huge, so even with 64GB of storage you'll fit plenty on before you need to start deleting them. Sadly, the headset doesn't support SD cards or any sort of storage upgrade, so you're stuck with what's built in.
The only person who stands to lose out on the Oculus Quest 2 is the poor soul who's recently bought an Oculus Quest at RRP. Hopefully that isn't you. For everyone else though, it's a fantastic piece of hardware. We loved the Oculus Quest, but the Oculus Quest 2 is better in just about every way.
Pre-orders for the Oculus Quest 2 are open now. The headset will be available for purchase from 13th October.