Are you ready for yet another battle royale experience?
Available now on Google Stadia, Super Bomberman R Online is not an enhanced version of Super Bomberman R. It may look like it in screenshots, because it has exactly the same visual style and mechanics, but no: absent are Super Bomberman R's story-driven campaign and local multiplayer options. Instead, at the forefront of Super Bomberman R Online is Battle 64, a cool spin on the battle royale formula that is a hell of a lot of fun.
Forget playing Bomberman against a number of players you can count on both hands – with Super Bomberman R Online you can compete with up to 63 others to be the Bomberman champion. Though of course, they're not all on screen at the same time. Instead, the action unfolds over 16 zones, with four players starting in each to give them a chance to find their feet.
Initially, the action is pretty easy-going. Anyone that has played Super Bomberman R, or any Bomberman game for that matter, will be familiar with the rules: blocked in, you initially place bombs to give yourself some breathing space, before ultimately trying to lay down your explosive devices to thwart your competitors. And along the way, you can collect a plethora of upgrades that increase your movement speed, the potency of your bombs, and more.
In Super Bomberman R Online, however, things begin to really heat up when zones become marked to be taken out of action. An alert sounds, and a timer appears on the screen; if you're in one of the zones that will soon be met with doom, it becomes a mad rush along with any other survivors to move to an adjacent room that isn't soon going to be filled with metallic instruments of death. Though once you're there you have another dilemma – anticipating where fresh concrete blocks are going to be dropped, and trying to separate yourself from the remaining competitors hoping to do the same.
Depending on how the game's going and what zone you've moved into, you may suddenly find yourself competing against eight or even more adversaries instead of the simple three in the starting room. And if the zone you're in is the next up for the chop, then your next zone might have even more. Ultimately, the more competitors there are in a zone the more chaotic the action is, and also the more dangerous it gets for your survival.
Each player starts with two lives, though they can get more through the course of the game. Only one player can be named the winner, however, and to emerge victorious, crafty bomb-dropping strategies need to be realised. Or someone just needs to get really lucky. Like in all battle royale games, sometimes it pays to avoid combat where possible, and you could technically win a game of Super Bomberman R Online without ever bombing another player thanks to the final zone being steadily filled with blocks once enough time has passed.
The action is easy to pick up and play, and is actually a huge amount of fun – it is Bomberman, after all. To provide some longevity, there are challenges to complete, too, as well as a levelling system that unlocks additional cosmetics over the course of your career. Though to get the most out of Super Bomberman R Online, players are going to want to buy the Premium Pack add-on.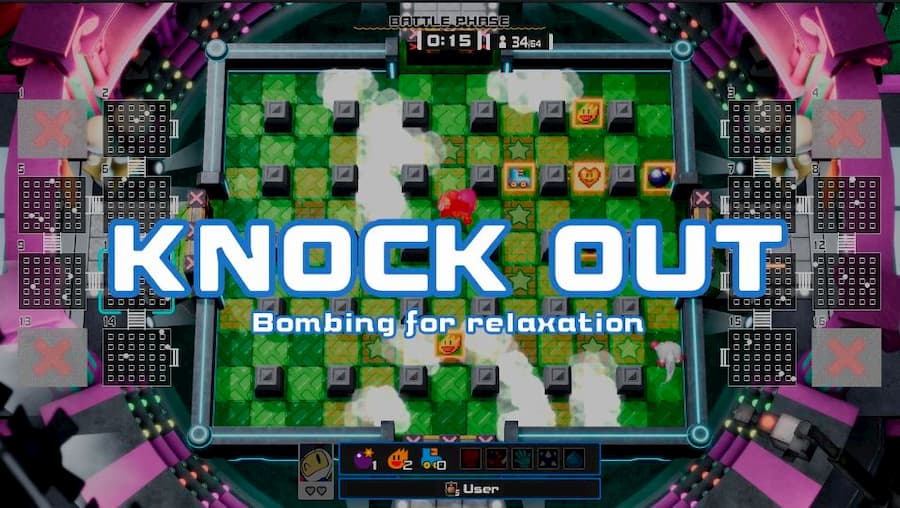 Super Bomberman R Online's Premium Pack add-on grants access to an additional 14 characters, some of which players might recognise from other Konami properties such as Silent Hill, Castlevania and Metal Gear Solid. It also grants the ability to create private matches, in which you're not forced to play Battle 64. Standard matches and Grand Prix are also available when playing against friends.
Super Bomberman R Online and its Premium Pack are free for all Stadio Pro members until 30th November. After that date, Stadia Pro members will have free access to the base game, but will need to buy the Premium Pack for £9.99 if they want the additional features and content. Stadia base users, on the other hand, will be required to buy the Premium Pack if they wish to play the game at all.
I have to say that Super Bomberman R Online is actually a pleasant surprise. Like Tetris 99, it takes a classic and injects it with a modern twist to bring it to life once more. It's familiar, but fresh. Without any single-player features, however, it relies on an active player base, which I hope it can find on Stadia. And of course, you're also really going to want to make sure you have a stable internet connection – competition falls flat on its face when you're lagging everywhere. But still, if you love Bomberman or are just after a new battle royale experience, Super Bomberman R Online is well worth spending some time with.

Super Bomberman R Online is available on Google Stadia. This review was facilitated by a review code provided by the game's publisher.