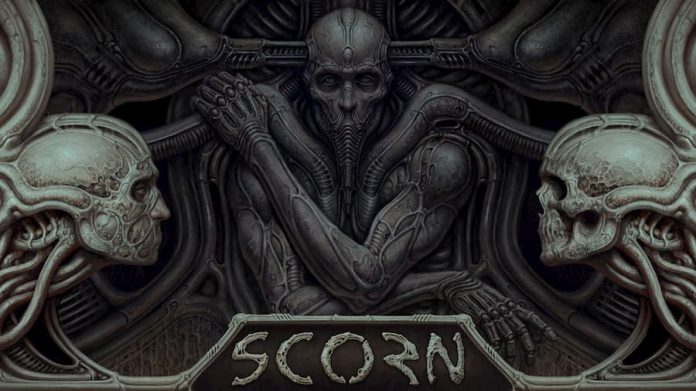 Coming to Xbox Series X/S next year, the H.R. Giger-inspired Scorn is a first person horror that is not for the faint of heart.
Yesterday, a 14-minute gameplay trailer was released, showing the game in action. And… it's the squelchiest 14 minutes of gameplay we've probably ever seen.
The trailer shows the protagonist wandering around a labyrinth made of bone and flesh, armed with a fleshy gun. There are grotesque, faceless creatures all around; terrifying sacks of skin who move in an unnatural way. Scorn's whole atmosphere is extremely unsettling in the grossest way.
The gun wielded by the protagonist seems to have more function than just a weapon. We see it being inserted into sockets – squelch – to operate gates and mechanisms. Though sometimes, the protagonist needs to use their hand to insert their fingers into holes – squelch – to operate lifts.
Scorn is a seriously impressive-looking game, from a technical point of view. The trailer, which you can watch below, is viewable in 4K – and if you have the means to do so, we absolutely encourage that you do. The clarity of this gross and disturbing world is phenomenal; the details of that weird, fleshy, bony gun are superb, and the amount of clarity in the environment is truly next-gen.
If you're squeamish, though, perhaps give the trailer a wide berth – especially if you suffer from trypophobia. There's a lot of weird, holey textures here. But if, like us, you revel in the disturbing and the disgusting, you'll get a huge kick out of Scorn.
It's set to release on PC and Xbox Series X/S at some point in 2021, and we can't wait to see more.